At the recently-concluded hearing of the Senate Banking, Housing, and Urban Affairs Committee, US Senator Elizabeth Warren (D-Mass) adjured regulators to "clamp down" on stablecoins and Decentralized Finance (DeFi) platforms "before it is too late, citing Tether (USDT) and USD Coin (USDC).
Warren highlighted that based on Tether's report, "only about 10% of the assets backing its stablecoin are real dollars in the bank. 90% is something else — not real dollars."
Speaking on the stability of the asset class, Warren explained that: "In troubled economic times people are most likely to cash out of risky financial products and move into real dollars. Stablecoins will take a nosedive precisely when people most need stability, and that run-on-the-bank mentality could ultimately crash our whole economy." Senator Warren added that:
"DeFi is the most dangerous part of the crypto world. This is where the regulation is effectively absent and—no surprise—it's where the scammers, the cheats, and the swindlers mix among the part-time investors and first-time crypto-traders. Shoot, in DeFi, someone can't even tell if they are dealing with a terrorist."
She continued that: "Stablecoins provide the lifeblood of the Defi ecosystem. In Defi, people need stablecoins to trade between different coins, to trade derivatives, to lend and borrow money – all outside the regulated banking system. Without stablecoins, Defi comes to a halt."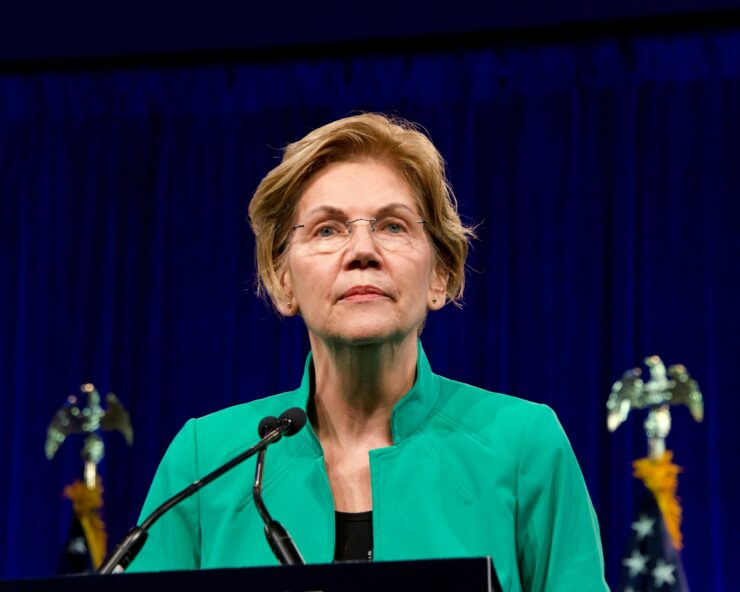 Senator Warren Says Stablecoins Pose Risk to America's Economy
During the hearing event, a professor at the American University College of Law Hilary Allen responded to questions on whether stablecoins might pose a threat to the US financial system. The senator asked prof. Allen, "Does Defi threaten our financial stability? And can Defi continue to grow without stablecoins?"
The professor responded saying: "I don't think Defi can grow without stablecoins. I think it would struggle. Right now, I think Defi is contained to the point where it won't impact financial stability, but if it grows, I think there's a real threat there. Particularly if it becomes intertwined with our traditional financial system, and there is industry interest in pursuing this integration on both the traditional finance and the crypto side. So, I think it's critical that stablecoins not be allowed to fuel that growth."
That said, Senator Warren emphasized that: "Stablecoins have no regulators, no independent auditors, no guarantors, nothing. And they are propping up one of the shadiest parts of the crypto world — the place where consumers are least protected from getting scammed." She concluded by asserting that:
"This is [a] risk to traders … to our economy. The time to act is before it all blows up. Our regulators need to get serious about clamping down on these risks before it is too late."
You can purchase crypto coins here: Buy Tokens
Broker
Benefits
Min Deposit
Score
Visit Broker
Share with other traders!