As one would expect, a change of administration in the world's largest economy holds so much weight for emerging technologies like blockchain and cryptocurrency. A change in policies and regulations can either boost or frustrate the growth of the cryptocurrency industry.
With that in mind, America's top blockchain group, Blockchain Association, is taking no chances and is making moves to educate the Biden administration on the numerous benefits and values of cryptocurrencies.
Driven by the fear of increased regulations on the industry, the Blockchain Association is trying to lobby members of the Biden administration to be more cryptocurrency-friendly. The group explained to Fox News that it had already discussed with some staffers in the Treasury Department and is now attempting to have talks with more prominent members of the new cabinet.
As crypto-assets continue to gain more prominence and adoption, several governments and central banks across the world have called for increased regulations and an outright ban, in some cases. The popular reason for the dislike by many governments is the use of cryptocurrency in criminal activities.
Blockchain Association is trying to get the Biden administration to adopt an open-minded stance towards cryptocurrency matters. The group is working towards securing meetings with US Secretary of the Treasury Janet Yellen and nominated Deputy Secretary Wally Adeyemo.
The Executive Director of Blockchain Association, Kristin Smith, noted that:
"Our number one priority is helping Yellen understand crypto goes beyond the financing of criminal enterprises. We want her to understand the value of crypto networks."
Optimism Over New SEC Chairman
Worried cryptocurrency enthusiasts got calmed following the announcement that Gary Gensler could emerge as the successor to Jay Clayton as chairman of the US Securities and Exchange Commission (SEC).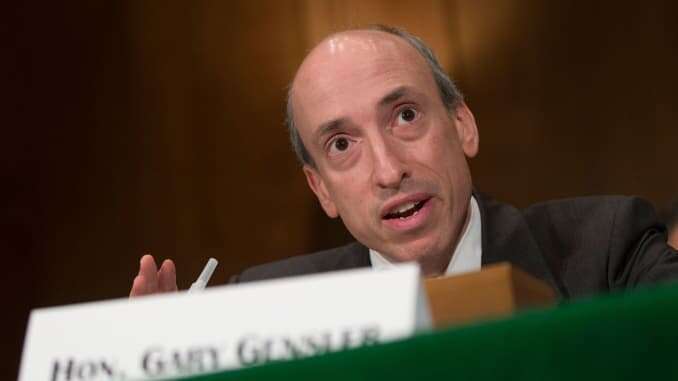 Gensler is much more receptive to cryptocurrencies and has suggested a softer stance towards Bitcoin regulation in the past. In a 2018 congressional testimony, Gensler noted that:
"Blockchain technology has real potential to transform the world of finance. Though there are many technical and commercial challenges yet to overcome, I'm an optimist and want to see this new technology succeed. It could lower costs, risks, and economic rents in the financial system."
The stance of the current cabinet on cryptocurrency regulation will play a significant role in the industry. That said, industry stakeholders are hoping for a favorable outcome in the coming months.
You can purchase crypto coins here: Buy Coins
Broker
Benefits
Min Deposit
Score
Visit Broker
Share with other traders!