Invest at least $250 in D2T to gain lifetime access to our VIP Signals
Get early access to Dash 2 Trade's Presale. Buy the D2T token now
Existing community of 70,000+ traders
Unlocks access to the leading crypto trading analysis, signals and trading tools
As featured in CryptoNews.com, FXEmpire.com, FXStreet.com and more
World class development team backed by Quant developers and VC investors

When an NFT (non-fungible token) sale takes place, the buyer is not essentially purchasing the underlying digital image. Instead, the buyer is purchasing a crypto token representing proof of ownership of the digital image in question.
Without the authentic token, you might as well have thrown your money to a random person on the internet. This explains the whole concept behind the "non-fungibility" of these tokens. Also, because it is stored and accessible through the blockchain, its uniqueness is easily verifiable, and no two identical NFT tokens can exist.
That said, many have tried to forge an NFT, but it is easy to identify fake or forged NFTs because they can always get traced back to the original creator's address.
You could try to forge the token by creating your own, but it would be too easy to verify that it's a forgery. Why? Because it cannot be traced back to the original creator's address.
You might be wondering: if non-fungible tokens are in image or video formats, can they get duplicated or forged easily? The simple answer is no, and here is why.
Inside every token's metadata is all information about the original image attached to the token. Because this metadata is unalterable, the attached image cannot be swapped.
Minting an NFT—Citing BAYC as Reference
For instance, say you want to own one of the famous Bored Ape Yacht Club (BAYC) NFTs. As a quick aside, BAYC is a collection of 10,000 ape NFTs, each with a unique token on the Ethereum blockchain. Also, each ape has a unique Token ID, ranging from #1 to #10,000.
Back to the topic at hand, say you want to buy a BAYC NFT and make millions of strangers on the internet jealous, the first thing to do would be to create an account on OpenSea using a browser plug-in called Metamask.
To purchase a BAYC token, you must have an Ethereum wallet, which doubles as your "account number." Once you pay for the token, assuming you have enough ETH in your wallet, the unique bored ape token gets sent to your Ethereum wallet.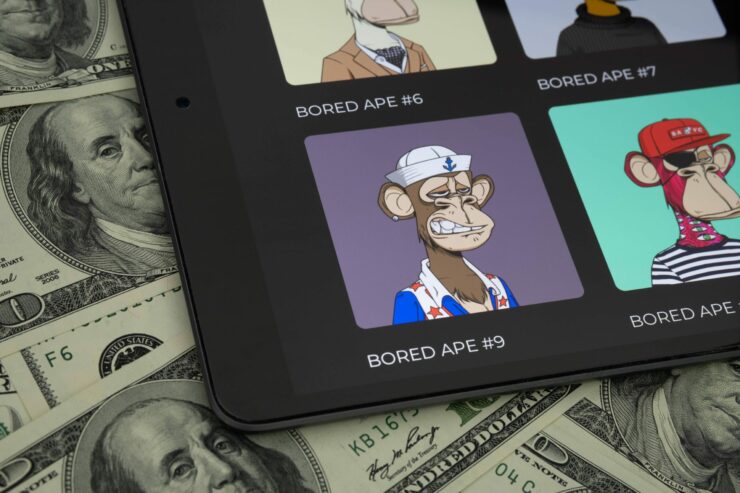 That said, anyone on the blockchain can easily verify that you possess ownership of the token since it would be in your wallet.
However, to verify if the BAYC token you wish to purchase is authentic, you can easily view the details of each NFT on OpenSea, along with the "Contract Address" and the token ID.
Every NFT project on the Ethereum blockchain has a Contract Address, the original creator's wallet address. For those curious, below is the original address for BAYC:
0xBC4CA0EdA7647A8aB7C2061c2E118A18a936f13D
That said, if what you want to purchase does not originate from the Contact Address shown above, then you are in the presence of a counterfeit BAYC NFT.
Meanwhile, you can also verify if an NFT is real using the blockchain explorer called "Etherscan."

NFT to Disrupt Creative Space
As the NFT space grows, we could see the use of this blockchain protocol beyond proof of ownership of digital art and other digital items within a blockchain network. A good example of a prospective non-art NFT is ticketing. Many analysts project that most major events will soon adopt NFTs for ticket sales in the future. This innovation would undeniably disrupt the ticketing industry sooner than later.
One "early-stage crypto investor" previously recommended that NFTs could be used by animators to retain control and rights over their creation in an original way.
Furthermore, NFTs could completely revolutionize how we build businesses, raise funds, finance art projects, and so much more. One thing for sure is that NFTs are a big part of the creative future and are not going away anytime soon.
Broker
Benefits
Min Deposit
Score
Visit Broker
Share with other traders!