Invest at least $250 in D2T to gain lifetime access to our VIP Signals
Get early access to Dash 2 Trade's Presale. Buy the D2T token now
Existing community of 70,000+ traders
Unlocks access to the leading crypto trading analysis, signals and trading tools
As featured in CryptoNews.com, FXEmpire.com, FXStreet.com and more
World class development team backed by Quant developers and VC investors

A native of the BNB Chain, PancakeSwap (CAKE) is a decentralized exchange (DEX). Like the Ethereum-based Uniswap, it enables direct user-to-user trading, purchasing, and selling of tokens. PancakeSwap employs BEP20 tokens, the token standard created by Binance, as it runs on the BNB Chain.
Through the utilization of a mechanism known as an automated market maker (AMM), it eliminates the intermediary. Rather than making purchases and sales directly with buyers and sellers, PancakeSwap allows users to trade against liquidity pools or LPs (funds locked in smart contracts).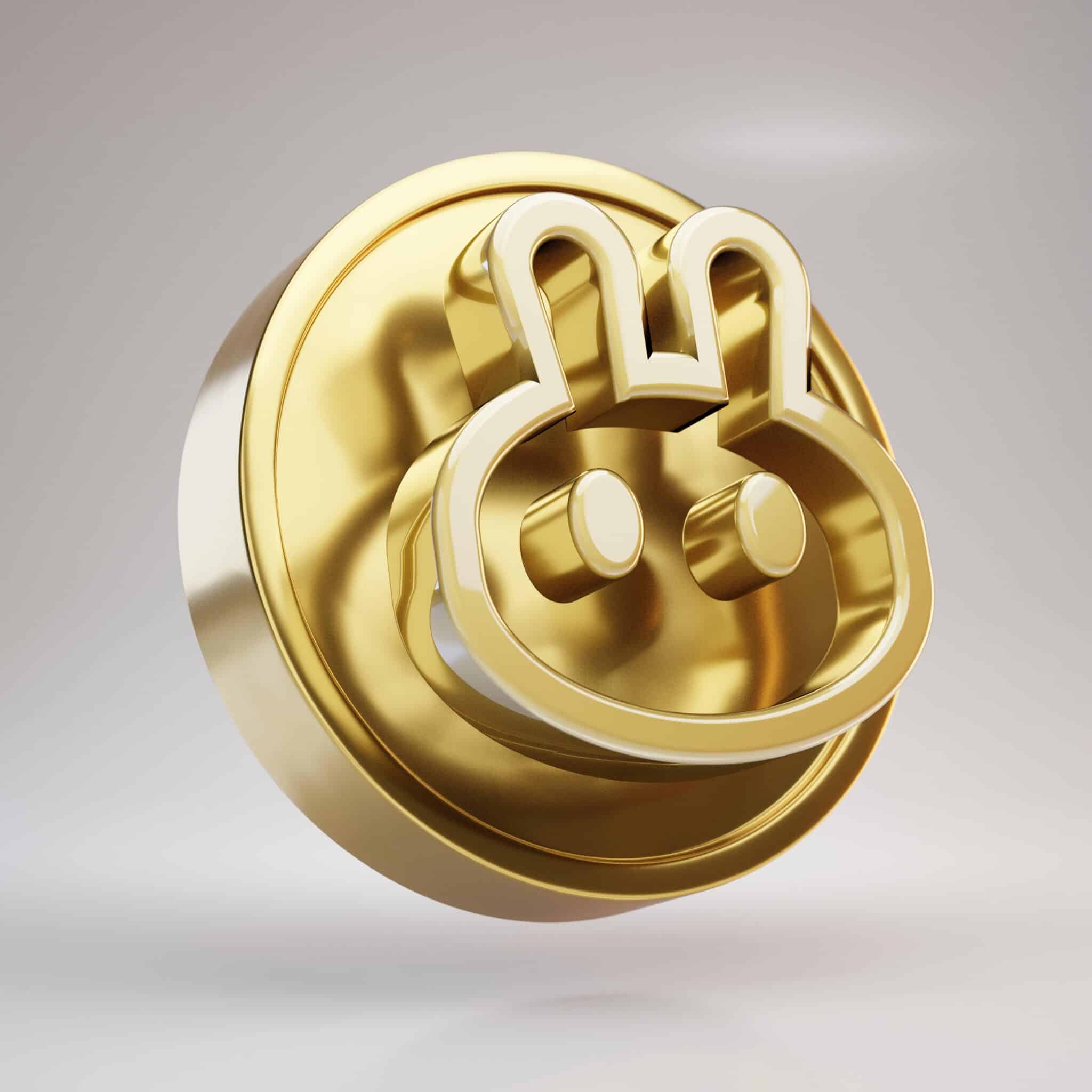 For instance, you'll need to locate a BNB/CAKE pool with adequate liquidity (or money) to execute your trade if you wish to exchange your BNB for PancakeSwap's native token CAKE. Then, based on the most recent exchange rate, you will automatically receive CAKE tokens after depositing BNB tokens into the pool.
Investors deposited these two tokens to start the BNB/CAKE pool, which will aid in trading. These "liquidity providers" (LPs) can profit in exchange by receiving a portion of the commissions you paid for your deal.
Therefore, where there is an adequate volume (i.e., trading demand) between any two token pairings, automated market makers have strong incentives for liquidity pools to form. They are very efficient and scalable as a result.
PancakeSwap offers yield farming options in addition to being a liquidity provider, allowing users to lock up different crypto assets and earn "interest" in the form of CAKE tokens.

How Does PancakeSwap Generate Revenue: PancakeSwap Revenue Streams
These are the different revenue sources that PancakeSwap has diversified. They include:
Swap fees

Lottery

Initial farming offering

Staking fees

Prediction pool fees
Swap Fees
The project's PancakeSwap AMM main product brings in the most money. A fee of about 0.25 percent must be paid by traders for each transaction. Of this fee, 0.17 percent is distributed to liquidity providers on the project. The remaining 0.8 percent is used to repurchase and burn CAKE, with only 0.03% going to the PancakeSwap treasury.
One of the ways PancakeSwap helps control inflation is by burning CAKE tokens once a week. Burning helps manage the supply of CAKE since it has no hard cap, meaning that it can be produced infinitely, safeguarding the value of users' holdings.
The crypto project explains that the primary reason why CAKE's supply is unrestricted is: "The main goal of CAKE is to encourage people to give liquidity to the exchange. There would be far less motivation to supply liquidity if there were no block rewards."
Lottery
Lotteries are used by PancakeSwap in two ways to make money for the platform. To start, it enables participants to buy four tickets (up from four) in order to raise money and participate in a drawing. Secondly, users incur transaction costs when buying lottery tickets.
The six numbers on a player's ticket must match the numbers picked at random for them to win. Depending on how many other tickets win in the same prize category, each winning ticket's reward value will vary.
For instance, if a player's ticket was the only one with all six numbers correctly, and the prize pool for that bracket had a predetermined value of 2000 CAKE, they would win the entire 2000 CAKE. However, if the player and three additional individuals match all six digits in the correct order, the 2000 CAKE will be divided among the four winning tickets, with each receiving 500 CAKE.
Initial Farming Offering (IFO)
IFOs on PancakeSwap give investors privileged access to newly-issued tokens as soon as they are added, allowing them to take advantage of bigger payouts. PancakeSwap receives payments from token issuers in exchange for managing token sales on the platform.
Participants must create profiles in order to participate in an IFO. The profiles come with fees, which reduce the overall supply of CAKE by burning a small amount of CAKE for each profile that is made.
Staking Fees
Users of PancakeSwap can earn prizes by staking CAKE through an initiative called "syrup pools." There are two major types of staking, including fixed-term and flexible. While fixed-term staking entails users locking their staked CAKE for a predetermined duration in exchange for the potential to earn greater rewards, the latter allows users to stake CAKE and earn rewards with the flexibility to "unstake" whenever they wish.
Performance fees, which average 2%, provide revenue. In flexible staking, they are automatically deducted from each yield harvest. In addition, a 0.1% "unstaking fee" applies if you withdraw your bets within 72 hours. As part of the weekly CAKE token burns, the unstaking fees and performance fees collected are burned.
Prediction Pool Fees
Players can forecast the price of BNB for the next five minutes using the prediction tool and then wager the amount in either a "UP Pool or a DOWN Pool." The participants on the DOWN Pool win if the price is less than the starting price, and the money in the UP Pool is split equally among the players on the DOWN Pool.
Every Monday, 3% of the value of each pool's revenue is withheld and transferred to the Pancake treasury to be used to repurchase and burn CAKE tokens.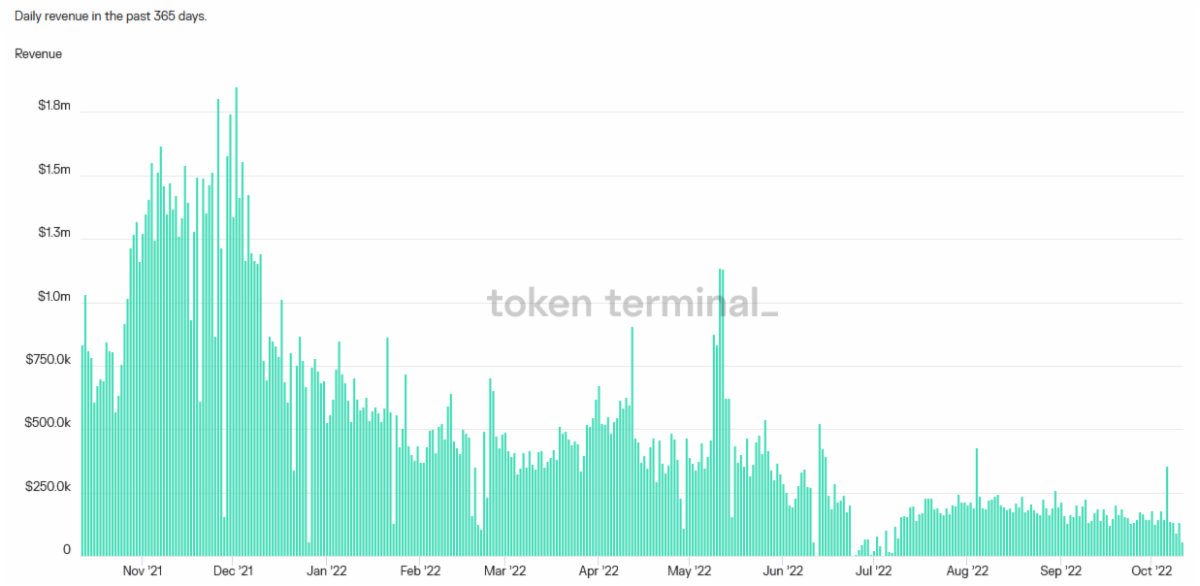 PancakeSwap Revenue History
Like the majority of crypto protocols, PancakeSwap saw steady income growth through November 2021 before experiencing a decline in 2022. PancakeSwap's success is probably connected to Binance's because it is based on BNB Chain. In fact, the BNB revenue graph depicts a similar fall in 2022.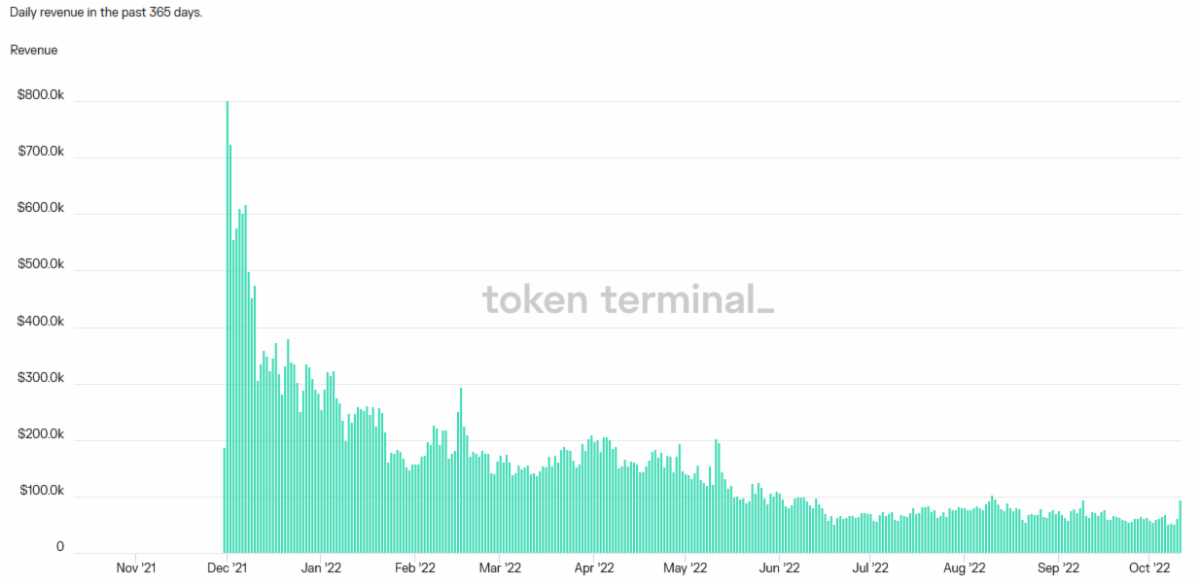 PancakeSwap, a decentralized exchange, faces off against Binance, the biggest centralized exchange in the world. PancakeSwap and Binance's BNB Chain are rivals and partners due to their shared foundation.
Broker
Benefits
Min Deposit
Score
Visit Broker
Share with other traders!