Service for copy trading. Our Algo automatically opens and closes trades.
The L2T Algo provides highly profitable signals with minimal risk.
24/7 cryptocurrency trading. While you sleep, we trade.
10 minute setup with substantial advantages. The manual is provided with the purchase.
79% Success rate. Our outcomes will excite you.
Up to 70 trades per month. There are more than 5 pairs available.
Monthly subscriptions begin at £58.

The internet is jam-packed with forex robot providers making unbelievable claims. The truth is that forex robots can be a great way for traders to create a passive income. But, it's a matter of doing your homework.
If you aren't too sure what a forex robot is, you could describe it as a personal assistant. The robot utilizes predetermined rules, parameters and technical analysis. In other words, the software does the hard work for you.
Robots can help experienced traders that don't have enough hours in the day to research multiple currencies, and they can also eliminate emotions. In addition to that, the forex market can change in the blink of an eye so having a robot to buy and sell on your behalf when the time is right makes sense.
For investors who are new to forex trading and don't know where to start, using a fully automated forex robot will save you a lot of time and effort. In the same way, this can result in a passive income, and you might just learn something.
With this in mind, it might be worth considering Robomaster.eu. The platform designs technical indicators and scalping strategies – and installs this into a fully-fledged robot.
Today we are going to delve into the four robots developed by Robomaster.eu. First, we are going to explain what Robomaster.eu is, and then we'll differentiate between the 4 bots available.
Robomaster.eu - Choose from 4 Automated Trading Robots

Fully-automated forex trading robot
4 different robots to choose from
Multiple trading strategies and currencies
Easy to use

What is Robomaster.eu?
Robomaster.eu is a forex developer. It provides several indicators and automated trading systems to investors. The group currently provides 4 different robots to the trading community.
Each of the provider's robots follows the MQL5 language regulations and will be time-tested and improved with severe market conditions considered.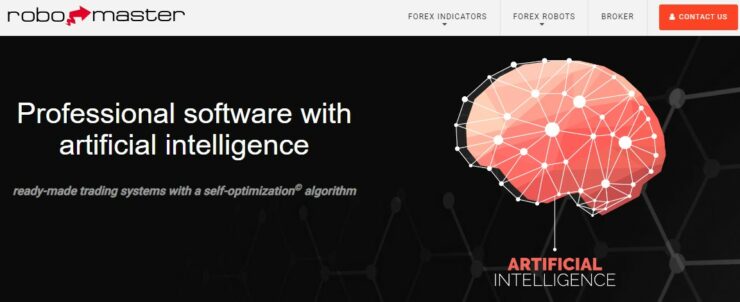 The systems are 'The Big Fish', 'Angler Fish', 'Trade Machine' and 'Rocketea'. Each one has a different and unique trading strategy, so we are going to look at each one separately later in this review.
Is Robomaster.eu a Genuine Forex Developer?
There are a lot of disingenuous forex robot providers out there, most of which promise great trading results. The problem arises when you pay for your new system and suddenly discover it's not genuine software.
Although 100% risk-free trading doesn't exist, there are things you can look out for to protect yourself from rogue software providers. That old saying goes "if it seems too good to be true, it probably is". If you see a forex robot advertising amazing results and the product is really cheap, then it might be better to keep looking.
Finding a platform with a money-back guarantee can save you a lot of hassle. Failing that – at least do your research first. Furthermore, making the most of user reviews can be invaluable when it comes to researching a company. Bad news travels fast, so if a forex robot is being blasted on social media – there is probably some truth behind it
Robomaster.eu is a legitimate company, but there are no guarantees that you will become a highly profitable investor overnight. Sometimes with these things, a bit of trial and error is a learning curve. That's where demo accounts are particularly useful in the volatile forex environment
However, traders should proceed with caution, as some of the claims made by forex robot websites are bogus.
Robomaster.eu: Big Fish EA

This is a forex robot which uses a scalping strategy and an adaptable algorithm to supply stable profits. The program is equipt to trade in all forex market conditions.
The robot trades on an M5 timeframe. The software trades on pullbacks following in the direction of the forex market trend. In particular, this forex robot is useful for trading USD/JPY. With this platform, you can trade between one and four trades at any given time. The team behind Robomaster.eu claim that the profitability on scalping with Big Fish EA is 10-50% per month
On both Big Fish EA varieties, traders can add the software to a quote chart and leave it to trade independently. Interestingly, this robot can work with other forex robots. This will help you to diversify your investment portfolio.
Both Big Fish EA accounts come with lifetime future software updates, a detailed manual, 24/7 support and Automatic configuration
Big Fish EA – Account Options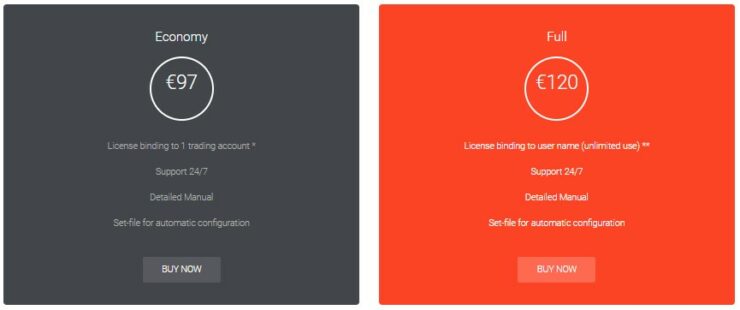 This forex robot has two different account options available and they are 'Economy' and 'Full'.
Economy Big Fish EA

costs €97 and includes a single licence account (using 1 account number). Moreover, Robomaster.eu provides 24/7 customer support, a detailed product manual and set-file to enable automatic configuration.

Full Big Fish EA

is priced at €120 and you can expect a licence bound to your username. This means that you can use this version of the forex robot an unlimited amount of times, on an unlimited number of trading accounts and platforms. When you purchase this product you need to specify a trading account name. The Robomaster.eu platform will then use that name along with the indicator code.
Big Fish EA – Key Features and Filters

Rollbacks:

This forex robot utilises several custom indicators to predict the direction of the forex market trend. Next, it makes trades in the same direction.
Stable Profit:

This feature doesn't wait for the stop-loss to kick in. The system monitors market risk and closes risky deals to prevent the price going against the open position
No martingale:

Robomaster.eu doesn't believe in the martingale strategy, considering it too much of a risk. This we would have to concur with.
Robomaster.eu: EA Trade Machine

This is Robomaster.eu's second creation when it comes to forex robots. The company claims this scalping robot can change $3,000 into $7 million – although we're going to have to reserve judgement on that.
EA Trade Machine uses the M5 timeframe. It covers the Pacific, American and Asian trading sessions. The platform says its trading strategy is 'channel trading' (essentially moving with the global trend).
On the Robomaster.eu website, the team claims that this forex robot scalps the average price from the deviation with 99% average accuracy. The company uses a sophisticated profit-trailing feature, slippage control and a news feature. Backtests are available for EA Trade Machine on Myfxbooks, the third-party independent testing platform.
EA Trade Machine – Account Options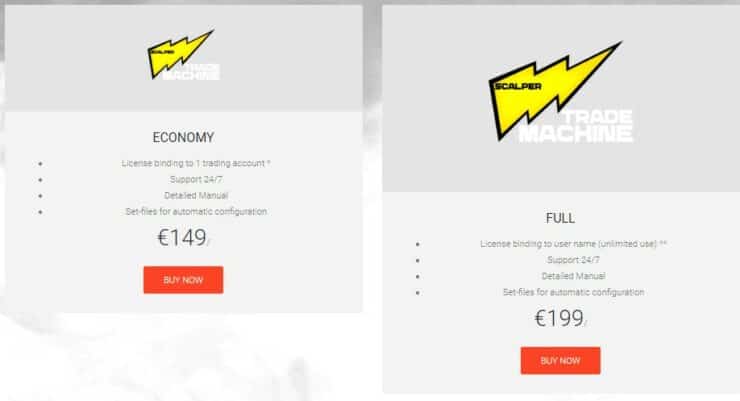 Economy EA Trade Machine

costs €149. The price includes a single licence trade account, 24/7 support and set files to facilitate automatic configuration. Binding to the account number means that the indicator in question will only work on one account number.
Full EA Trade Machine

comes in at a cost of €199. With this fore robot, you can expect an unlimited trading licence on all computers. Besides this, customers receive a detailed manual, updates for life, 24/7 customer support and set files to be used for auto-configuration.
EA Trade Machine – Key Features and Filters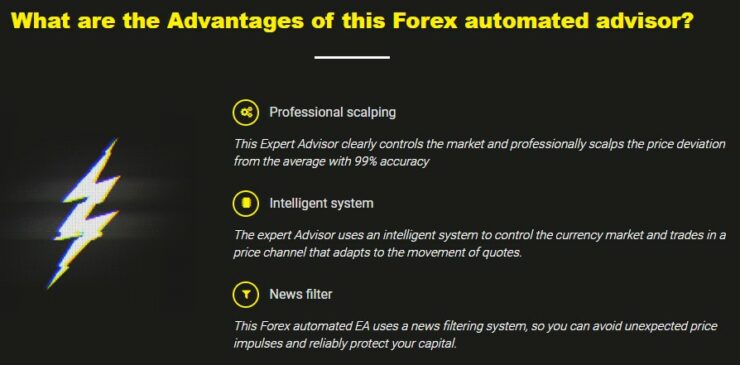 Maximum diversification:

EA Trade Machine can trade 10 currency pairs at the same time so it will grow trading results.

News filter:

This feature ensures that you don't miss any important financial news

No martingale:

In the same way the other 3 Robomaster.eu robots, this doesn't use the martingale strategy.
Deviations search:

The forex robot searches for cost deviations from the market average. Next, it trades towards the middle of the price.
Auto adaptation:

The EA Trade Machine automatically discovers the cost channel of currency quotes and continuously attunes itself to the latest market movements.

Any market conditions: This forex robot can trade under any forex market conditions and is developed for a long duration of quotes.
Robomaster.eu: Rocket EA

The Rocket EA uses M15 time frame and trades during Asian sessions. This forex robot uses a strategy involving scalping in the Bollinger Channel. The platform offers traders a potential profitability of 10%-20% per calendar month and operates on the MT4 platform.
There are 2 strategies to choose from on this system:
Strategy 1:

Currency pairs USD/CHF, EUR/GBP, EUR/CAD, GBP/CAD, AUD/CAD, EUR/CHF, EUR/USD, EUR/AUD, GBP/USD, GBP/CHF, GBP/AUD, USD/CAD, CAD/CHF and MT15 timeframe.

Strategy 2:

GBP/AUD, EUR/AUD, EUR/CAD, AUD/CAD and MT5 timeframe.
One of the main advantages of this robot over the other Robomaster.eu software systems is that it trades 12 currency pairs at once. The platform promises risk diversity and steady gains, however, there isn't much information on the strategy of this particular forex robot.
When it comes to trading results, there are a dozen backtests on Myfxbooks.
Rocket EA – Accounts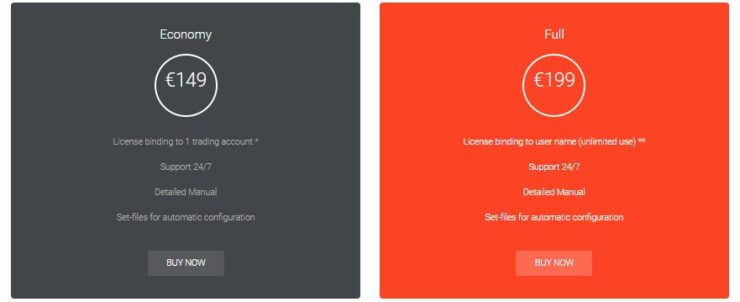 Much the same as all of the other forex robots designed by Robomaster.eu, there are two slightly different versions.
Rocket EA Economy

is priced at €149 and is inclusive of licence binding to one trading account number, 24/7 support and includes a detailed software manual. Besides that, the price includes set-files for automatic setup.

Rocket EA Full

costs €199 and you can expect licence binding to your username. This allows for unlimited use on various trading platforms and devices. As with all Robomaster systems, the price includes a detailed forex robot manual, 24/7 customer support access and set files for immediate configuration.
Rocket EA – Key Features and Filters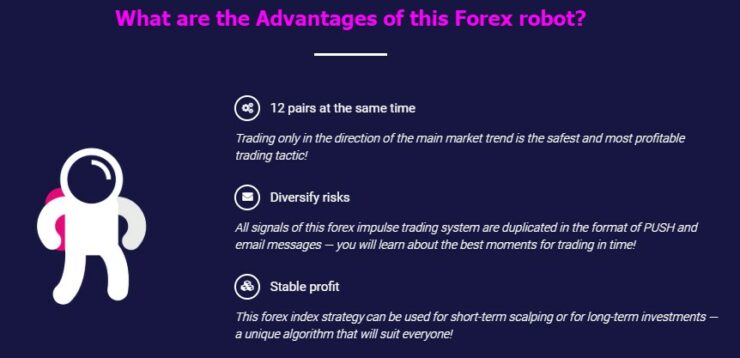 No Martingale or Grid:

As we've said, Robomaster.eu does not use these trading strategies.

Stop-loss:

The stop-loss feature is used with every trade, automatically.
Robomaster.eu: Anglerfish Forex Robot

The Anglerfish forex robot monitors the trend direction on M5, M15, H1 and H4 time frames. On the same time frames, it monitors the depth of the cost pullback against the trend. The minimum account value for this product is $100, and the platform says that potential profitability is 10%-30% per month.
Currency pairs for trading on this forex robot are GBP/USD, EUR/GBP, EUR/AUD, USD/JPY, EUR/CA and EUR/USD. Trading time is stated as 'end of American session – beginning of Asian session'. The trading time frame is M5 for this robot.
This Robomaster.eu product offers trades within a price channel maintaining trend control. The platform promises high profitability, slippage control and offers filters such as a spread filter.
The company claims a 98% success rate on trades and is designed to enter positions in the same direction as the price movement. The Anglerfish forex robot is protected by stop-loss, and all stop-losses will be corresponding in size.
Anglerfish Forex Robot – Accounts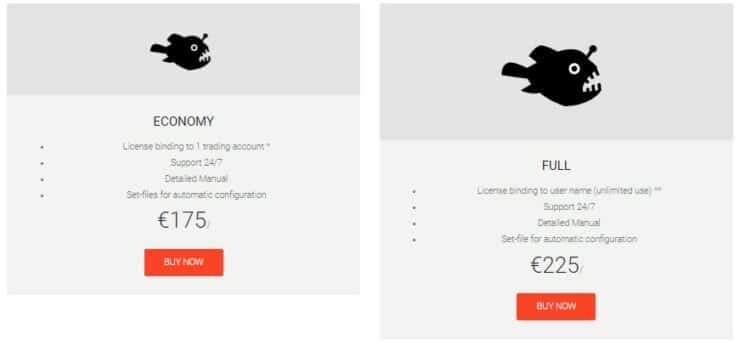 This forex software comes in two different varieties, and they are as follows.
Anglerfish Economy

costs €175 and includes one trading account licence (bound to one account number), 24/7 customer support, lifetime updates, a detailed user manual, set files to enable automatic configuration
Anglerfish Full

is priced at €225. The full version includes unlimited licence use on trading accounts and platforms (bound to a username). In addition to this, 24/7 support, a detailed instruction manual and set-file for auto-configuration. Lifetime future updates are also included.
Anglerfish Forex Robot – Key Features and Filters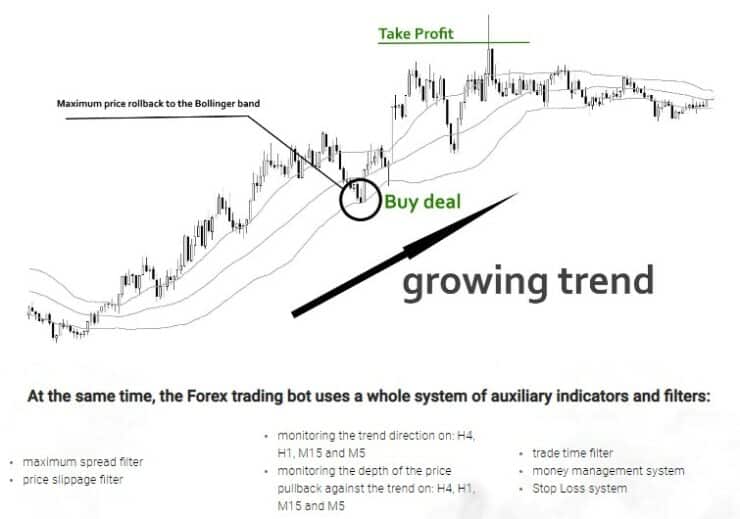 Maximum spread:

This prevents the forex robot from entering orders when the spread goes over the predetermined amount
Price slippage filter:

When the forex market is volatile this filter will protect you from slippage.
Money management system:

This essentially means that the forex robot will adapt to the current conditions of the market automatically.
Stop-loss system:

Anglerfish robot will automatically create a stop order as soon as the trade reaches a certain price.
Trade time filter:

The time trade filter enables traders to restrict the amount of time it will trade. If you have a limited initial investment then this is helpful.
How do I Sign Up to Robomaster.eu?
As you can see, there are a few things to consider before you decide which forex robot you would like to use. In this scenario, Rocket EA, Anglerfish, EA Trade Machine and Big Fish EA are part of the same group.
Consequently, the signing up process is almost identical. With that said, our 4-step example will explain the process required when purchasing Big Fish EA.
Step 1: Register for a Robomaster.eu Account
First and foremost, you have to head over to the Robomaster.eu website. Once there, you will see a drop-down 'forex robots' bar. Simply select the robot you are interested in purchasing from the drop-down list.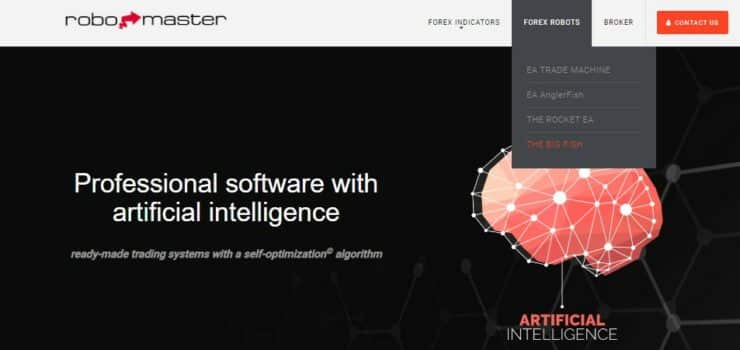 When you have decided on a forex product you simply hit 'buy now'. We are using EA Big Fish as our example.
Step 2: Download your Robomaster.eu Robot
As soon as you have paid for your forex robot, you should receive an email straight away. If you feel like it's been longer than expected, contact the customer support team at Robomaster.eu.
Let's say your email has come through. Now you need to click on the link within the body of the email and this will redirect you to download the software.
Step 3: Try out a Demo Account
After buying your robot, you can take advantage of demo accounts to get a feel for the system. Even experienced traders use these features, as it's a great way to try out new trading ideas.
Step 4: Begin Trading With a Robomaster.eu Forex Robot
That's it. Now you can start trading with your forex robot! As a fully-automated system, there is nothing more for you to do. That is to say, the robot will buy and sell currencies on your behalf.
As noted throughout this review, we strongly suggest that you start off with smaller stakes. This way, you will be able to use the robot in a risk-averse manner.
Robomaster.eu Review: The Verdict?
The presentation of the Robomaster.eu platform is easy on the eye, and navigation is seamless. The fact is, there are positives about this forex designer. This includes above-average trading results and the ability to trade in a 100% passive manner. Reviews in the public domain from current users are also positive.
All of the products from this forex robot provider have helpful features like responsive customer support, easy to follow videos and a range of custom settings. Furthermore, the filters help when it comes to adding a forex robot to your existing strategy.
The choice is yours. But, always conduct thorough research before you commit to anything.
Robomaster.eu - Choose from 4 Automated Trading Robots

Fully-automated forex trading robot
4 different robots to choose from
Multiple trading strategies and currencies
Easy to use

FAQs
Is Robomaster.eu legit?
Yes, the Robomaster.eu robot is a legitimate platform with a good reputation in the online space.
What's the minimum deposit required for Robomaster.eu?
As little as $100 depending on which forex robot account you are interested in.
How can I register an account with Robomaster.eu?
First visit the Robomaster.eu website. Next, choose a robot from the drop-down menu. As a result, you will be taken to a new page with details on that particular robot. Simply click on 'buy now' to complete the process.
Is it possible to make a profit using Robomaster.eu forex robots?
Yes, it is possible. However, take into account that nothing is 100% risk-free or guaranteed.