The dollar rally continues today, but buying is mostly concentrated against the euro, Swiss franc, and kiwi. Euro is not getting better-than-expected support from investor confidence data. Thanks to some stability in crosses, Sterling is currently the second strongest.

Commodity currencies are trading slightly weaker, but generally holding above Friday's low. Risk sentiment in the European market is mixed, and traders will be watching the development of the situation in the US, in particular in technology stocks, as well as the yield on Treasury bonds.

The euro started the week in negative territory, dropping below the 1.19 level. The EUR/USD pair is currently trading at 1.1845, down 0.24% over the day. The catalyst for the strengthening of the dollar was the rise in yields on US Treasury bonds. 10-year bonds rose to 1.60% earlier Monday, while 30-year bonds rose to 2.31%. It was in response to the Senate passing a massive $ 1.9 trillion stimulus package on Saturday.

Democrats who control both houses of Congress plan to send the bill to President Biden for signature by March 14. Eurozone data on Monday was mixed. German industrial production was at -2.5%, the first drop in five months.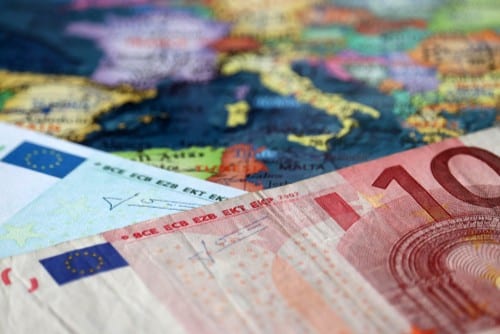 Eurozone Sentix Grew to 5, Investors Optimistic About the Economy's Rapid Recovery
There was also better news from Sentix investor confidence in the eurozone, which climbed to 5.0, the highest gain since February 2020. Eurozone investor confidence jumped to 5 in March from -0.2, higher than expectations of 1. It is also the highest since then, February 2020.
The Current Situation Index rose from -27.5 to -19.3, the highest level since March 2020. The expectations index also improved from 31.5 to 32.5 but did not reach the January high of 33.5.

Sentix commented: "On a positive note, the pandemic appears to be peaking globally and vaccination is progressing well as the number of immunized individuals grows and statistics show that effective protection against vaccination is being achieved. These trends are allowing the economy to open up faster. This is what investors are betting on."

The global overall index rose for the 11th straight month, from 17.5 to 20.5, the highest level since March 2018. The current situation rose from 0.0 to 5.5, the 10th consecutive growth and the highest since February 2020. The expectations index has not changed. an all-time high of 36.5.
Broker
Benefits
Min Deposit
Score
Visit Broker
Share with other traders!