ECB minutes for the March meeting supported EURUSD. The protocol showed that policymakers saw risks to economic growth thanks to the huge US fiscal stimulus. Meanwhile, despite higher near-term inflation, inflation should remain low and below the central bank's target. Policymakers also pledged to speed up PEPP purchases in 2Q21 to curb profit margins.

Policymakers saw "clear upside potential" for economic growth stemming from the latest US fiscal package. The central bank noted that the impact of the $ 1.9 trillion plan was not reflected in the March economic forecasts. As stated in the protocol, "the balance of risks is now shifting and becoming more balanced, or perhaps even starting to shift upward." Olli Rehn, a member of the Governing Council and the head of the central bank of Finland, pointed out in his speech today that the impact of the US fiscal stimulus could increase the GDP growth of the eurozone by 0.3-0.5 percentage points.

Concerning inflation, members confirmed that the rise in prices shortly was caused by "some temporary factors and the rise in energy price inflation". They warned that "underlying price pressures remain subdued" amid "weak demand and a significant downturn in labor and commodity markets."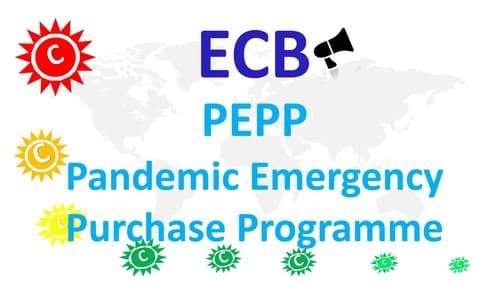 ECB Decision on Broad Consensus
At its March meeting, the ECB announced that it will accelerate monthly purchases of PEPP in the coming months. The minutes showed that the decision was not taken unanimously, but "based on a broad consensus." It was agreed that a significant increase in procurement "will give the markets a clear signal of the 'responsive function' of the Board of Governors. The ECB also noted that the decision was made on "the understanding that the overall PEPP package is not in question in the current environment and that the pace of procurement may be slowed down in the future."

Interestingly, Dutch Governor Klaas Noth suggested today that the central bank could begin "phasing out emergency measures to combat the pandemic" from the third quarter of 2021. The economy will develop in line with the ECB baseline forecasts while keeping the promising benchmarks and APP. Elsewhere, Executive Board member Philip Lane reaffirmed that expansionary monetary policy should be maintained "even after the disinflationary pressures caused by the pandemic have been adequately offset."

The chart below shows that the ECB's balance sheet expanded significantly in the weeks following March as a result of pre-purchases at PEPP. As the central bank sees upside risks and the pre-purchase decision was not unanimous, they could likely slow down again in 3Q21.
Broker
Benefits
Min Deposit
Score
Visit Broker
Share with other traders!