Service for copy trading. Our Algo automatically opens and closes trades.
The L2T Algo provides highly profitable signals with minimal risk.
24/7 cryptocurrency trading. While you sleep, we trade.
10 minute setup with substantial advantages. The manual is provided with the purchase.
79% Success rate. Our outcomes will excite you.
Up to 70 trades per month. There are more than 5 pairs available.
Monthly subscriptions begin at £58.

If you are reading this page, you might already know Bitcoin Prime is. However, for those unaware – it is an automated trading app using artificial intelligence.
When it comes to advanced crypto trading software, it's understandable to be suspicious. Especially when it comes to claims of such epic proportions.
Bitcoin Prime claims that in one single day, it's app can mushroom your investment 2 fold or even 3 fold.
In this review, we investigate the ins and outs of Bitcoin Prime. This includes an explanation of how the system works, what risks you need to consider, and whether or not the claims made by the provider are valid.
An Overview of Bitcoin Prime Review
Even though this trading robot was only launched in 2017, according to the Bitcoin Prime website, some 20,000 clients have become 'Bitcoin Millionaires' using its AI-powered algorithm.
Bitcoin Prime operates internationally in over 150 countries. Moreover, clients can trade both crypto-fiat pairs as well as crypto-crypto pairs – all in an automated manner.
Let's take a look at some pros and cons.
Pros
Bitcoin Prime is resistant from cybercriminals because its data is protected via blockchain technology

Raise a dispute and keep an eye on your account via 'Bitcoin Prime Smart Contract' technology

The platform claims that clients will profit from 9 out of 10 trades with a win rate of around 90%

The procedure of trading Bitcoin through an automated bot is much less complicated than investing in the traditional way

The Bitcoin Prime platform claims to be transparent and offers customer support via live chat, email, and telephone from Monday to Friday
Cons
Minimum deposit US$250 to start trading via Bitcoin Prime

No assurance you will turn a profit

Makes huge claims of unfounded profits
It's well known that purchasing Bitcoin through a third-party exchange is risky business. So in that respect, Bitcoin Prime seems to be a win-win situation – offering high risks and high rewards.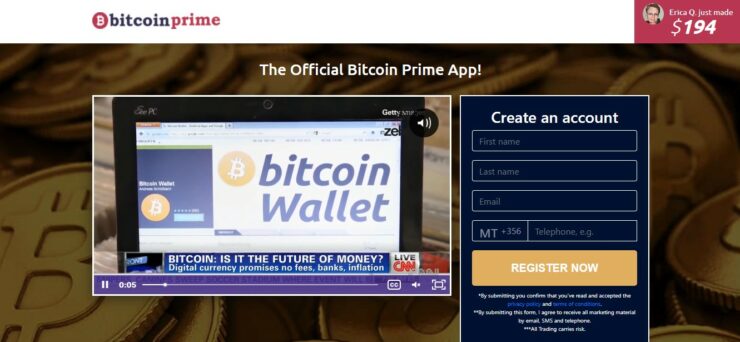 However, where your hard-earned capital is involved, it's always important to conduct your own research before committing to a platform like this. Always proceed at your own risk.
Bitcoin Prime: What Exactly is it?
As we touched on, Bitcoin Prime is a robot that uses AI technology to scrutinize the markets.
The objective of the software is to speculate on the rise or fall in the value of BTC. Furthermore, the Bitcoin robot provider declares that the accuracy of the robot is over 90%.
The technology used by the Bitcoin Prime robot uses scalping and other strategies to scour the markets for the best trading opportunities.
As the robot is 100% automatic, this saves you from having to understand technical analysis and reading price charts.
The AI software allows the Bitcoin Prime app to examine masses of data at a lightning-fast speed. The end goal is to provide you with accurate trading signals with an accuracy of 90%.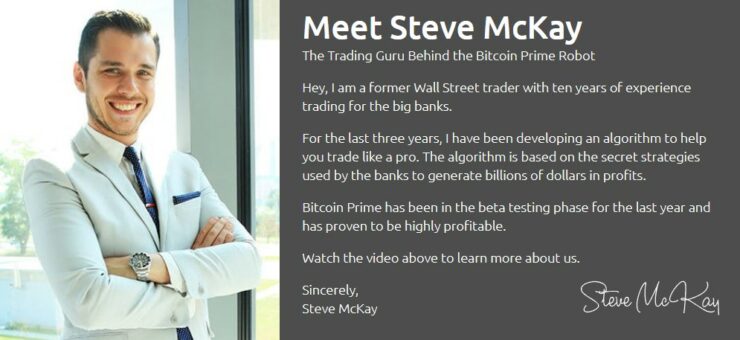 As you may know, these trading strategies are also used by large hedge fund managers, often making huge gains for institutional organizations. Thanks to the advanced software inclusive of AI machine learning, the Bitcoin Prime app is able to easily adapt to fast-changing market conditions.
We mentioned that the Bitcoin Prime app is automatic, so this is great if you lack any Bitcoin trading experience. On this platform, you can trade Bitcoin against fiat currencies such as British pounds (GBP), Euro (EUR), and US dollars (USD).
Moreover, you can trade Bitcoin against digital currencies like Bitcoin Cash (BCH), Ripple (XRP), Ethereum (ETH). The Bitcoin Prime robot has more than 50 cryptocurrency CFDs on offer, via the platform's partner brokers.
Bitcoin Prime: How Does it Work?
It is claimed that trading robots are 10 times more profitable than hiring an experienced Bitcoin trader. Not to mention cheaper.
Our Bitcoin Prime review found that the majority of 'professional' Bitcoin traders charge a fee in excess of 2% for 'wealth management' services. On top of that, you will likely be liable for commissions in the region of 15-20%.
In terms of fees charged by the Bitcoin Prime bot, this stands at a 2% commission fee on all gains. This of course indicates that the platform only turns a profit if you profit yourself.
It is claimed that the partner brokers of Bitcoin Prime are fully regulated by hugely respected bodies such as the FCA and ASIC. For those unaware, this means that if the brokerage firm went out of business, you are protected to a certain extent.
Put simply, regulatory bodies impose strict rules on financial providers in the space. This ensures a safer place for everyone – where KYC, customer care, and abiding by the law is imperative.
You may be wondering why you even need to use a broker. The fact is that Bitcoin Prime's partner brokers play a very important role, and that is to offer leverage. Not only that, but it goes without saying that you need a broker to facilitate your digital currency transactions.
In terms of leverage, you will find that Bitcoin Prime brokers will enable you to use leverage of various limits – depending on your country of residence. For example, if you have a balance of $500 and are able to obtain leverage of 1:10, this means that the robot can create a trading position worth $5k.
It's important to be mindful that leverage is a little bit like a loan, allowing you to trade digital coins on margin. As such, if your trade goes well, this can lead to impressive gains.
If on the other hand, your trade goes wrong your losses will be magnified too. This can lead to your account being liquidated – so do proceed with caution.
How much money you are able to make with the Bitcoin Prime app hangs on several different elements. For a start, this is going to depend on how much you are prepared to stake.
It's also crucial that you follow the instructions given by the provider to the letter. The Bitcoin Prime platform claims that users experience daily gains of up to 60%. Although this isn't guaranteed.
Open a Bitcoin Prime Account: 4-Step Walkthrough
As we touched on, Bitcoin Prime is available in over 150 countries.
Interested in using the Bitcoin Prime robot in your own trading endeavors? First, you will need to open an account.
To give you a headstart, we have listed below an easy to follow 4-step walkthrough. We detail how to open a Bitcoin Prime account today, including signing up, funding your account, and trading tips.
Step 1 – Sign up on Bitcoin Prime Platform
First, you need to head over to the official Bitcoin Prime website to create an account. The signup form is on the main page of the platform so you will have no trouble finding it.
You will need to enter your first and last name, email address, and telephone number. Next, you will need to read and agree to the site's terms and conditions and create a strong memorable password that only you would know.
Bitcoin Prime will then match you up with a broker. As per KYC, you will invariably need to provide some proof of your identity. Think along the lines of a passport or driver's license. In most cases, you will also need to provide proof of address.
Step 2 – Deposit $250 or More With the Partner Broker
Before you can use the Bitcoin Prime app to its fullest, you need to deposit at least US$250.
As we said, all orders and deposits go through the underlying broker which has been assigned to you.
Accepted deposit methods include Bitcoin, bank transfer, credit, and debit cards. Bitcoin Prime is also compatible with fast and convenient e-wallets such as Webmoney, Neteller, and Skrill.
Step 3 – Utilize a Bitcoin Prime Demo Account
For those who have never tried a demo account, it's a tool used by traders and investors of all skill levels to either learn the market or practice new strategies.
As such, utilizing a Bitcoin Prime demo account is a no brainer, particularly for beginners. By doing so, you will be able to learn the ropes of cryptocurrency trading, using $10,000 of demo money.
Another benefit of honing in on your skills using a Bitcoin Prime demo account is that you can play around with the many trading settings. By getting a grip on your preferred risk settings in demo mode, you don't need to worry about risking any capital on rookie mistakes.
Once you feel like you have spent enough time in demo mode you can hit 'A/C Manager' to connect with a dedicated account manager who will guide you. You will likely receive a call from this manager, once your registration is complete.
Step 4 – Fine-Tune Trading Settings and Begin Live Trading
The Bitcoin Prime website mentions on more than one occasion the importance of following the trading instructions given.
One of the things you can do is take a good look at the trading settings. The Bitcoin Prime app provides access to useful risk management tools such as 'stop loss', 'take profit', and 'negative balance protection'.
It's important to make sure you are happy with (and understand) your choices before electing to 'Go Live'.
Bitcoin Prime Review 2023: Conclusion
Our Bitcoin Prime review found that although 'millionaire maker' might be a bit strong, not to mention difficult to verify. – the Bitcoin Prime app appears to be popular in the online space.
All partner brokers associated with Bitcoin Prime are regulated by the FCA. The aforementioned regulation offers you a safety net against financial crime, and protection for your assets should the platform go bankrupt.
In terms of feedback, the platform claims to have won various awards for customer service, safety, and performance. Bitcoin Prime boasts over 10,000 Trust pilot reviews, on which it has a rating of 4.5 out of 5.
With that said, there are also lots of negative Bitcoin Prime reviews in the public domain, too. As such, it is incredibly important that you conduct your own research before signing up with any online platform. It's also crucial that you are aware of any fees and terms and conditions before making a financial commitment.

Claims to produce a daily ROI of up to 500%
Accepts debit and credit card
1000:1 leverage
Get started with just $/£250

FAQs
How much do I need to deposit with Bitcoin Prime?
The minimum deposit amount required by Bitcoin Prime to trade using their robot is $250. There are various payment methods accepted, including debit/credit card, and e-wallets such as Skrill and Neteller.
Does Bitcoin Prime have a proprietary trading application?
Yes. The Bitcoin Prime robot is available on iOS and Android, for registered users only. The Bitcoin Prime app should only be downloaded from the official website. The app comes packed to the rafters with all of the same useful features and tools available on the live website.
Can I make gains using Bitcoin Prime?
According to the platform, the success rate of clients using the trading system is over 90%. The site also claims to have created 20,000 'Bitcoin millionaires'. These are bold claims, and we advise trying out a demo account to test the robot out before 'going live'.