Bitcoin, the world's most popular cryptocurrency, has soared past the key $30,000 level, marking its first time in the past ten months. With almost a 6% gain since the start of the month, the digital currency is at an all-time high as investors bet that the United States Federal Reserve will soon end its aggressive monetary tightening campaign.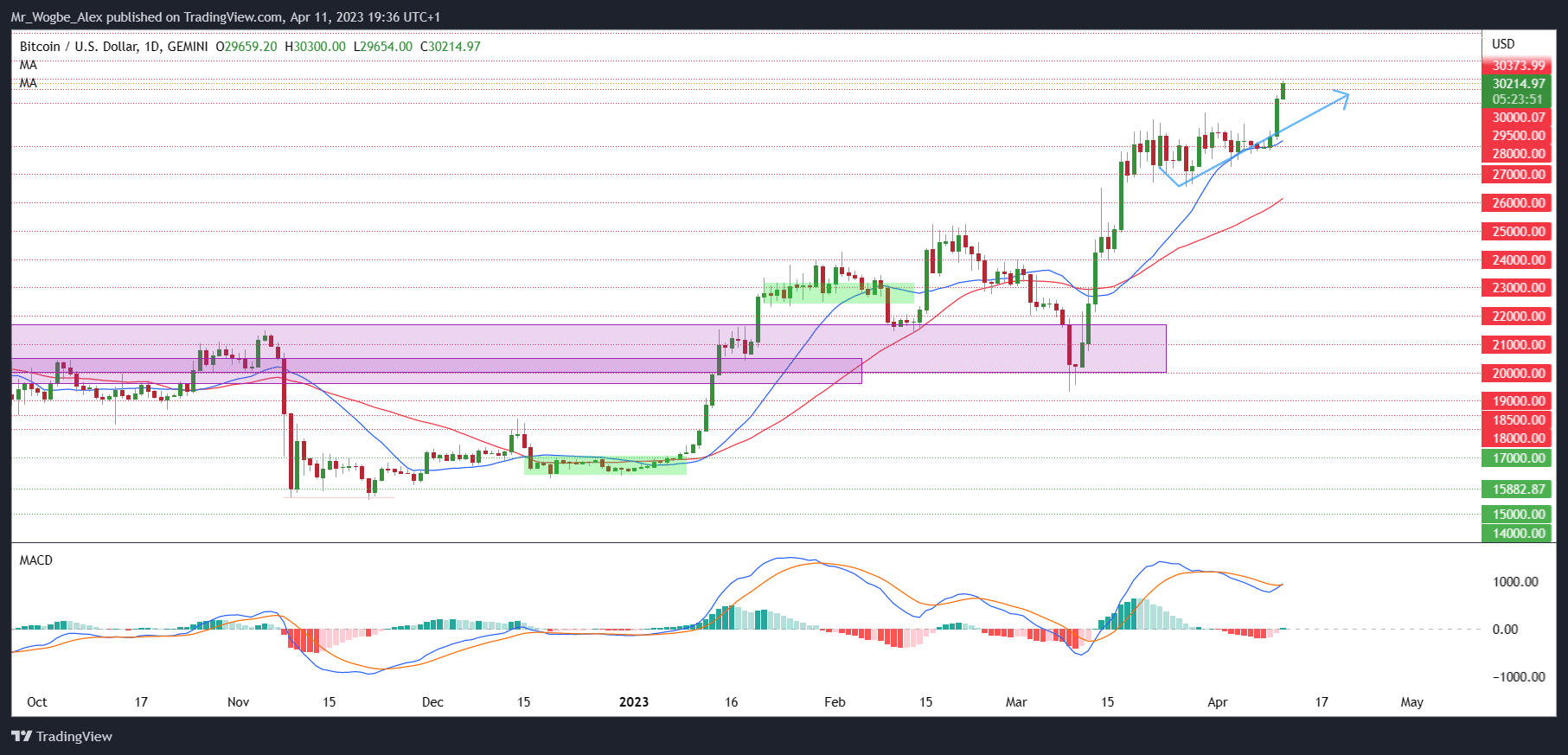 Crypto enthusiasts have been waiting for a long time to see Bitcoin make such an explosive move, and it has been a breath of fresh air for many. According to Tim Frost, CEO of Yield App, "The recent surge in Bitcoin's price is like a breath of fresh air after a long, cold crypto winter. This renewed optimism could be attributed to an anticipated shift in the US Federal Reserve's monetary policy, which is expected to create a more stable and predictable environment."
Federal Reserve's Monetary Policy Anticipated Shift
With an eagerly awaited US inflation report scheduled for Wednesday, the anticipation is that the US Federal Reserve is shifting its monetary policy. In March, the banking sector's turmoil raised expectations that the central bank would ease up on rate hikes to relieve the sector's stress. The expected shift in the Federal Reserve's monetary policy is creating a stable environment for investors.
Bitcoin Investment Product Inflows Increase: CoinShares
According to CoinShares, a digital asset manager, last week saw crypto investment products experience inflows of $57 million, with most of the money focused on Bitcoin. Although low volume accompanied this increase, it brings digital asset flows back into positive territory for the year.
The case for rate hikes is supported by strong employment growth. Employers maintained a robust pace of hiring in March, pointing to a still-resilient economy. Although the nonfarm payrolls (NFP) report showed employment growth, crypto enthusiasts are still optimistic about the positive impact the Federal Reserve's monetary policy shift could have on the cryptocurrency market.
Bitcoin enthusiasts worldwide are waiting to see if the current bull run continues. With Bitcoin breaking the $30,000 level, many are hoping that it will remain on this upward trajectory. The crypto market is always unpredictable, but for now, investors are enjoying the ride.
Broker
Benefits
Min Deposit
Score
Visit Broker