Service for copy trading. Our Algo automatically opens and closes trades.
The L2T Algo provides highly profitable signals with minimal risk.
24/7 cryptocurrency trading. While you sleep, we trade.
10 minute setup with substantial advantages. The manual is provided with the purchase.
79% Success rate. Our outcomes will excite you.
Up to 70 trades per month. There are more than 5 pairs available.
Monthly subscriptions begin at £58.

Worldcoin, a pioneering initiative committed to distributing a novel digital token (WLD) to every individual on the planet, finds itself in a complex web of regulatory scrutiny in various countries. The latest jurisdiction to raise questions about Worldcoin's modus operandi is Argentina.
The nation's Agency for Access to Public Information (AAIP) announced on August 8 its intention to thoroughly assess the project's adherence to privacy and security regulations.
La AAIP investiga el tratamiento de datos personales de Worldcoin en Argentina.
Más información 👉https://t.co/LqliLUvXjR pic.twitter.com/LpfkD70nX8

— AAIP (@AAIPargentina) August 8, 2023
At the core of Worldcoin's groundbreaking operation lies the innovative Orb device. Engineered to scan individuals' irises for identity verification and the creation of a unique digital World ID, this mechanism is touted as a guardian of privacy, divulging solely the essence of "humanness."
Nevertheless, skepticism abounds, with critics voicing concerns about the potential misuse of biometric data, the need for transparency, and the importance of user consent.
Worldcoin Faces Regulatory Inquiry in Germany, France, and Kenya Too
Argentina's apprehensions aren't solitary. Reports are rife that Germany, France, and Kenya have also embarked on inquiries or temporarily suspended Worldcoin's operations within their borders. Critics argue that the project's approach exploits vulnerable demographics by enticing them with incentives in exchange for their personal data.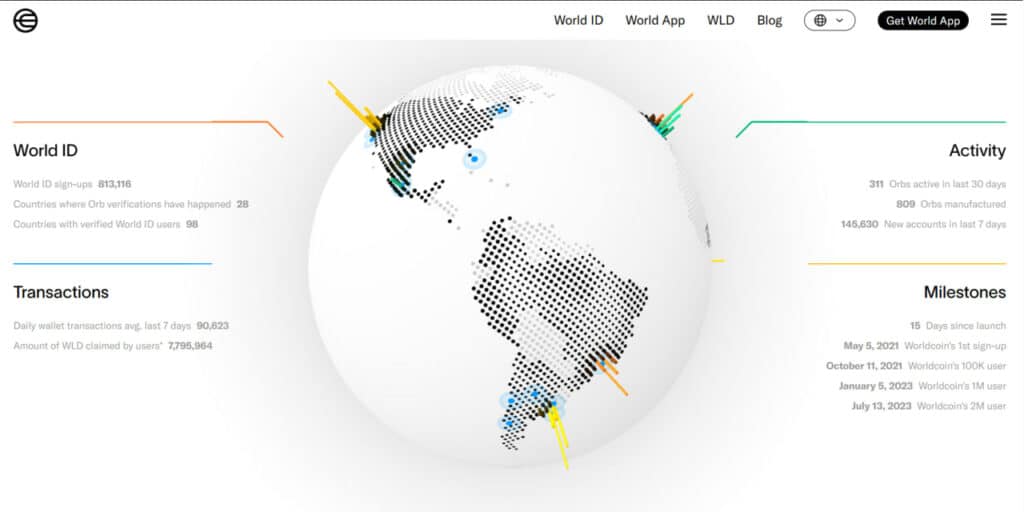 Worldcoin, the brainchild of Sam Altman, CEO of OpenAI (makers of ChatGPT), unveiled its token in July, boasting an impressive registration count of over 2 million accounts. The project's lofty vision of establishing an economic paradigm that transcends geographical and socioeconomic barriers is undeniably compelling.
However, the journey forward necessitates meticulous navigation of intricate legal landscapes and sincere efforts to allay mounting concerns.
Final World
While Worldcoin's mission to reshape global economic participation holds immense promise, its trajectory is punctuated by the critical need to reconcile its audacious vision with the intricate realities of varying regulatory frameworks. This juncture underscores the intersection of groundbreaking technological innovation and the pressing imperative to safeguard individual privacy rights.
As the narrative unfolds, the evolution of Worldcoin will stand as a testament to its ability to harmonize its transformative ambitions with the sensitivities of legal and ethical considerations. In an age where digital aspirations intersect with fundamental privacy concerns, the outcome of this endeavor will undoubtedly leave an indelible mark on the future landscape of digital economics.
Broker
Benefits
Min Deposit
Score
Visit Broker