The recent Ethereum upgrade to its Shanghai software was a hot topic on the minds of crypto traders and investors alike. And let me tell you, it did not disappoint. Almost 24 hours after the upgrade, Ethereum's price (ETH) has been on an upward trajectory, defying expectations and leaving everyone pleasantly surprised.
In the past 24 hours, ETH has recorded a bullish trend, up by more than 6%, and is now trading above the $2,000 mark. The surge in trading volume suggests that buying pressure is currently pushing the price up.
What is particularly interesting is that prior to the Shanghai upgrade, ETH was in a downtrend, trading below $1,900. It is no secret that investors are usually a cautious bunch, and some may have sold off their holdings in the hours leading up to the upgrade, anticipating a price crash. But hey, surprise surprise, after the upgrade was completed, the price of ETH started to rise steadily, and within 24 hours, it had breached the $2,000 mark.
If we look at the chart, ETH just broke the marked resistance and has hit a fresh multi-month high at $2,021. As we move forward, it will be interesting to see whether this bullish trend continues or whether there will be a correction.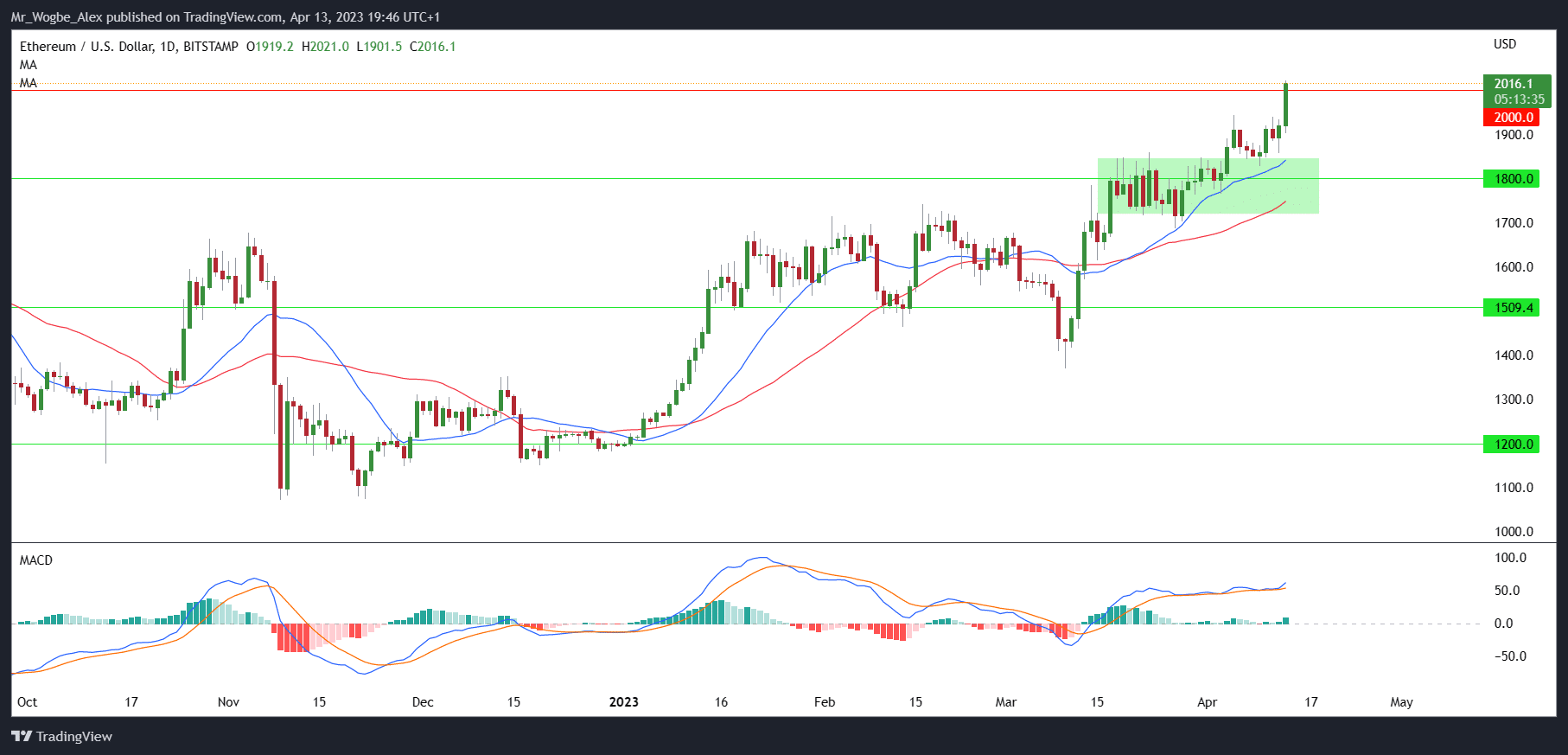 Withdrawals from Ethereum Delayed Due to Security Breach
However, the upgrade has not been without its challenges. Crypto traders who have staked funds on the Ethereum blockchain are experiencing delays in withdrawals following the launch of the long-awaited Shapella software upgrade. According to data firm Nansen, around $1.4 billion worth of ETH is currently "stuck in a withdrawal queue."
This delay is due to "security reasons." At the moment, the Ethereum blockchain can process only around 1,800 validator withdrawals, or nearly 58,000 ETH worth of exits per day, amounting to around $115 million. Binance has advised its users that they will be able to access their staked funds starting April 19th, but the company warns that transactions could take between 15 days and several weeks to process.
Despite the withdrawal delays, investors remain bullish about the long-term prospects of Ethereum. The successful upgrade has generated optimism among investors, and the coming weeks will be crucial in determining whether the positive price action continues. All eyes will be on ETH, waiting to see where this bullish trend leads.
Broker
Benefits
Min Deposit
Score
Visit Broker