Virgin Galactic's (SPCE) share price took a hammering after the failure of its SpaceShipTwo Unity spacecraft test flight in December, but encouraging news yesterday has seen the stock's ascent resume.
The aborted test flight on Saturday 12 December led to the share price falling its most since March 2020, dropping from $32 to %26, a 17% decline. That setback for space tourism came after the stock had seen a run-up last year to $35, with the greater part of the climb taking place since the end of October, as enthusiasm surrounding its prospects soared, so to speak.
Since the December mishap SPCE followers have been waiting anxiously for news regarding what went wrong.
Yesterday, the engineers reported back. They now know what happened, which led to the spacecraft's onboard computer losing its connection with the rocket engine – triggering a halt to the ignition mechanism, as it was designed to do.
The fact that the failsafe mechanism kicked in was actually very good news in itself, but now the engineers say they know what actually happened that led to ignition halt.
Here's the text of the tweet from the official Virgin Galactic twitter account yesterday:
Thread: following our test flight on December 12, 2020, we have completed the post-flight inspections and root cause analysis of what caused the onboard computer to halt ignition of the rocket motor. Corrective actions have been defined and work is already underway.

Once this corrective work has been implemented and verified, we will confirm our pre-flight timeline for the next test flight and share expected dates for when the flight window will open.
https://twitter.com/virgingalactic/status/1347145056998850562?s=20
Although there is no detail of what exactly went wrong, Virgin Galactic would not have gone on record with news of corrective action if there wasn't a fix in motion, although the lack of a timeline may be seen as disappointing.
But judging by the share price move yesterday, the market is taking the update as a signal that the company is back on track for a successful test flight that hopefully will involve no further teething problems.
Strong ticket sales means there's money in the bank
Galactic is a unique company in as far as it is unusual for a company without a working product to already have recognised revenue on its balance sheet.
The company has already pre-sold 600 tickets at a price of between $200,000 and $250,000 each. Chief executive Micheal Colglazier said on a 3Q results call in November last year that he expects each of the spaceports it operates to generate revenue of around $1 billion, with each targeting 400 flights a year. On those projections ticket prices would probably need to rise to nearer  $400,000, according to UBS analyst Myles Walton, but Virgin Galactic reckons strong demand means that's not an issue.
We expect the share price to continue its recovery as expectations build for a successful test flight.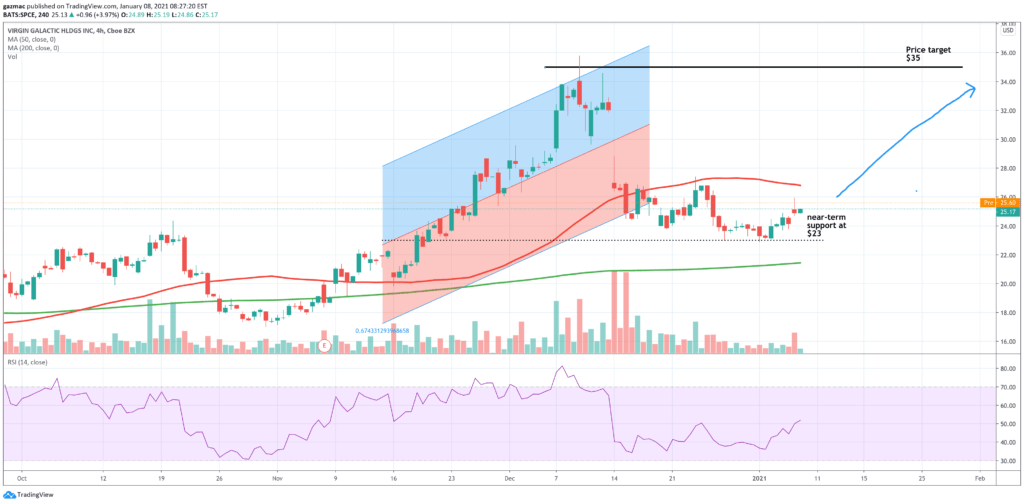 The lack of timeline detail has already been noted but, significantly, there was no retraction or amendment of the company's previously stated intention of flying Virgin founder Richard Branson into space by the end of the first quarter of 2021 and to restart ticket sales shortly thereafter.
December's aborted test flight was the third, with the other two taking place in December 2018 and February 2019. The company currently has two spacecraft and is working on a third at a cost of up to $55 million. It will need quite a few more spacecraft, and the motherships for the air launch system too, so there's plenty of Capex to come ahead. But if it can get safety right, then the company will secure a first-mover advantage over efforts from the likes of SpaceX and Blue Origin.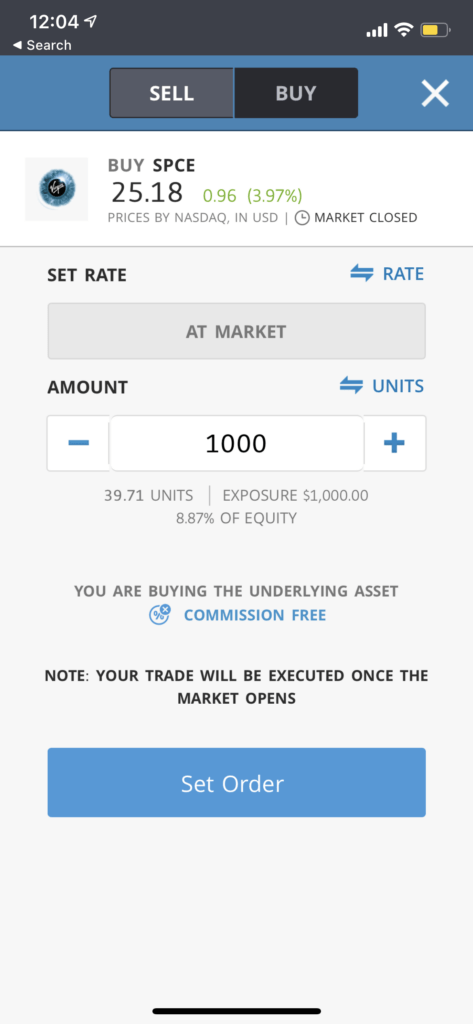 Sister company Virgin Orbit provides the air launch capability and it is conducting its next test launch of its LauncherOne rocket on 10 January (this Sunday) in its second attempt to get its satellite delivery vehicle into space, and it will be closely watched by Virgin Galactic shareholders. The rocket takes off from a modified Boeing 747, which will take off from the Mojave air and spaceport between 1 and 5pm Eastern Time.
And rising wealth inequality may arguably be bad for us all, but in this context it means that there are plenty of people rich enough to afford $250,000 or more for multiple rides on the six-passenger spacecrafts Virgin Galactic is taking into low Earth orbit.
Those of a more nervous disposition might want to sell before the next test flight takes place, but then risk being out of the market for the certain boost the share price will receive on news of a successful test flight.
We rate SPCE a buy with a near-term target of $35.
You can buy SPCE with no commission or stamp duty on eToro.
eToro - Buy and Invest in Assets

Buy over 2,400 stocks at 0% commission
Trade thousands of CFDs
Deposit funds with a debit/credit card, Paypal, or bank transfer
Perfect for newbie traders and heavily regulated
Only real cryptos are available for US users

67% of retail investor accounts lose money when trading CFDs with this provider. You should consider whether you can afford to take the high risk of losing your money.
Broker
Benefits
Min Deposit
Score
Visit Broker
Share with other traders!