</p>
Market Analysis – May 3
USDCAD remains bullish despite a false breakout at diagonal support. While the overall trend is weakly bullish, the directional bias of USDCAD is bullish. The price is likely to keep appreciating until a successful breakout occurs on the downside.
USDCAD Significant Zones
Demand Zones: 1.32260, 1.27280
Supply Zones: 1.38620, 1.39780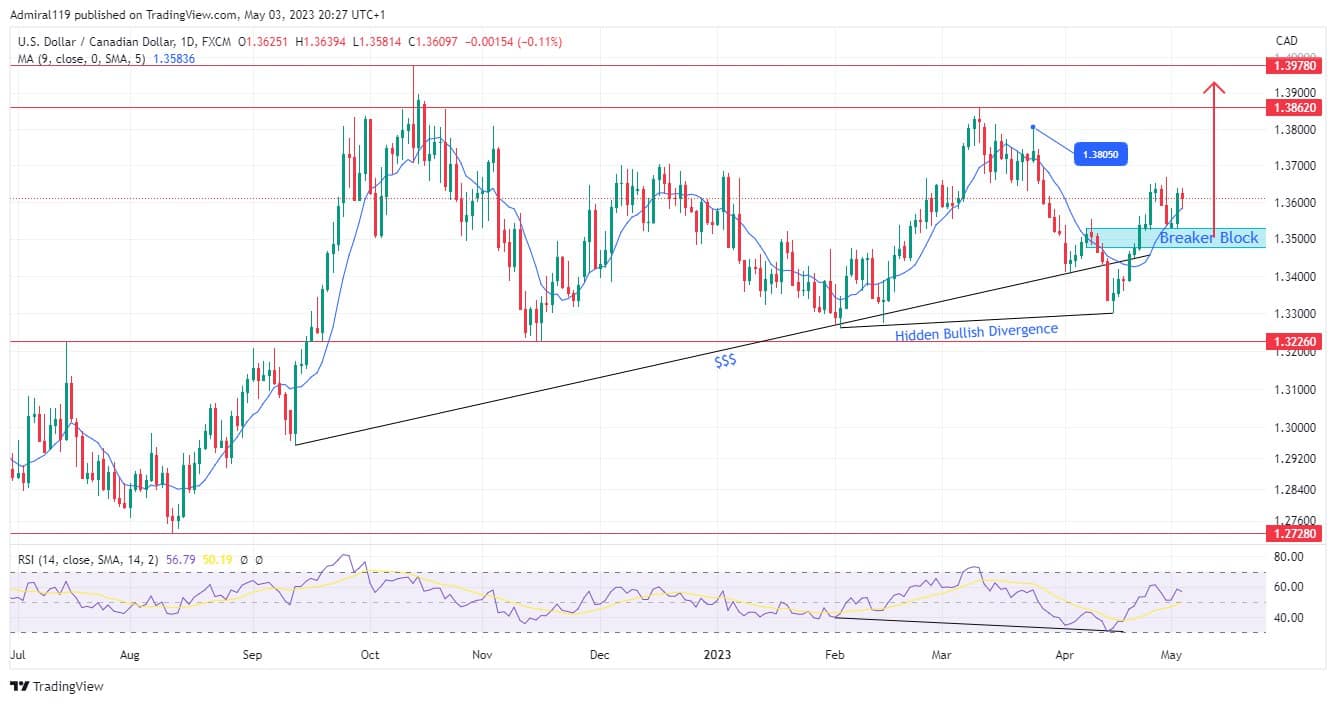 USDCAD Long-term Trend: Bullish
Before the beginning of the bullish trend, the price appeared choppy below the previous resistance of 1.32260. The price eventually dived downward to hit the 1.27280 support before expanding massively to the upside. The massive expansion to the upside emerged in the last month of the second quarter of 2022. As per the Relative Strength Index (RSI), the massive expansion put the USDCAD in an extremely overbought condition. As a result of the RSI's indication, the market experienced a major retracement to the downside. The price bounced off the 1.32260 support and continued its upward expansion.
The bears are quite vibrant in the market, as bearish order blocks keep causing significant downward retracements. During one of the major retracements to the downside, a false breakout occurred as the diagonal support got breached. According to the RSI, a hidden bullish divergence has occurred. Therefore, the buying pressure will likely increase while also invalidating the 1.38050 intermittent-term high. A breaker block was created before the false breakout. USDCAD is likely going to return to the breaker block before resuming the bullish trend.
USDCAD Short-term Trend: Bullish
After hitting the 1.33000 price level, USDCAD is now skyrocketing upward to invalidate the 1.38050 intermittent-term high. On the four-hour chart, there are some equal lows (EQL) at the 1.35320 price level. The price is expected to sweep the sell-side liquidity below the equal lows before resuming the bullish trend.
You can purchase Lucky Block here. Buy LBLOCK
Broker
Benefits
Min Deposit
Score
Visit Broker