Service for copy trading. Our Algo automatically opens and closes trades.
The L2T Algo provides highly profitable signals with minimal risk.
24/7 cryptocurrency trading. While you sleep, we trade.
10 minute setup with substantial advantages. The manual is provided with the purchase.
79% Success rate. Our outcomes will excite you.
Up to 70 trades per month. There are more than 5 pairs available.
Monthly subscriptions begin at £58.

Tripadvisor (TRIP) reports on Thursday 5 August after the bell so there may be some heightened volatility around the price but we rate it a buy at current prices, despite the continuing uncertainties around the Covid pandemic.
This makes this stock tip on the riskier side, so if you don't like the binary nature of buying going into earnings, where sharp movements predicated on hitting or missing forecasts, then perhaps wait for the dust to settle. however, those taking a longer view should take a look now.
Tripadvisor was trading at a year-to-date high of $61 on 21 March but has been falling ever since as it fails to sustain a bid against the background of the stuttering return of holidaymakers as economies began to open up. The stock is currently priced at $37.97.
The halting progress of reopening has disappointed travel industry companies that had banked on air travel getting back to where it was pre-pandemic by now (still down 30%), so the summer has proved a letdown to some extent, with the Delta variant upending near-term projections on flights, hotel bookings and vacationing trips in general.
But at these prices, we think that Tripadvisor is an underperforming company with both growth and value potential – it should therefore be on the radar of all investors looking at stock trading now.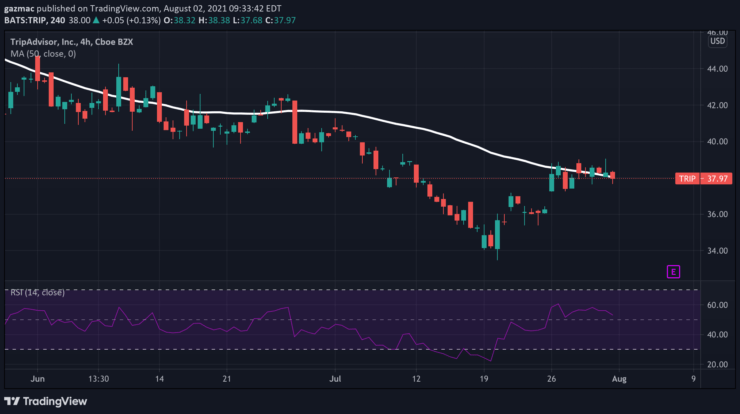 Subscription service could be a big win
Indeed, the stock might be considered something of an underperformer even before the pandemic struck. Although it has the eyeballs of travellers, it has arguably failed to make the most of the revenue opportunities available to it. It is against that background that management moved in the encouraging direction of providing subscription services for its aggregation-centric travel information offering. This could be a big deal as it holds the promise of creating a recurring revenue stream and proves to be the answer to its faltering monetisation efforts.
With hotels and package companies fighting like cats in a sack for traveller dollars, Tripadvisor could have the right product at the right time in the form of its Tripadvisor Plus subscription service, which offers exclusive discounts on hotel rooms and more.
The service costs $99 a year and it doesn't take a genius to work out that if it can convert a fraction of its millions of unique views a year into paying subscribers it would make an immense difference to its bottom line. As such, then, investors will be keenly looking at the subscriber numbers and the rate of growth.
According to Similarweb the site has had 166.5 million unique visitors in the past six months, having been on a steady rise since the beginning of the year, with an average visit time of 3m 10s and each visitor browsing an average of 5 pages. The bounce rate is an excellent lowly 56%. 75% of traffic originates in the US.
The fact that Tripadvisor can amass so many eyeballs on the web is a testament to the disaggregated nature of the travel market. Establishing itself as the premier review site for all things travel has been no mean feat, but now it's well past time for the company to make good on the value locked up in that marketshare.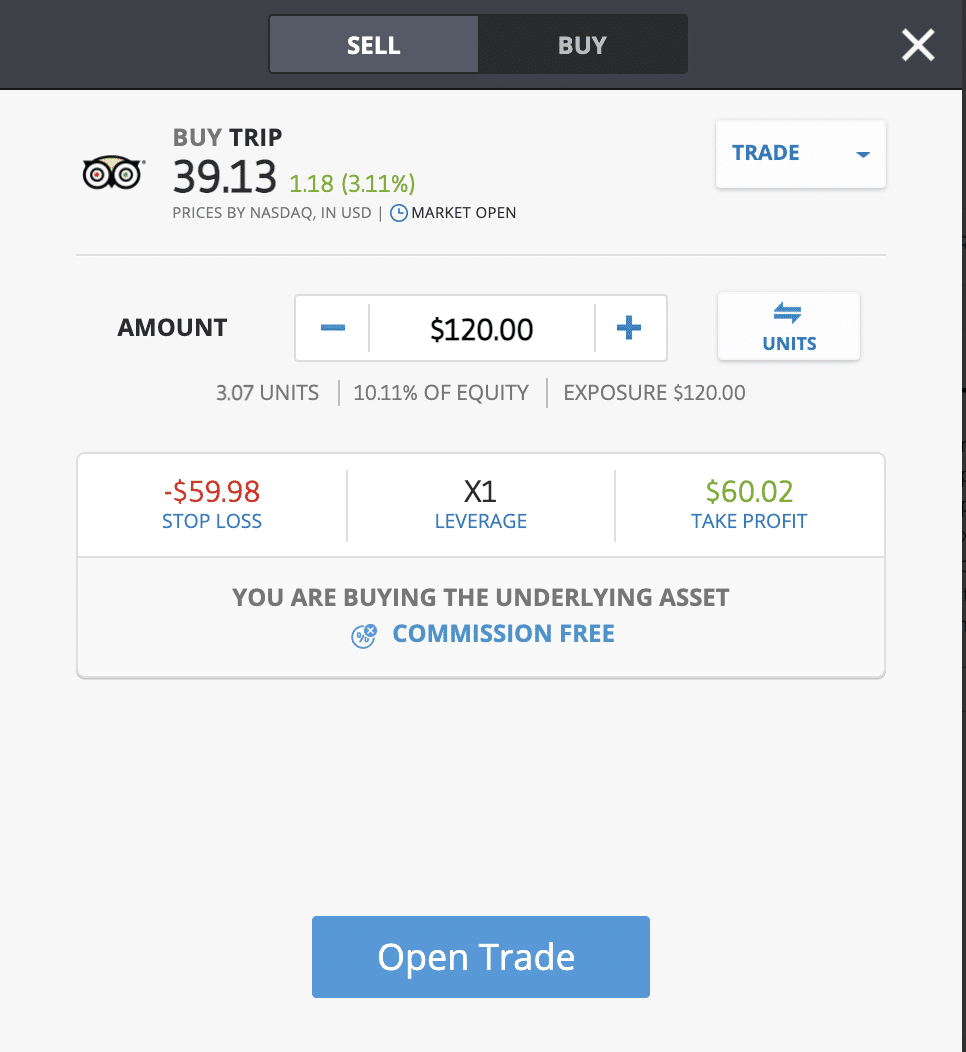 In addition to the relative weakness of its share price pre-pandemic, another trend – this time a more positive one for Tripadvisor – has been the growth in independent travellers.
Naturally, prospective holidaymakers and leisure travellers will want to know what are the best package deals and to search out reviews on which airlines, hotels and amenities provided within those packages might be best, but this is even more so the case when it comes to those vacationers taking the do-it-yourself approach. Here, Tripadvisor is in pole position.
Adding recurring revenue to Tripadvisor's bottom line
US finance weekly Barron's reckons that if Tripadvisor can bring in 10 million subscribers then that could translate into annual free cash flow of $500 million and push the price above $100.
That is a very bullish forecast and is somewhat at odds with many broker analysts. The stock closed at $37.95 on Friday, compared to a consensus price target of $43.18 for a 13.8% upside.
On the Street, analysts expect to see second quarter earnings of 6 cents a share, according to Zacks, which would represent a strong reversal from -$1.79 loss for 2020 and a current trailing twelve month loss of -$2.17. Stockopedia has an analyst consensus EPS of 4 cents.
In its Q1 fiscal report on 6 May it reported EPS of $0.39 for the quarter, beating the analyst consensus estimate as polled by Refinitiv by $0.08 ($0.47). Quarterly revenue came in at $123 million compared to estimates of $120 million.
Tripadvisor Plus launched on 16 June, initially in the US, its main market, and garnered a welcome response from investors, with the stock price popping 3.5%.
In July three hotel groups signed up to be on Plus: Barceló, Millennium Hotels and Pestana Hotels. The three groups' accommodation is automatically enrolled on the Plus program.
Plus benefits include member-only prices and perks on
hotels worldwide, savings on tickets for tours and
attractions as well as access to rental car savings and five-star elite
benefits, both from Hertz Corporation, which is a distribution partner.
Even if the Delta variant holds back the pace of the recovery in the US, the likelihood of further lockdowns has lessened as vaccination levels increase in the population in the US, albeit at a slowing rate.
Also, with much of its market in the US, Tripadvisor earnings are not as dependent on international travel, given that only a third of US citizens have got a passport.
We rate Tripadvisor stock a medium-term buy.
If you are on the hunt for the best stock trading signals, visit our guide.
You can buy Tripadvisor shares on global investment platform eToro for 0% commission.
8cap - Buy and Invest in Assets

Minimum deposit of just 250 USD to get lifetime access to all the VIP channels
Buy over 2,400 stocks at 0% commission
Trade thousands of CFDs
Deposit funds with a debit/credit card, Paypal, or bank transfer
Perfect for newbie traders and heavily regulated

Don't invest in crypto assets unless you're prepared to lose all the money you invest.
Broker
Benefits
Min Deposit
Score
Visit Broker