Service for copy trading. Our Algo automatically opens and closes trades.
The L2T Algo provides highly profitable signals with minimal risk.
24/7 cryptocurrency trading. While you sleep, we trade.
10 minute setup with substantial advantages. The manual is provided with the purchase.
79% Success rate. Our outcomes will excite you.
Up to 70 trades per month. There are more than 5 pairs available.
Monthly subscriptions begin at £58.

Investing for retirement is a critical step toward securing your financial future. With the emergence of cryptocurrencies like Bitcoin, investors now have the opportunity to include digital assets in their retirement portfolios. Here, we'll delve into the world of Bitcoin IRA accounts, which offer a seamless way to invest in cryptocurrencies while reaping the tax benefits of traditional retirement accounts. We will also explore the top-managed Bitcoin IRA account providers, helping you make an informed choice for your digital asset retirement investments.
Top 5 Bitcoin IRA Account Providers in 2023
1. CoinIRA: Diverse Crypto Investment Made Easy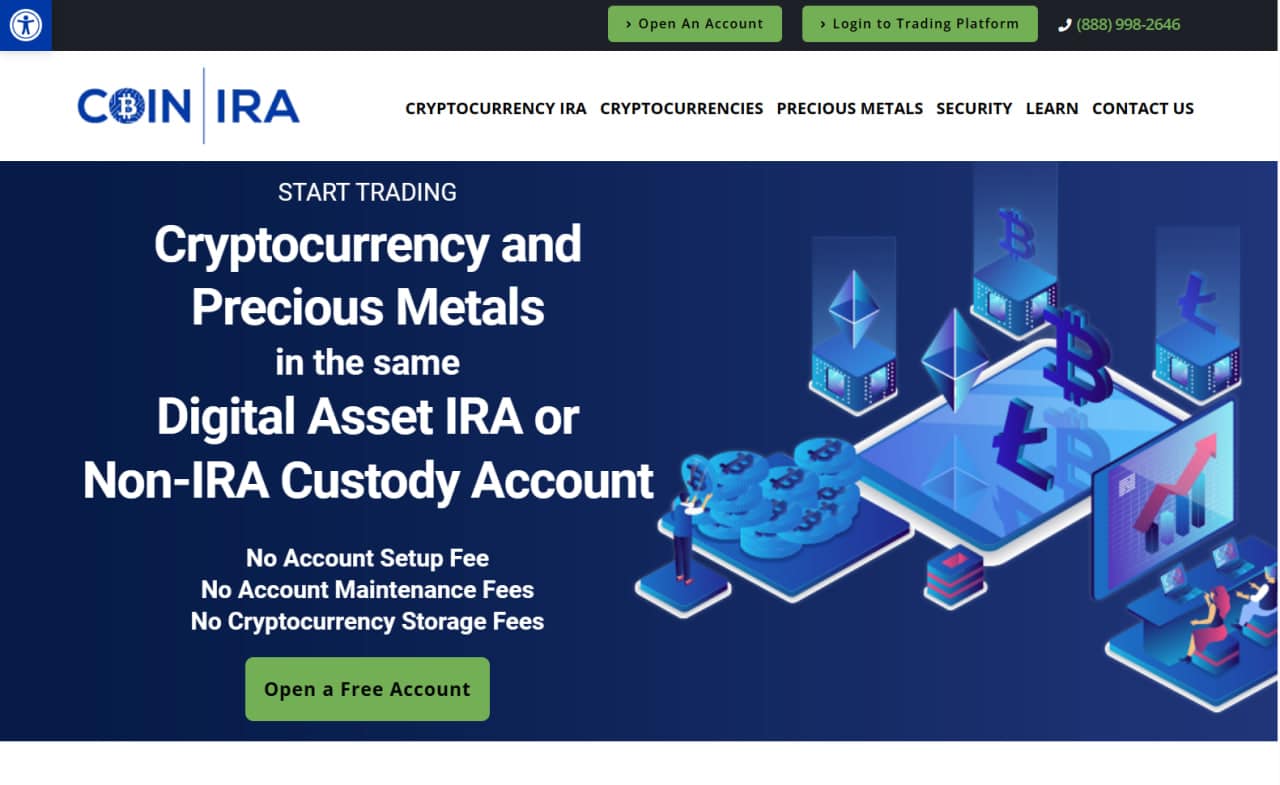 CoinIRA, founded in 2017, is a top contender in the Bitcoin IRA market. With a focus on diversity, CoinIRA allows users to trade up to 18 different cryptocurrencies. But that's not all – they even offer a "flex metals" program, allowing you to invest in gold, silver, or platinum alongside your digital assets.
What's even better is that CoinIRA doesn't charge any monthly or storage fees. However, do keep in mind that a minimum investment of $5,000 is required, and there's a 1.25% trade fee. Rest assured, your digital assets are secured under the watchful eye of Equity Trust, a regulated and IRS-approved custodian.
2. iTrustCapital: Simplifying Crypto Investments for IRAs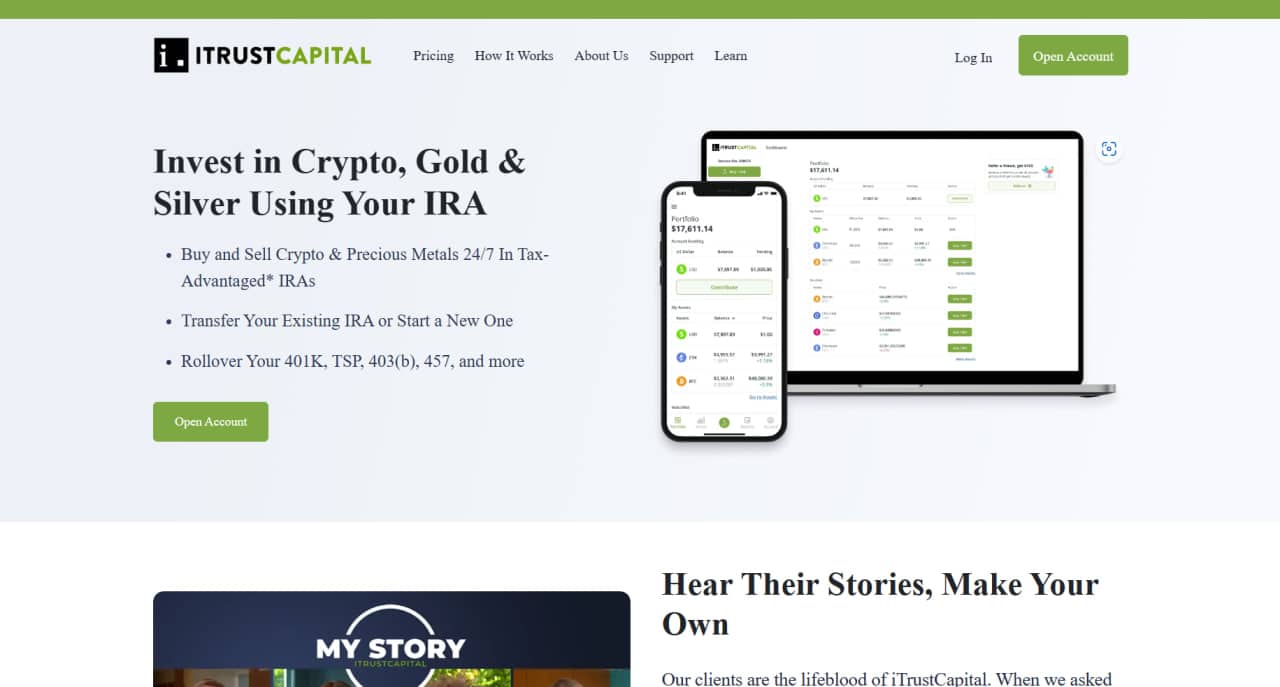 If you're looking for a hassle-free way to invest in cryptocurrencies through your IRA, look no further than iTrustCapital. Established in 2018, iTrustCapital allows you to buy and sell up to 25 different cryptocurrencies while enjoying the benefits of an IRA retirement account. But wait, there's more! You can also diversify your portfolio by investing in physical gold and silver.
iTrustCapital doesn't charge any setup or management fees. However, bear in mind that transaction fees of 1% do apply. With a minimum investment requirement of $1,000, iTrustCapital is an ideal choice for those starting with smaller amounts.
3. BitcoinIRA: Secure and Diverse Crypto Retirement Accounts
BitcoinIRA, founded in 2015 by the visionary trio of Chris Kline, Johannes Haze, and Camilo Concha, offers a robust platform for retirement asset management. With BitcoinIRA, you can trade a whopping 60 different cryptocurrencies, providing unparalleled diversification options.
Worried about the security of your investments? BitcoinIRA has got you covered. They've insured up to $700 million of their assets at Lloyds of London, ensuring peace of mind.
To get started, you'll need a minimum investment of $5,000, and there's an annual maintenance fee of $195. Additionally, BitcoinIRA charges a one-time service fee ranging from 0.99% to 4.99%, along with a 2% transaction fee and a 0.08% security fee.
With such comprehensive features, BitcoinIRA remains a strong player in the Bitcoin IRA market.
4. BitIRA: Securely Grow Your Crypto Assets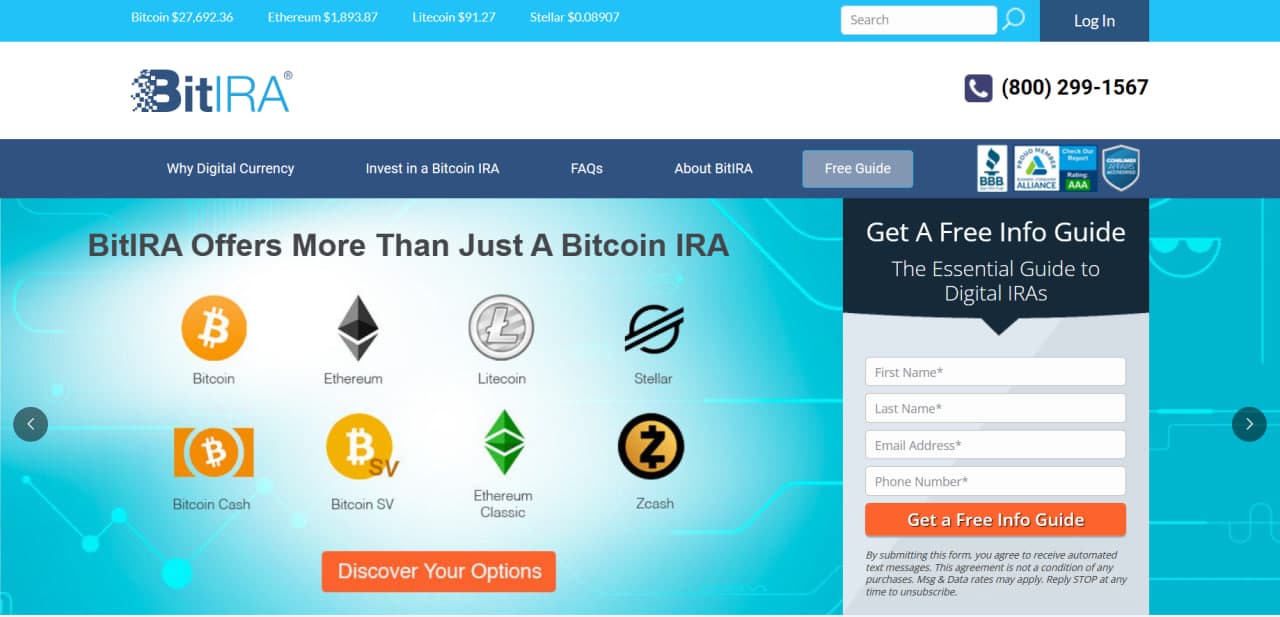 If you're in it for the long haul? BitIRA might be the perfect fit for you. Established in 2017, BitIRA allows you to grow your cryptocurrency assets over an extended period while maintaining control of your investments.
With a minimum investment requirement of $5,000, BitIRA grants access to 18 different cryptocurrencies, ensuring a diverse portfolio. They charge a modest setup cost of $50, along with a monthly storage fee of 0.05% and an annual maintenance fee of $195.
For those seeking a secure and steady approach to growing their crypto assets, BitIRA stands out as a reliable option.
5. Equity Trust: Diversify Your Portfolio with Crypto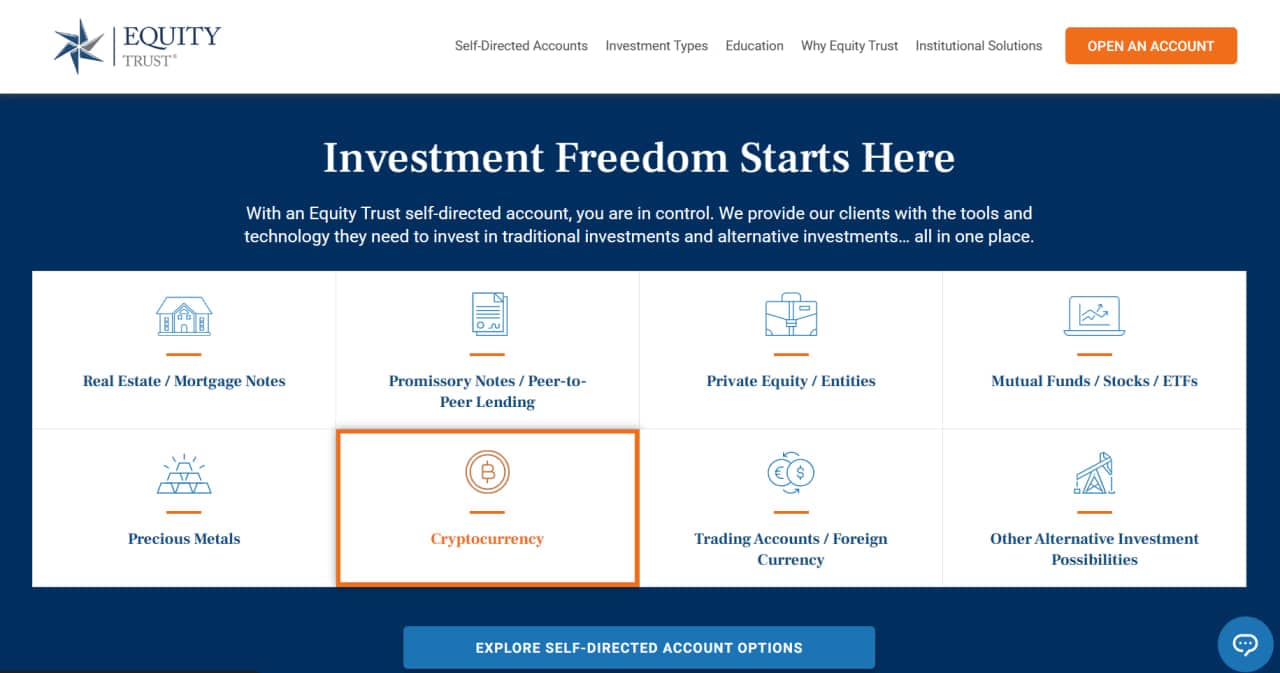 Looking for a one-stop solution to diversify your retirement portfolio? Equity Trust has got you covered. Established in 1974, Equity Trust offers a self-directed custodian IRA that allows investments in real estate, stocks, bonds, mutual funds, and yes, even cryptocurrencies.
With the ability to integrate with other providers like BitIRA and CoinIRA, Equity Trust provides flexibility and expanded investment options.
Opening an account incurs a fee of $50 for online registration and $75 for paper registration. Additionally, the annual maintenance fee ranges from $225 to $2,250 based on your account balance.
Final Word
As the popularity of cryptocurrencies continues to soar, including them in your retirement investment strategy can be a game-changer. The aforementioned Bitcoin IRA account providers offer reliable platforms for seamlessly integrating digital assets into your retirement portfolio.
When making a decision, consider factors such as minimum investment requirements, asset diversity, fees, and security measures. By carefully selecting the best Bitcoin IRA account provider for your needs, you can navigate the world of digital assets while securing a bright financial future.
Broker
Benefits
Min Deposit
Score
Visit Broker