Service for copy trading. Our Algo automatically opens and closes trades.
The L2T Algo provides highly profitable signals with minimal risk.
24/7 cryptocurrency trading. While you sleep, we trade.
10 minute setup with substantial advantages. The manual is provided with the purchase.
79% Success rate. Our outcomes will excite you.
Up to 70 trades per month. There are more than 5 pairs available.
Monthly subscriptions begin at £58.

In the rapidly evolving landscape of cryptocurrencies, there's a quiet revolution underway in the realm of global banking. The once stately and somewhat sluggish Society for Worldwide Interbank Financial Telecommunication, better known as SWIFT, is gearing up to embrace the world of crypto. In a groundbreaking collaboration, SWIFT has joined forces with the blockchain oracle network Chainlink to test the transfer of "tokenized assets" across multiple financial institutions and various blockchains.
It's a move that signals a significant shift in the way banks interact with cryptocurrencies, and the implications are enormous.
The Need for Change in the Old Order
SWIFT, born in the 1970s, was a game-changer in its heyday, simplifying international payments considerably. However, as the years rolled on, the financial world evolved while SWIFT remained relatively stagnant. International payments continue to take between one and four days to clear, hardly deserving of the "swift" moniker.
The world is now on the brink of a crypto revolution, and SWIFT is determined not to be left behind. Their vision is clear: to create a common connectivity layer that bridges the gap between the traditional financial system and blockchain technology, forging a unified global market. In essence, SWIFT is preparing to support the widespread adoption of cryptocurrencies.
Chainlink to the Rescue
To achieve this ambitious goal, SWIFT needed a partner capable of navigating the complexities of blockchain technology. Enter Chainlink, the universal adapter for blockchains.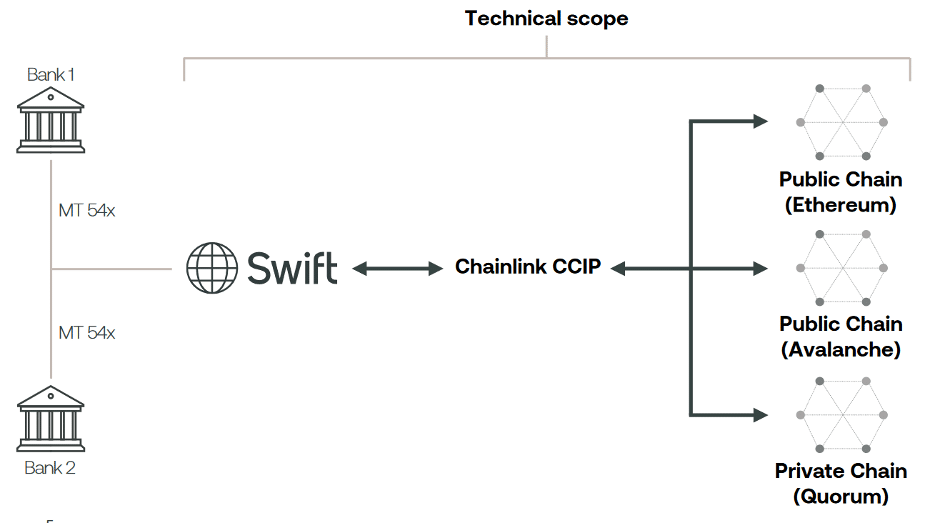 Chainlink has the unique ability to pull in data from any blockchain, standardize it, and securely transmit it between chains. Think of it as a universal translator for the diverse languages spoken in the blockchain world.
Unlike SWIFT, which was conceived in a different era, Chainlink is a product of the modern blockchain landscape. It fills the void that SWIFT cannot address on its own by creating a blockchain messaging protocol.

While SWIFT coordinates between banks, Chainlink takes on the role of coordinating between blockchains. This partnership could be a game-changer for both traditional finance and the world of crypto.
SWIFT x Chainlink: An Investment Opportunity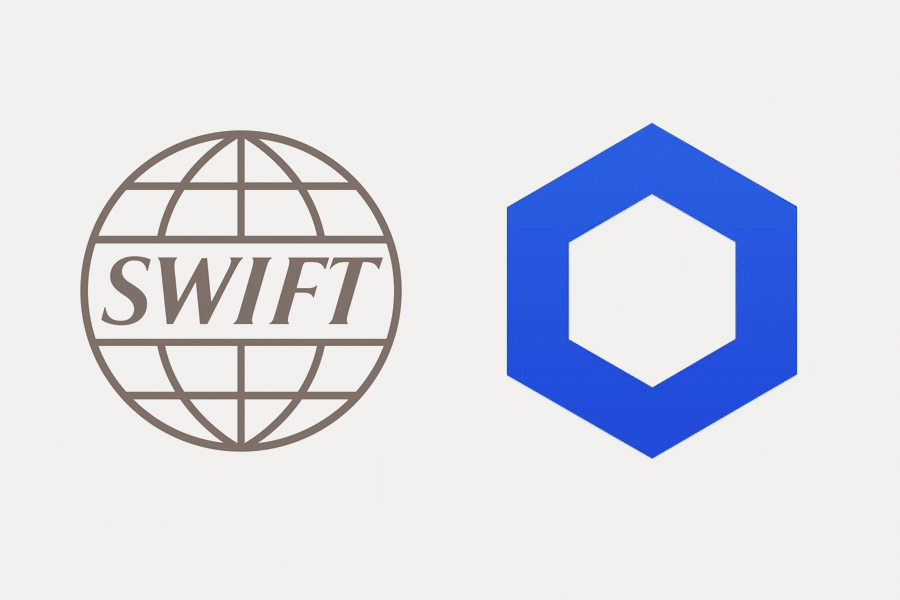 For savvy investors, this collaboration between SWIFT and Chainlink opens up a compelling opportunity. Investing in the underlying token of a crypto project is akin to buying stock in a company. If this experiment gains momentum, Chainlink's LINK token could become a highly valuable investment.
Chainlink boasts a valuable service—blockchain oracle services—and an unrivaled competitive advantage as the leader in its field. With a strong management team led by Sergey Nazarov, Chainlink is well-positioned to capitalize on the growing convergence of traditional finance and crypto.
What Happens Now?
The implications of this partnership extend far beyond the financial world's current perceptions of crypto. The experiment indicates several pivotal changes on the horizon:
Banks Embrace Crypto: Banks are gearing up to hold your cryptocurrencies, much like they hold your cash today. This move signals a significant shift in how traditional financial institutions perceive and interact with digital assets.
Integration with SWIFT: Banks will use existing payment systems like SWIFT to transfer cryptocurrencies among themselves and across different blockchains. SWIFT's credibility and global reach make it a natural choice for such integration.
Oracle Services are Vital: Oracle services, exemplified by Chainlink, will serve as the crucial bridge connecting traditional finance (TradFi) with decentralized finance (DeFi). These services will play a pivotal role in ensuring the seamless interaction of these two worlds.
As stated in SWIFT's report, institutions prefer leveraging existing infrastructure and investments whenever possible.
In other words, banks are eager to adopt solutions they already trust, like SWIFT. If SWIFT can successfully connect with crypto, banks are likely to embrace it wholeheartedly. The future is shaping up to be one where SWIFT becomes a critical component of the crypto ecosystem, and Chainlink will play a vital role in facilitating this transformation.
Final Word
In a world where the financial industry and cryptocurrencies are converging at a rapid pace, SWIFT's partnership with Chainlink heralds a new era. The sluggish giant of international payments is gearing up to become a pivotal player in the crypto space. As the financial world evolves, so must its infrastructure.
This experiment is more than just a test; it's a glimpse into a future where cryptocurrencies seamlessly coexist with traditional banking systems. In this brave new world, SWIFT is set to become swifter than ever before, thanks to its partnership with Chainlink.
Try Out Our Trading Bot Services Today. Get Started Here
Broker
Benefits
Min Deposit
Score
Visit Broker