EUR/USD is the talk of the town as the pair continues to trade above the yearly high of 1.1033 against the US dollar.
The bullish move is largely driven by the interest rate differential between the German 10-year bund yield and the US 10-year Treasury yield. In other words, investors are betting on the euro, thanks to the increasing differential that supports it. Meanwhile, the US dollar is struggling due to market expectations of rate cuts and disinflation in the second half of the year.
But before we break out the champagne and start dancing, let's talk about the elephant in the room: the threat of a possible recession in the US. The US earnings season is underway, and investors are watching for mentions of "recession" in earnings statements. The minutes of the March Federal Reserve meeting suggest that the US could enter a recession toward the end of the year. And as we all know, fears about a possible recession are not good news for the markets.
Support for EUR/USD Rests at 1.1033
On the flip side, the US dollar could get some much-needed support if declining earnings growth becomes a reality. As recession fears make a comeback, the safe-haven US dollar could come to the rescue. The support level for the EUR/USD rests at the prior high of 1.1033 before 1.0767.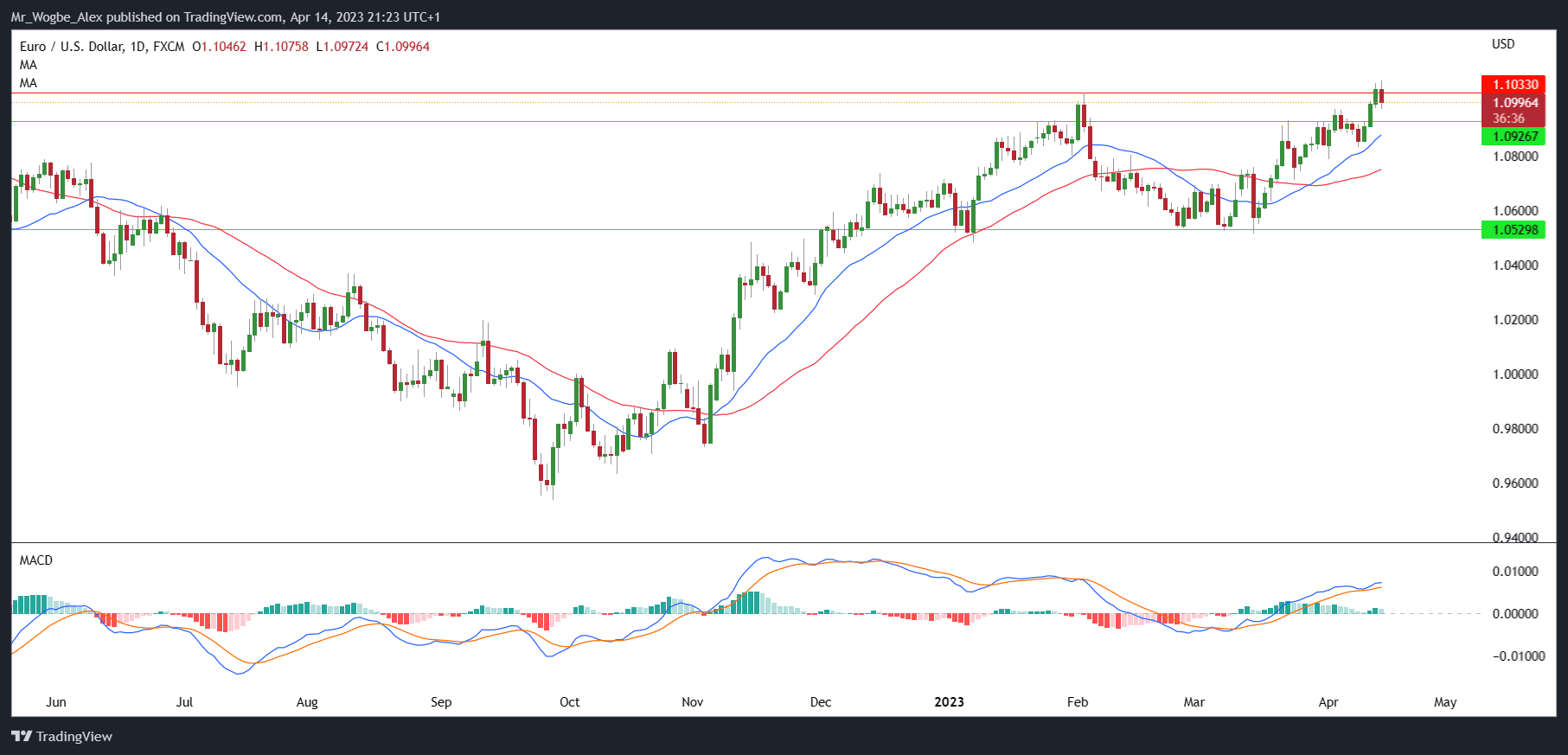 All Eyes on Next Week's Macroeconomic Data
Next week, we will see the release of the March inflation data for the euro area, which is expected to print another rise. However, the European Central Bank (ECB) suggests that core inflation will hover around 5% before dropping. If the March print is as high as 5.7%, as some analysts predict, it could be good news for the current EUR/USD trend.
Apart from earnings, investors are also watching for credit loss provisions during the US bank earnings season. Should banks anticipate an increase in defaults, the credit loss provision figure will rise, and this could have implications for the markets.
Broker
Benefits
Min Deposit
Score
Visit Broker