The EUR/USD pair is currently on the edge of its seat, waiting with bated breath for the FOMC rate decision and press conference tonight (18:00 and 18:30 GMT) and the ECB decision and press conference tomorrow (12:15 and 12:45 GMT). These two pivotal events will determine the fate of the EUR/USD over the coming weeks and months.
Market expectations for the FOMC rate decision are for a dovish 25-basis-point hike, with the US central bank pausing on further hikes. Meanwhile, the ECB may go neutral or hawkish with a 25-bp hike and the promise of further hikes in the months ahead if inflation continues to prove to be sticky and uncomfortably high.
Short-Term Trading Range and Volatility for the EUR/USD
The daily EUR/USD chart shows the pair trading within a short-term range, with support and resistance at 1.0910 and 1.1096, respectively. Volatility, as measured by the ATR indicator, remains at a multi-week low. However, traders should not be fooled by this low reading, as volatility is expected to pick up over the rest of the week. Support, resistance, or both will likely come under pressure.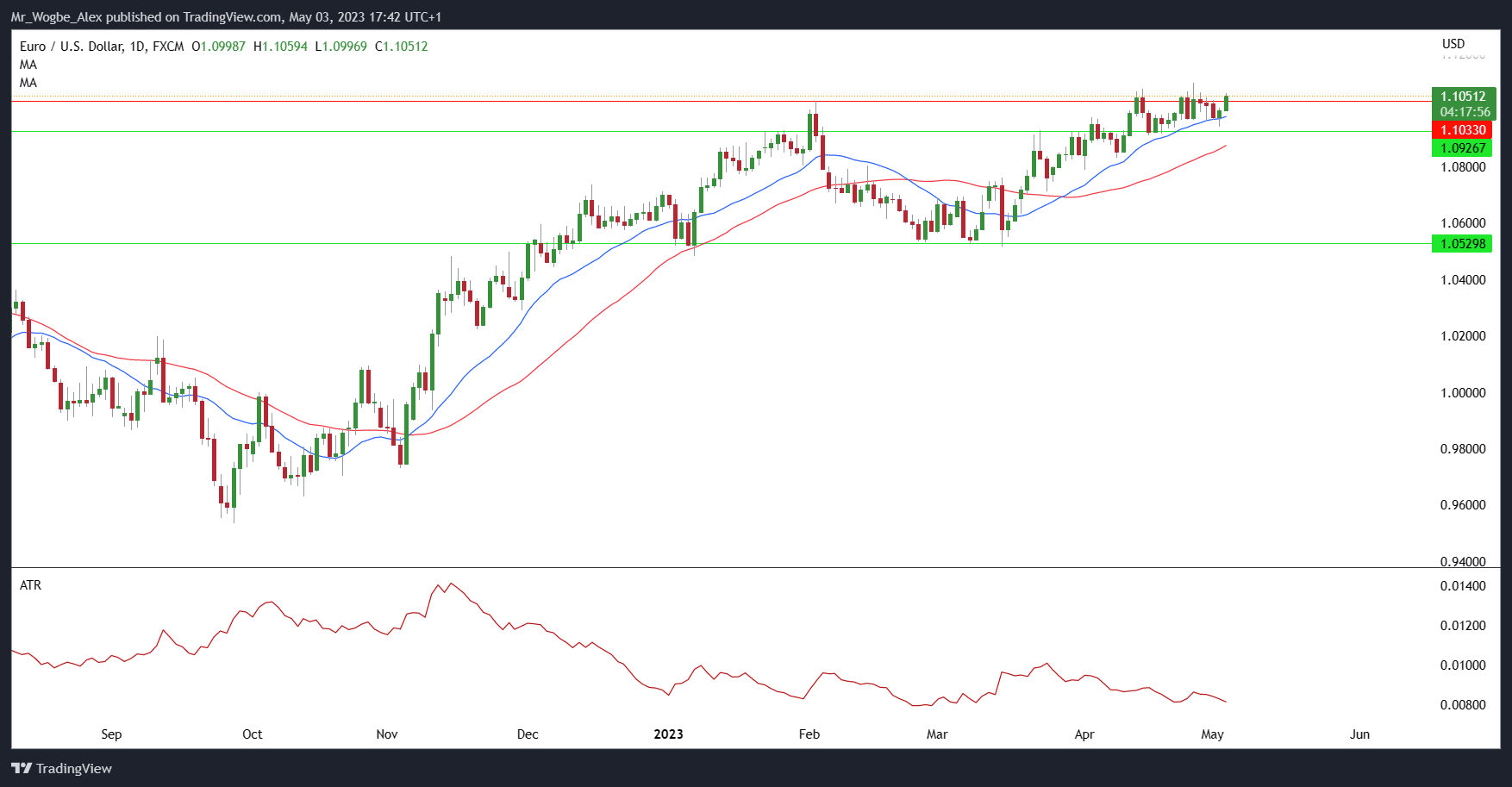 EUR/JPY: A Different Beast Altogether
EUR/JPY is being driven by a different set of factors, with the Bank of Japan's loose monetary policy weighing on the Japanese Yen. Euro Area interest rates are expected to rise, and this will widen the rate differential between the two currencies, pushing the EUR/JPY pair higher. However, the Japanese Yen may still continue to attract safe-haven buying due to continued turmoil in the US regional banking sector.
On Tuesday, EUR/JPY hit its highest level since March 2008, reaching 151.61. If this high is taken out again, there is very little resistance before the 160 level, which coincides with the March 2008 monthly high. So, keep an eye on the EUR/JPY for potential trading opportunities.
Broker
Benefits
Min Deposit
Score
Visit Broker