Dogecoin, the much-beloved meme-inspired cryptocurrency, is facing a new challenge as miners' reserves experience a significant decline. Recent data from crypto intelligence portal IntoTheBlock reveals that Dogecoin miners have been offloading their reserves, resulting in a reduction of 240 million DOGE since the end of March.
While this amount may not seem like a big deal compared to Dogecoin's impressive market capitalization of over $10 billion, it represents a noteworthy 5% of all miners' reserves, indicating a higher-than-average rate of dumping.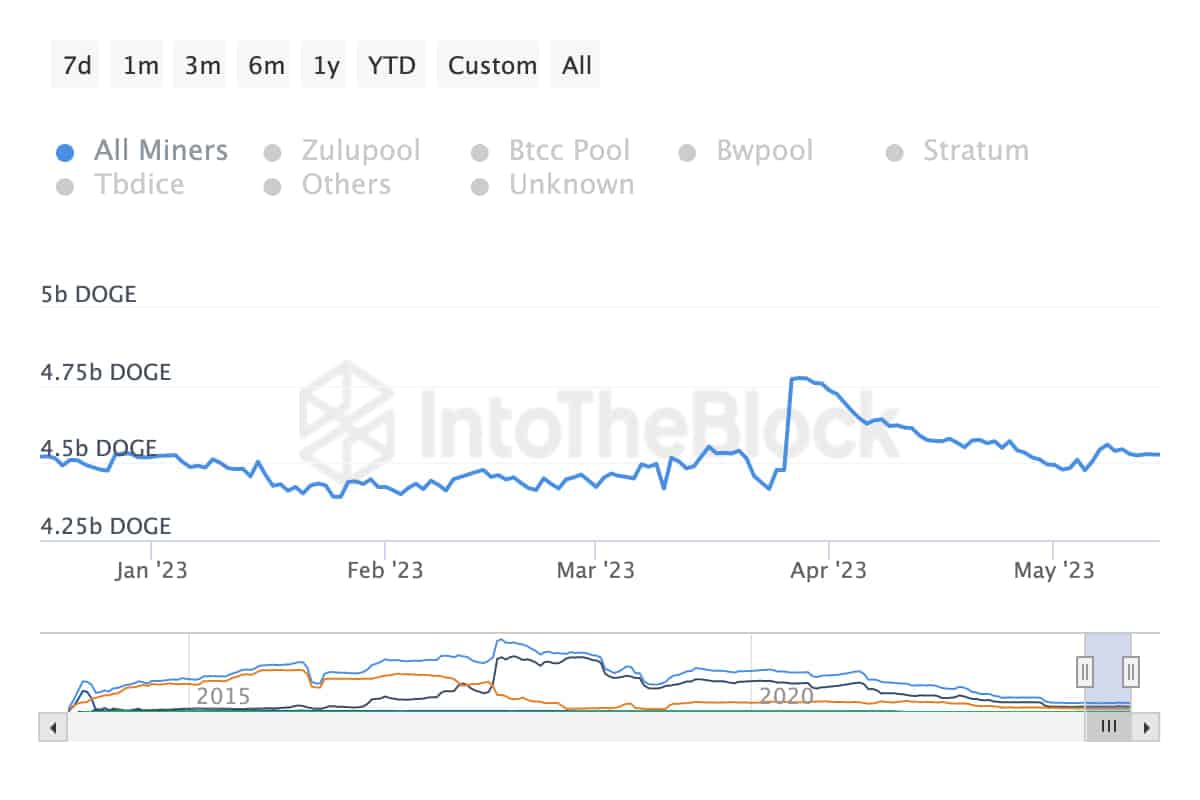 Presently, Dogecoin miners find themselves holding 4.53 billion DOGE, marking a substantial decrease from the peak reserve recorded in March 2023. What makes this even more intriguing is the timing of the reduction.
It all began just a few days before a sudden surge in the DOGE price by over 20% on April 3. As we delve deeper into the data, an interesting pattern emerges. Approximately 80 million DOGE were sold off in the week preceding the price increase, followed by a slightly smaller reduction of 10 million DOGE the subsequent week.
Meanwhile, the price witnessed a rollercoaster ride, soaring by 45% before taking a tumble with a 21% decline. Clearly, it appears that Dogecoin miners missed out on reaping the rewards of this particular market pump.
Pressure on Dogecoin Price
The ongoing sell-off by miners is exerting significant pressure on the price of Dogecoin, which is already perilously close to its lowest value since the year began.
While some skeptics may argue that 4.5 billion DOGE is a mere drop in the bucket compared to the circulating supply of nearly 140 billion coins, it's important to note the historical context. Dogecoin miners have been diligently offloading their holdings since 2017. Sooner or later, this accumulated volume will inevitably flood the market, potentially impacting its delicate equilibrium.
The million-Doge question on everyone's minds is whether miners will continue to jettison their reserves and ramp up their selling activities. At this point, the answer remains as elusive as a Shiba Inu.
Nevertheless, the current trend undeniably intensifies the downward pressure on Dogecoin's price. Investors, traders, and Dogecoin enthusiasts alike are keeping a close eye on the situation, fully aware that sustained selling by miners could have broader implications for market sentiment and potentially trigger further price depreciation.
Broker
Benefits
Min Deposit
Score
Visit Broker