One of the most important features of the crypto community are crypto launchpads, also known as IDO platforms. Crypto launchpads are the best way to find up-and-coming hidden gems in the crypto market. This way, you can invest in promising projects while it's still quite early.
It is also possible that the value of IDO projects may rise as they become more popular, resulting in rewards for those who invested in the early stages. IDOs attract developers and investors because they provide mutual benefits. One of the best crypto launchpads out there is Pinksale
When it comes to token presales, Pinksale is among the most effective crypto launchpads to choose from. Read further down below to learn Pinksale's ins and outs.
What is PinkSale?
One of the finest places to get started with cryptocurrency is at Pinksale.Finance. PinkSale boasts some of the cheapest fees when it comes to creating, developing, and launching a cryptocurrency. It supports different blockchains, such as Binance Smart Chain (BSC), Ethereum, KuCoin, Polygon, Avalanche, and Fantom.
Token locks, token creation, liquidity locks, presales and whitelist sales, and KYC, are just some of the services offered by Pinksale.Finance as a crypto launchpad. Pinksale.Finance even does AMAS for the community.
In addition, PinkSale provides early investors with access to a large number of new cryptocurrencies set to debut in the near future. For example, some of the most popular upcoming projects on the platforms leaderboard at the moment are MaxAPY (MaxAPY), Cartel DAO (CARTEL), and DogeJet Rewards (DOGEJET).
In order to launch their own ICO, anybody may use PinkSale's platform to create their own custom token and sell it to investors. You don't need to know how to code to produce your own token; all you have to do is navigate through Pinksale's terminal.
How to Buy a Presale in PinkSale?
Here is a brief tutorial on how to purchase your first presale on Pinksale.Finance.
To begin your journey, go to the Pinksale.Finance homepage and choose the Launchpad list from the drop-down menu. Look for a token that is presently doing a presale or that may be having one in the near future.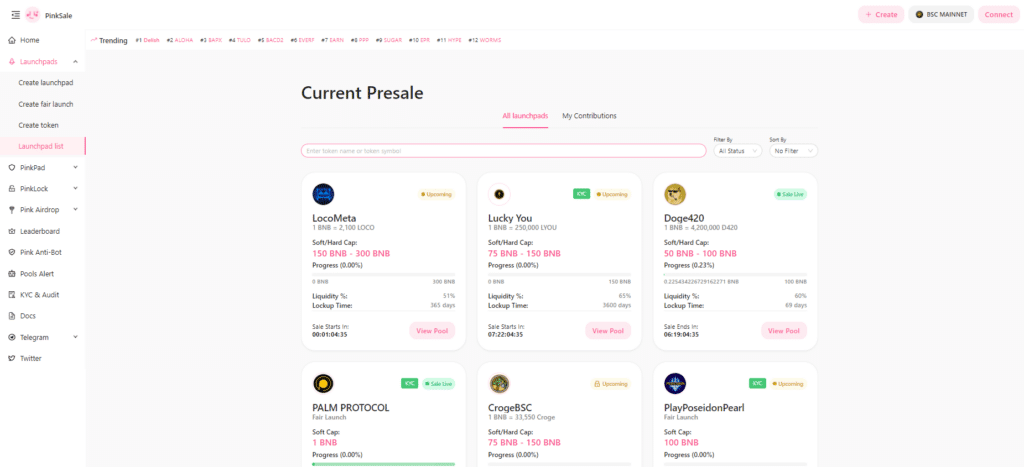 Take a look at the token's specifications and determine whether they match your requirements. Make sure to choose it if it seems to be beneficial to you.
Connect your wallet to Pinksale.Finance, just as you would with any other crypto launchpad. The wallet you choose must be compatible with the project you have selected, so make sure to check if it is. Also, Metamask, TrustWallet, and Coinbase Wallet are some of the most compatible digital wallets out there as of now.
Once you've connected your wallet to PinkSale, you'll need to enter the number of tokens you'd want to spend during the presale. Depending on the presales project blockchain, you'll need to use the blockchain's native currency. For Ethereum, you must, for example, use Ether.
Simply click on "View pool" if you'd like to learn more about a project. Tokenomics, liquidity, lock-up periods, and an estimate of the project's initial market capitalization are all shown there.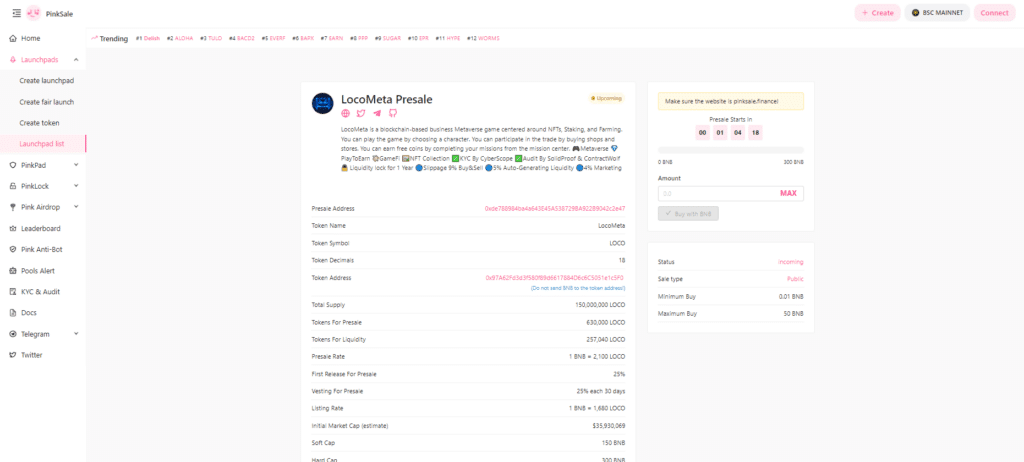 Click "Claim" after the presale expires and the soft cap is met if it has been reached. And you also have the option of withdrawing your initial investment instantly if the soft cap is not met.
Takeaways
One of the best crypto launchpads out there as of now is Pinksale.Finance.

Pinksale.Finance allows its users to see and invest in numerous up-and-coming projects.

Pinksale.Finance offers a vast number of features to its users.

To participate in a Pinksale.Finance presale, go to the PinkSale official website, choose the token, link your wallet, and invest once the presale begins.
Broker
Benefits
Min Deposit
Score
Visit Broker
Share with other traders!