The Canadian Securities Administrators (CSA) has recently published a set of new requirements for cryptocurrency companies, specifically targeting stablecoin trading platforms. Stablecoins are digital assets that are designed to maintain a stable value and are backed by a reserve asset. They are used by cryptocurrency investors and traders as a way to store value without the volatility that is often associated with other cryptocurrencies such as Bitcoin.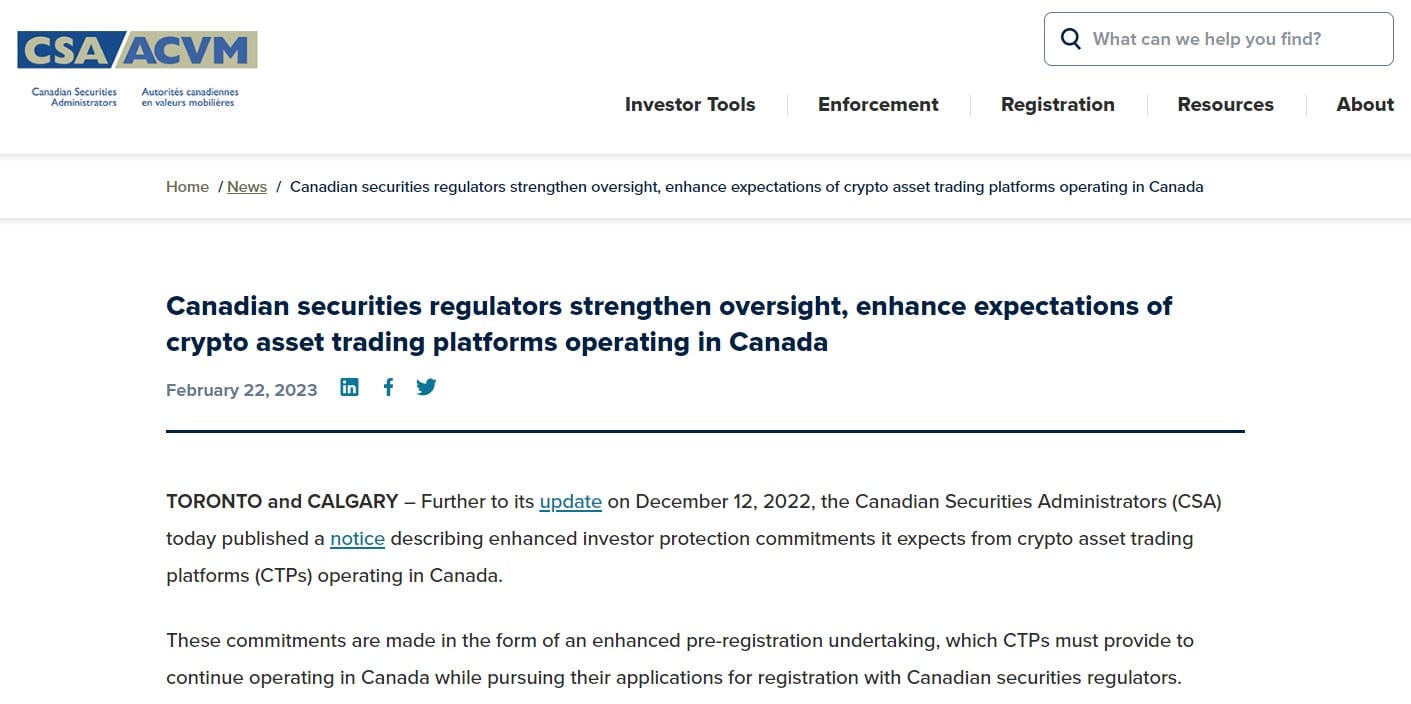 Only Stablecoin Providers With Highly Liquid Assets Will Be Approved: CSA
The CSA's new regulations are aimed at safeguarding investors and reducing the risks associated with cryptocurrencies. Under the new rules, trading platforms will be prohibited from allowing customers to buy or deposit stablecoins without the CSA's prior written consent. Companies seeking approval must satisfy several due diligence requirements, including ensuring that the stablecoin is fully backed by an appropriate reserve. The CSA will only approve a stablecoin if its reserves are made of "highly liquid assets," such as cash and cash equivalents, and if those reserves are held with a qualified custodian.
In addition to the due diligence requirements, independent auditors will need to conduct monthly reviews of stablecoin reserves, with the results made public in a "timely manner." The CSA prefers to use the term "VRCA" instead of "stablecoin," as some stablecoins have failed to maintain a stable value in the past.
Canada's focus on stablecoins mirrors the increased scrutiny the sector has received worldwide, with regulators from various jurisdictions seeking to tighten their control. Recently, the US Securities and Exchange Commission (SEC) has also been ramping up its scrutiny of the cryptocurrency sector, with a particular focus on stablecoins.
The CSA's new requirements are a positive step towards regulating the cryptocurrency market and protecting investors from the risks associated with digital currencies. While the cryptocurrency market is still relatively new and volatile, regulations like these are necessary to ensure its stability and growth in the long run.
Overall, the CSA's new rules are designed to create a safer and more transparent environment for cryptocurrency trading in Canada, which will benefit both investors and the cryptocurrency industry as a whole.
Broker
Benefits
Min Deposit
Score
Visit Broker
Share with other traders!