Goldman Sachs has announced via its internal memo seen on CNBC Friday that it has assembled a cryptocurrency trading team. According to the publication, this would be the first time the behemoth investment bank has confirmed a relation with cryptocurrency trading.
The memo, titled "Formation of Cryptocurrency Trading Team," was composed by Rajesh Venkataramani, a partner at Goldman Sachs.
Venkataramani noted that he was "pleased to announce the formation of the firm's cryptocurrency trading team, which will be our centralized desk for managing cryptocurrency risk for our clients." The executive wrote that "the crypto trading team will be a part of Global Currencies and Emerging Markets (GCEM), reporting to me, within the firm's Digital Assets effort led by Mathew McDermott."
The Goldman partner explained that "as part of our initial launch, we have successfully executed bitcoin (BTC) NDFs [non-deliverable forwards] and CME BTC future trades on a principal basis, all-cash settling," stating that:
"Looking ahead, as we continue to broaden our market presence albeit, in a measured way, we are selectively onboarding new liquidity providers to help us in expanding our offering."

"In addition, yesterday we launched our Digital Assets dashboard which provides daily and intraday cryptocurrency market data and news to our clients." We invite you to highlight the dashboard to your clients."
However, Venkataramani clarified that "the firm is not in a position to trade Bitcoin or any cryptocurrency (including Ethereum) on a physical basis."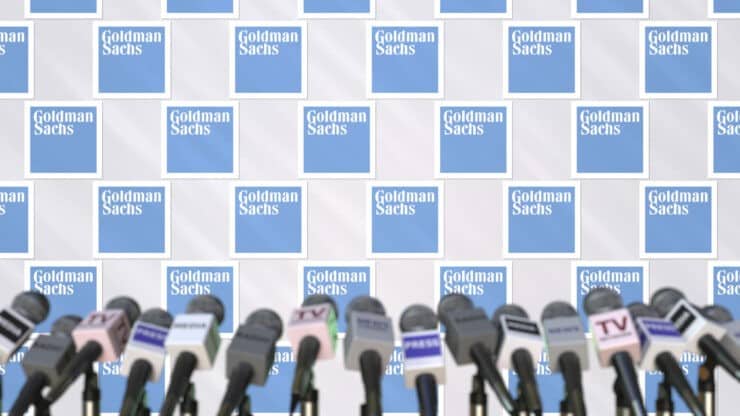 Many Banks are Scrambling to Offer Crypto Services
The Bitcoin futures and non-deliverable forwards (NDFs) traded by Goldman Sachs are settled in cash. Reports show that the New-York-based investment bank hedges against Bitcoin's volatility by trading on CME Group and working with Cumberland DRW as its trading partner.
Meanwhile, apart from Goldman Sachs, Morgan Stanley also started offering Bitcoin exposure about a month ago. However, the company announced that this investment vehicle was reserved for only its wealthy clients. Also, Citigroup is rumored to be working on a crypto service plan as more banks begin offering crypto services and exposure.
You can purchase crypto coins here: Buy Coins
Broker
Benefits
Min Deposit
Score
Visit Broker