Canada's beloved loonie has been giving the US dollar a run for its money in recent weeks as it continues to strengthen against its American counterpart. In a surprising twist, this comes as investors are cheering on the Federal Reserve's signal that it's about to take a breather in its tightening campaign.
The Canadian dollar was seen trading 0.4% higher at 1.3660 to the greenback, or 73.21 US cents, making it one of the most valuable currencies out there. According to Royce Mendes, head of macro strategy at Desjardins, the Fed is "clearly doing its best to put on a brave face by raising rates and sticking with quantitative tightening." But hey, it looks like the loonie's got other plans.
The Bank of Canada has already made moves to the sidelines at a policy decision earlier this month, expressing concerns about inflation that has been sticking above its 2% target. They agreed that there might be a need to tighten monetary policy further, but at least for now, the focus is on what the Fed's recent announcement means for the Canadian economy.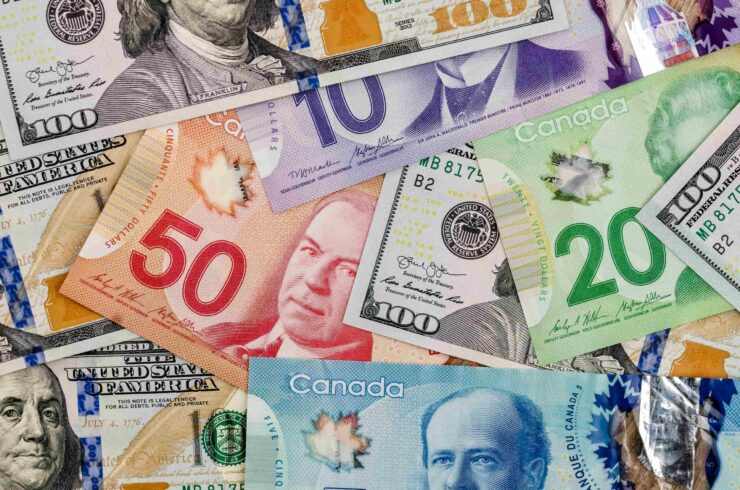 Loonie Anchored By Money Markets
While the price of oil, one of Canada's major exports, settled 1.8% higher at $70.90 a barrel, new home prices fell 0.2% month-over-month in February. Rapid increases in mortgage rates over the past year have slowed housing demand. Despite the loonie's recent gains, money markets have already priced in rate cuts over the coming months, hinting at the possibility of a rocky road ahead.
Only time will tell if the loonie will continue to flex its muscles against the US dollar. One thing's for sure, though: the Bank of Canada will be keeping a close eye on the impact of the Fed's decision on the Canadian economy and adjusting its monetary policy accordingly.
Broker
Benefits
Min Deposit
Score
Visit Broker