Service for copy trading. Our Algo automatically opens and closes trades.
The L2T Algo provides highly profitable signals with minimal risk.
24/7 cryptocurrency trading. While you sleep, we trade.
10 minute setup with substantial advantages. The manual is provided with the purchase.
79% Success rate. Our outcomes will excite you.
Up to 70 trades per month. There are more than 5 pairs available.
Monthly subscriptions begin at £58.

In such a volatile market, Bitcoin Cash has proved to be a worthwhile investment over the years. This is reflected insofar that the digital asset often features in the top 10 cryptocurrencies by market capitalization.
Interested in buying this crypto-asset yourself in a simple, cost-effective, and safe manner?
In this guide, we run through the ins and outs of how to buy Bitcoin Cash. This is inclusive of tried and tested investment strategies to consider, as well as reviews of the best online platforms to facilitate your BTC purchase.
8cap - Buy and Invest in Assets

Minimum deposit of just 250 USD to get lifetime access to all the VIP channels
Buy over 2,400 stocks at 0% commission
Trade thousands of CFDs
Deposit funds with a debit/credit card, Paypal, or bank transfer
Perfect for newbie traders and heavily regulated

Don't invest in crypto assets unless you're prepared to lose all the money you invest.
How to Buy Bitcoin Cash in 10 Minutes – Quickfire Guide
To start, we are going to offer a quickfire guide of how to buy Bitcoin Cash – for anyone short on time.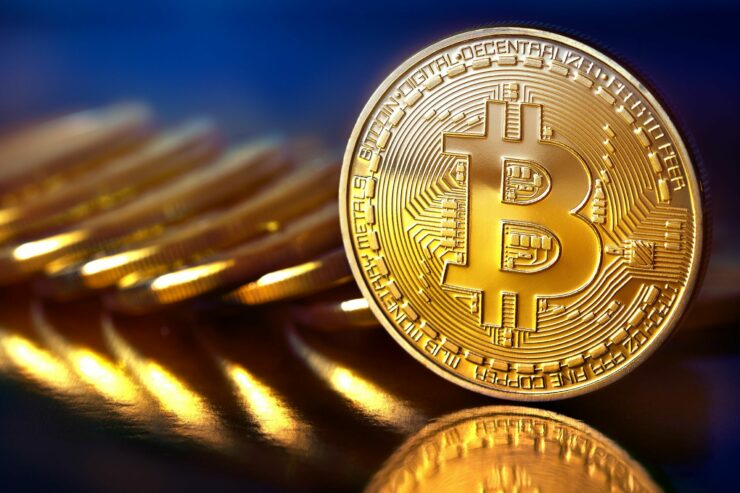 Step 1: To access the markets you must first sign up with a broker – will let you buy Bitcoin Cash without paying any commission
Step 2: Tell the platform who you are by completing the quick registration process
Step 3: Upload your passport, driving license, or ID. Next, scan or send a clear image of a gas/water/electricity bill or bank statement
Step 4: Choose a payment type to deposit funds into your account and confirm (debit/credit card, Paypal, etc.)
Step 5: Find Bitcoin Cash and place an order – you can buy BCH coins at a minimum of $25 at
If you haven't had the chance to research available crypto-brokers, don't worry – you will see reviews of the top trusted platforms in this section below!
Select a Trusted Bitcoin Cash Broker
As we have eluded to – in preparation for buying Bitcoin Cash in a safe and timely manner, you are best to turn to an established and secure space. This is where regulated brokers come in.
To save you time, we have combed through the best providers in the crypto space. Our reviews include a safe place to buy Bitcoin Cash, as well as trade this digital asset via CFDs. The latter affords you the option of applying leverage and going short – should you crave more sophisticated trading tools.
1. AvaTrade – Bitcoin Cash CFDs With Multiple Trading Tools
This longstanding CFD broker is regulated in six jurisdictions - including the EU, British Virgin Islands, and Australia. As such, this is a very safe platform to trade Bitcoin Cash, and any other asset for that matter. In fact, rumour has it that AvaTrade will be going public later this year - meaning it will become a tradable stock.
You will not be liable for any commission fees when trading crypto CFDs at AvaTrade. Accordingly, we investigated the spread and found it to be competitive - at 1.25% over-market on bitcoin Cash CFDs in particular. Other markets include bonds, ETFs, indices, stocks. Nevertheless, if you are a newbie who needs more help learning how to trade Bitcoin Cash, you will find a jam-packed educational suite on this platform.
AvaTrade offers everything from MT4 compatibility to strategies, customizable indicators, and trading video lessons. You will also be given a virtual demo account with $100,000 in virtual money to use. There shouldn't be any problem paying with your preferred payment type here. AvaTrade accepts all sorts from credit and debit cards to wire transfers and e-wallets like Boleto, Skrill, and Neteller. To start trading Bitcoin Cash you only need to deposit a minimum of $100.

Minimum deposit of just $100
Regulated by 6 regulatory bodies
0% commission when trading Bitcoin Cash CFDs
Admin fee charged after 1 year inactivity
75% of retail investors lose money when trading CFDs with this provider
2. VantageFX – Ultra-Low Spreads
VantageFX VFSC under Section 4 of the Financial Dealers Licensing Act that offers heaps of financial instruments. All in the form of CFDs - this covers shares, indices, and commodities.
Open and trade on a Vantage RAW ECN account to get some of the lowest spreads in the business. Trade on institutional-grade liquidity that is obtained directly from some of the top institutions in the world without any markup being added at our end. No longer the exclusive province of hedge funds, everyone now has access to this liquidity and tight spreads for as little as $0.
Some of the lowest spreads in the market may be found if you decide to open and trade on a Vantage RAW ECN account. Trade using institutional-grade liquidity that is sourced directly from some of the top institutions in the world with zero markup added. This level of liquidity and availability of thin spreads down to zero are no longer the exclusive purview of hedge funds.

The Lowest Trading Costs
Minimum deposit $50
Leverage up to 500:1
75.26% of retail investor accounts lose money when spread betting and/or trading CFDs with this provider. You should consider whether you can afford to take the high risk of losing your money.
Consider Your Bitcoin Cash Strategy
Having a Bitcoin Cash strategy means having a clear plan in mind moving forward. A good place to start is knowing whether you would like to buy and hold Bitcoin Cash or trade it via leveraged CFDs.
See the sections below for a better idea of what might suit your trading goals.
Buy and Hold Bitcoin Cash
People looking to purchase Bitcoin Cash for long-term capital gains tend to adopt the buy and hold strategy. This will entail purchasing a selection of BCH coin and storing them for months or years. The end goal is to buy low and sell high later on – thus making an attractive profit.
See a practical example of a buy and hold strategy when investing in Bitcoin Cash:
Let's say that Bitcoin Cash is currently priced at $356
Feeling like this is undervalued, you place a $1,000 buy order with your broker
Having stored your BCH coins for a little over a year, the crypto-asset is now worth $516
As such, Bitcoin Cash has risen by 31%
You cash out with a sell order, having made gains of $310 (31% of $1,000 stake)
We mentioned that you stored your BCH coins for over a year. For those unaware, there are different ways to hold onto your digital currencies. The three most common ways to do this are via a personal crypto-wallet, an exchange, or a regulated cryptocurrency broker.
If you opt to store your Bitcoin Cash in a wallet, you will be entirely accountable for remembering and looking after the long passkey. Moreover, this means that you will need to think about the personal security of your digital assets to ward off hackers.
You could also opt to store your BCH coins at a cryptocurrency exchange, although this is widely considered to be the least secure place to keep your investments. After all, they are usually unregulated spaces. In stark contrast, you can store your Bitcoin Cash at a licensed brokerage such as eToro.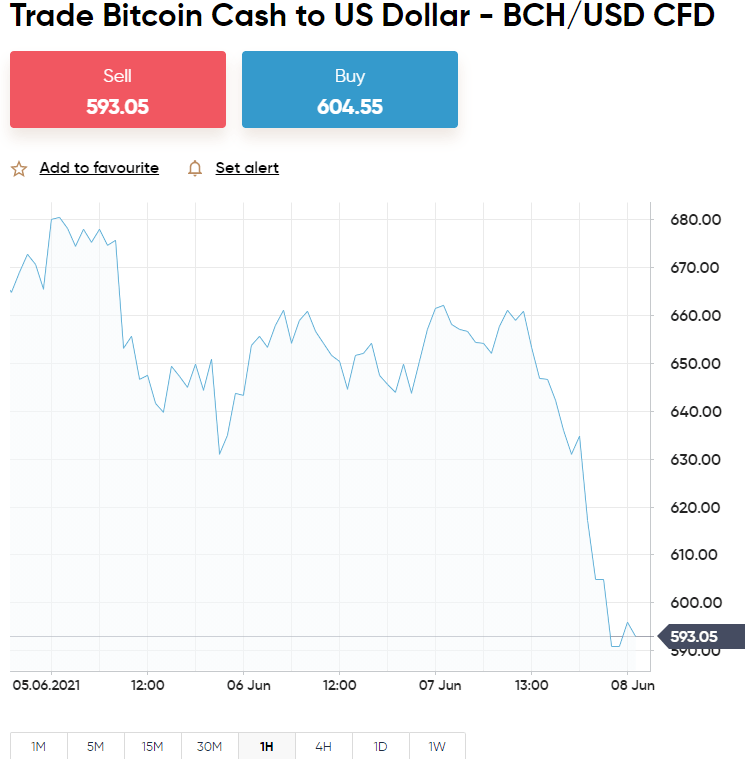 The latter is undoubtedly the safest way to adopt the buy and hold strategy. This is because eToro enables you to securely buy, store, and sell Bitcoin Cash – without paying any commissions. Furthermore, you are able to do so under the protection of the FCA, ASIC, CySEC, and FINRA.
Trade Bitcoin Cash
By far one of the most favored ways to trade Bitcoin Cash is via Contracts for Differences (CFDs). As we touched on in our brokerage reviews earlier, CFDs enable you to go long or short on an asset. To clarify, if you thought Bitcoin Cash was going to experience a drop in value – you would be able to profit from that with a sell order via a CFD trading platform.
In this instance, Bitcoin Cash will usually be traded in a pair, against an alternative currency. The pair might include an alternative digital currency like Bitcoin (BCH/BTC), or a fiat currency like US dollars (BCH/USD). The former is known as a crypto-crypto pair, and the latter a crypto-fiat pair.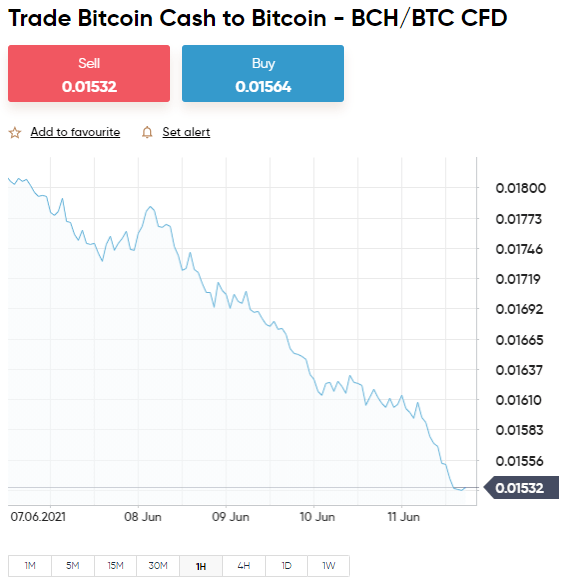 See an example below of a Bitcoin Cash CFD trade below:
You are analyzing the exchange rate between Bitcoin Cash and the British pound
Valued at £370, you foresee a price drop so place a $600 sell order
Within 48 hours, BCH/GBP has fallen to £307
This illustrates a 17% decrease in value – so you place a buy order to cashout
Your gains from this Bitcoin Cash CFD trade are $102 (17% of $600 stake)
Crucially, had BCH/GBP gone in the other direction you would have made a loss
It's also worth noting that when trading Bitcoin Cash via CFDs, you can often trade with leverage. As such, this allows you to trade with more money than you have in your brokerage account.
See an example of leverage below, using our earlier BCH/GBP trade:
When placing your $600 sell order on BCH/GBP, you are offered 1:2 leverage
This elevates your initial $600 position to $1,200
As such, your original gains of $102 is doubled to $204
Leverage is like a loan from your CFD broker and is often offered with such financial contracts as standard. However, some countries will be restricted when it comes to how much can be added – if it is allowed at all. For instance, UK and US citizens can no longer legally access crypto derivatives of this sort.
Where to Buy Bitcoin Cash
When thinking about how to buy Bitcoin Cash, also consider where. There are various options available, all of which have been listed below for your convenience.
Buy Bitcoin Cash Debit Card
Buying Bitcoin Cash with a debit card isn't too difficult these days as many online brokers accept it – just beware of the fees. For instance, our guide found that popular crypto-platform Coinbase charges 3.99% on each and every debit card purchase.
As you can imagine, if you are buying Bitcoin Cash on a regular basis, these fees can build up. At eToro, you can buy Bitcoin Cash with a debit card in seconds – and the only fee payable is 0.5%. In fact, this is only charged if you are not depositing funds in USD.
Buy Bitcoin Cash Credit Card
Much like in the case of debit cards, you may come across extra fees when looking to buy Bitcoin Cash via a credit card. As such, when you are studying what charges will be payable, it's important to not only check with the online broker but your credit card provider.
One to look out for is the cash advance fee, which can be anywhere from 3 to 5% of the transaction value. Again, at eToro, all that is chargeable to buy Bitcoin Cash is a 0.5% exchange fee – and only if US dollars isn't your local currency.
Buy Bitcoin Cash Paypal
Let's start by saying that if you wish to use PayPal to buy Bitcoin Cash – you should be aware that it isn't globally accepted as standard.
With that said, at eToro you can buy Bitcoin Cash with PayPal in less than 10 minutes – whilst paying no extra fees for doing so. Other supported e-wallets include Skrill and Neteller.
Bitcoin Cash ATMs
With the goal of revolutionizing the way we buy and sell, the first crypto ATM was installed in 2013. Fast-forward to 2023 and Bitcoin Cash ATMs are scattered in locations around the world – including Kenya, Argentina, Israel, Madrid, London, Moldovia, and many more.
For those unaware, these machines enable you to buy BCH coins using local currency. Simply enter the money into the ATM and exchange it for Bitcoin Cash.
It's important to be aware that although crypto ATMs sound ultra-convenient – the fees can be outrageous. The charge can be as much as 20% of your purchase. As such, the most cost-effective option is to use a commission-free brokerage to buy Bitcoin Cash – like eToro.
Bitcoin Cash Strategies
A word to the wise – don't even think about how to buy Bitcoin Cash without first coming up with a strategy. After all, the crypto markets are very volatile.
But, don't worry – as there are various things you can do to protect yourself. TO help clear the mist, below we discuss some important strategies to consider when learning how to buy Bitcoin Cash.
Dollar-Cost Averaging
Dollar-cost averaging is one of the oldest but simplest strategies in the investment book. To add this system to your Bitcoin Cash investment strategy, think about your goals, cash flow, and outgoings. Next, consider how much you can afford to spend on BCH coins.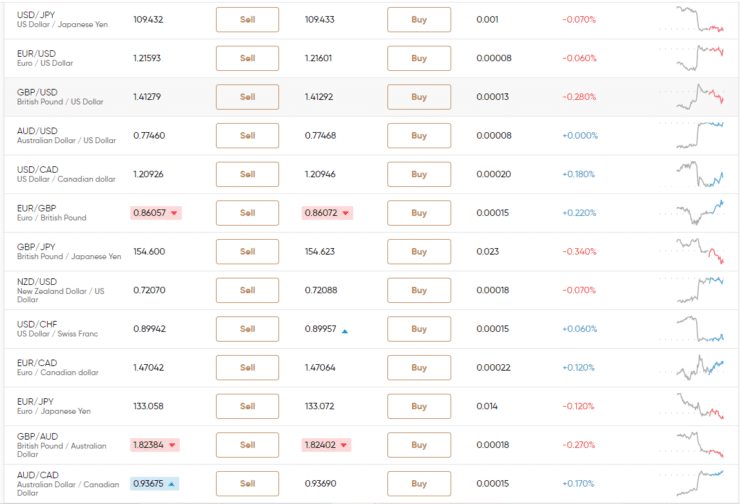 Let's say, you work out your finances and realize you can afford to buy $120 worth of Bitcoin Cash per month. The best way to embark on dollar-cost averaging with this example budget would be to buy $30 of BCH coins every week. This is a sure-fire way to steadily grow your portfolio in a safe manner and thus – avoid worrying about short-term volatility.
Buy the Dip
For those unaware, to 'buy the dip' is to invest in Bitcoin Cash when it is experiencing a sudden drop in value.
See an example below:
On Monday, the price of Bitcoin Cash was $510
By Friday afternoon, the digital currency has plummeted to a low of $377
After performing technical analysis, you believe that this loss in value is temporary, and thus – you identify this as a good time to enter the market
As such, you start to purchase Bitcoin Cash via a 'buy the dip' strategy
As you can see, you are purchasing Bitcoin cash whilst it is undervalued, meaning you can sell your coins for more later on once the crypto-asset recovers.
Diversify
All seasoned traders and investors will tell you about the importance of diversification – as it's a great way to create balance within your portfolio.
For instance, things might not always go to plan when buying Bitcoin Cash – so you might also consider gaining exposure to traditional stocks, forex trading markets, or commodities such as gold and silver. This way, if one asset isn't performing as well as expected, you haven't put all of your eggs in one basket.
Bitcoin Cash Trading Signals
Bitcoin Cash trading signals are quite the phenomenon amongst both seasoned traders and newbies. Adding crypto signals to your plan enables you to trade in a passive manner. This is because Bitcoin Cash trading signals tell you whether to buy or sell and at what entry price. You will also be provided with a sensible stop-loss and take-profit price.
For instance, here at Learn 2 Trade, our free trading signals include all of the aforementioned order suggestions and they are sent in real-time via our Telegram group. We choose this method because the app is free, messages are sent to you in real-time, and are secure and encrypted for your privacy.
How to Buy Bitcoin Cash Online – Full Walkthrough
Largely for people who have never traded or those who need a recap, we have included a full walkthrough of how to buy Bitcoin Cash from the comfort of your home.
Today we show you how to complete the investment process with Capital.com – as the broker will charge you no commission to buy Bitcoin Cash and it is regulated by multiple authorities for your safety.
Step 1: Sign Up With a Bitcoin Cash Broker
Head to Capital.com and look for the 'Join Now' button on the main page.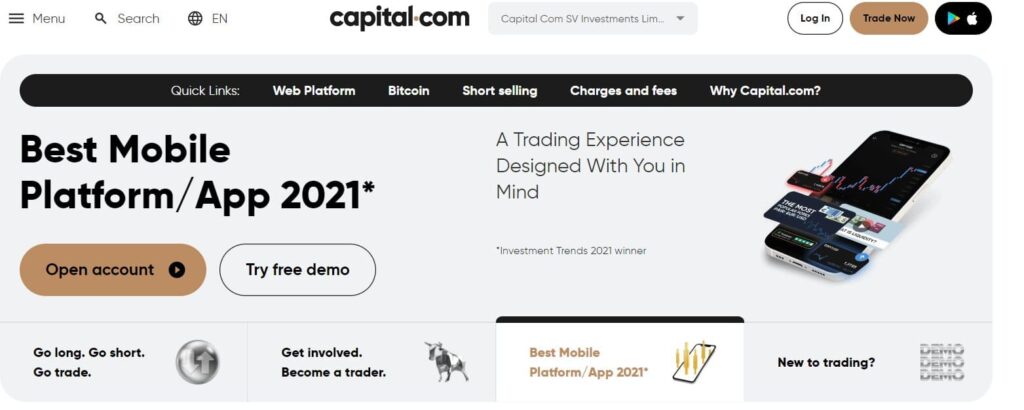 Next, enter your information as prompted. This will be basic information such as your name, nationality, date of birth, email address, and desired username/password.
Step 2: Upload Some Identification
As Capital.com is regulated, you will also need to adequately prove who you are by uploading your passport or driver's license.
Next, you will need to provide a digital copy or scan of a utility or bank statement. You can leave this part of the sign-up process for later, but it will need completing before you can withdraw any account funds.
Step 3: Deposit Funds Into Your Account
Before you will be able to buy Bitcoin Cash, you will first need to deposit some money into your new account.
Look through the drop-down menu or available payment types and select the one you wish to use. Next, you can input the amount you want to deposit and confirm when done.
Step 4: Buy Bitcoin Cash
Next, look under the section named 'Crypto', or simply use the search facility to find BCH coins to buy.
Next, input the amount of Bitcoin Cash you would like to purchase and click 'Set Order' when done. Don't forget, you can buy BCH coins from only $25 upwards at Capital.com – commission-free!
Conclusion
If you're looking to buy Bitcoin Cash hoping to get rich, it's best to remind yourself of the risks involved. This is why having a strategy in place is crucial.
Ergo, consider not just purchasing cryptocurrencies but also buying and trading other asset classes entirely – like stocks or gold. In doing so, this diversity will help to protect you against market volatility.
At Capital.com, you can easily utilize strategies such as dollar-cost averaging – as the broker will allow you to buy Bitcoin Cash from just $25 upwards. Furthermore, you can diversify your portfolio across more than 2,400 stocks, 49 forex pairs, 250 ETFs, and 15 alternative cryptocurrencies!
8cap - Buy and Invest in Assets

Minimum deposit of just 250 USD to get lifetime access to all the VIP channels
Buy over 2,400 stocks at 0% commission
Trade thousands of CFDs
Deposit funds with a debit/credit card, Paypal, or bank transfer
Perfect for newbie traders and heavily regulated

Don't invest in crypto assets unless you're prepared to lose all the money you invest.
FAQs
What is the minimum amount of Bitcoin Cash you can buy?
The minimum amount of Bitcoin Cash you can buy will depend on the provider you choose. eToro will facilitate your Bitcoin Cash purchase at a minimum of just $25 - commission-free.
How much is Bitcoin Cash likely to be worth in 5 years?
Some crypto experts predict that Bitcoin Cash could be worth as much as $3,067 in 5 years' time. To keep tabs on the probability of this, you can master the art of technical and fundamental analysis.
Where is the best place to buy Bitcoin Cash?
Our intensive research found that eToro is the best place to buy Bitcoin Cash. One of the main reasons is the platform is protected by regulatory bodies, so it is safe. Furthermore, there are heaps of commission-free assets to buy and trade - plus, you can invest in Bitcoin Cash from just $25 upwards.
How can I sell Bitcoin Cash?
Selling Bitcoin Cash is super easy if done via an online broker. For instance, if you buy and store Bitcoin Cash at eToro, you just need to place a sell order to cash out when ready and the money will be added to your account.
Can Bitcoin Cash make you rich?
How much money you can make from buying Bitcoin Cash is dependant on various things such as on how much you are able to stake in the first place and how you time the markets. Overall, for the best chance at success - it's best to learn the ins and outs of the crypto scene and create a strategy including.