</p>
Market Analysis – April 28
The GBPJPY trend remained bearish until the price took support from the oversold region of the 159.90 support level to break the descending trendline. A new, expanding channel is currently guiding the price action's ascent to supply zones. The price is currently hovering around the resistance trendline of the expanding channel even as the Stochastic indicator signals bullish exhaustion. A pullback is expected to follow to reset the buyers for an ascent continuation.
GBPJPY Key Levels
Demand Levels: 164.10, 159.90, 156.70
Supply Levels: 168.50, 171.20, 171.20

GBPJPY Long-term trend: Bullish
A bearish trendline was anchored on the major highs in October and December. This made the downward trend clearly defined. The third test of the bearish trendline was a great experience for many investors, as multiple indicators called out shorting opportunities. The Stochastic was oversold to indicate a continuation of the downward trend. A head and shoulders also formed completely at the test of the bearish order block of 164.10. As anticipated, the price delivery to the support level of 169.90 played out successfully.
The bearish trendline that defined the downtrend is now obsolete with the upthrust in price from the bullish order block of 159.90. The rejection wicks also revealed the will of the buyers to take advantage of the oversold level (as seen on the Stochastic Oscillator) on the 24-hour chart.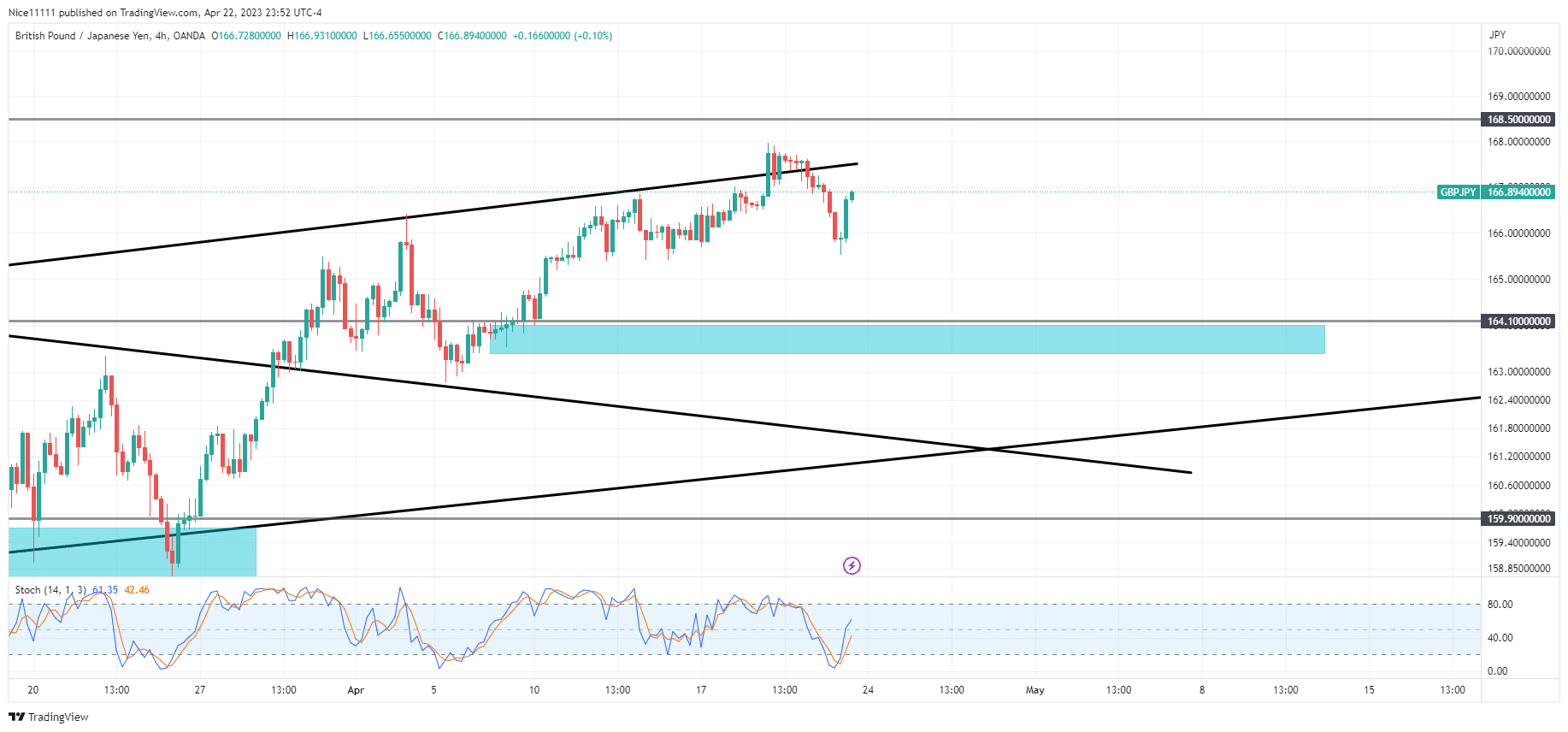 GBPJPY Short-term Trend: Bullish
A bearish shift in market structure is obvious in the 4 hour timeframe. The price is expected to descend to the bullish Order-block of 164.10.
Do you want to take your trading to the next level? Join the best platform for that here
Broker
Benefits
Min Deposit
Score
Visit Broker