EUR/USD kicked off the week with a moderate bounce, managing to find its footing at the crucial support level of 1.0840. The currency pair's resilience is commendable, considering the tumultuous ride it experienced last week when a resurgent US dollar and souring market sentiment exerted downward pressure.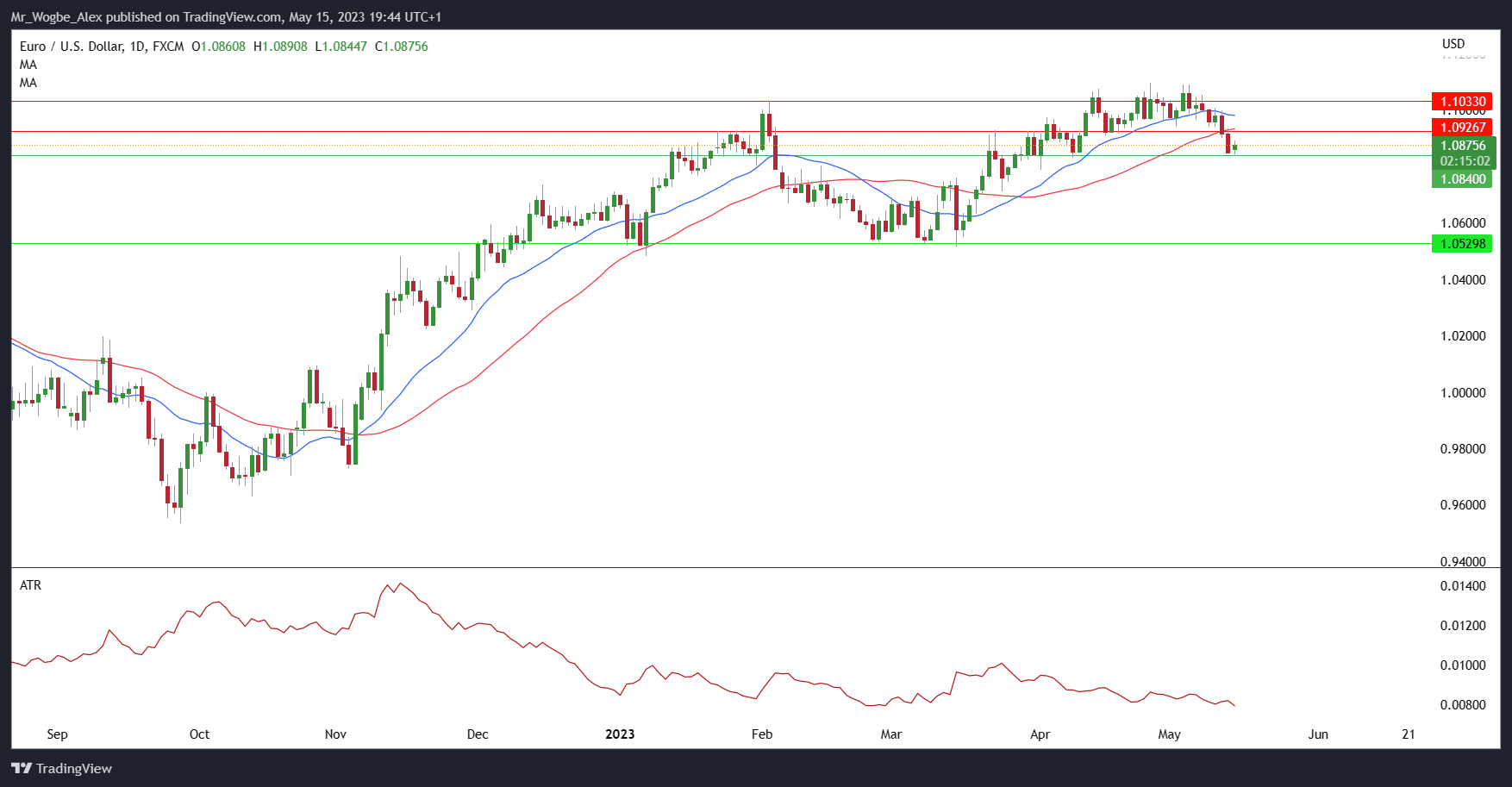 ECB Policymaker Sending Mixed Signals
The European Central Bank (ECB) has emerged as a key player in the recent drama, as its policymakers' comments have sent mixed signals to the market. On one end, we have ECB Vice President Luis De Guindos claiming that the central bank has reached the homestretch of its tightening cycle. On the other side, we have policymaker Kazimir, who takes a hawkish stance, suggesting that the ECB may need to extend rate hikes to tame inflationary pressures.
This kind of back-and-forth among central banks seems to be all the rage lately. As evidence of the confusion, the EU Commission Forecast shows an upward revision in the projected inflation rate for 2023 to 5.8%, up from the earlier estimate of 5.5% in February. Similarly, GDP growth is expected to reach 1.1%, a slight increase from the previous forecast of 0.9%.
Frankly, given the recent economic slowdown and nagging concerns about demand, it's anyone's guess if growth will pick up in the latter half of 2023.
Adding insult to injury, Eurozone industrial production stumbled in March, marking a worrying 4.1% drop on a month-on-month basis—the lowest level since October 2021. It seems the Irish computer, electronics, and optical products sectors took the brunt of the blow with a jaw-dropping 50% plunge in production. But let's not pick on Ireland alone; even the heavyweight German economy suffered a 3.1% month-on-month decline. With demand concerns tightening their grip on the market, today's Eurozone data does little to allay fears as new orders continue to dwindle.
EUR/USD Remains Resilient
Despite these challenges, EUR/USD has displayed a glimmer of resilience as it attempts to claw its way back. However, make no mistake, the currency pair remains at the mercy of economic uncertainties, central bank rhetoric, and overall market sentiment. Traders and investors will be on high alert, monitoring every twist and turn as they try to decipher the next move of the EUR/USD pair.
Broker
Benefits
Min Deposit
Score
Visit Broker