Service for copy trading. Our Algo automatically opens and closes trades.
The L2T Algo provides highly profitable signals with minimal risk.
24/7 cryptocurrency trading. While you sleep, we trade.
10 minute setup with substantial advantages. The manual is provided with the purchase.
79% Success rate. Our outcomes will excite you.
Up to 70 trades per month. There are more than 5 pairs available.
Monthly subscriptions begin at £58.

Dash 2 Trade (D2T), a new platform for crypto trading analytics and signals, has received more than $5.4 million from investors in just under two weeks.
The third stage of the token sale has begun, which means that the token's price has climbed to $0.0513 for the 70 million tokens that are currently being sold, out of the 700 million that were allotted for the presale.
70% of the total token supply is now accessible in the presale thanks to Dash 2 Trade. All participants are competing on an equal footing because there are no vesting requirements for investors in the presale and there was no private sale.
Pre-sale buyers are drawn to the project's strong economic foundations and fair and generous terms of the sale, with the vast majority of tokens being offered directly to the general public.
What makes Dash 2 Trade popular among investors
Dash 2 Trade, which boasts a professional-grade dashboard and cutting-edge features like an automatic rating system for new coin releases that is bolstered with priceless human knowledge, aims to upend the retail trading sector.
Dash 2 Trade's comprehensive and potent dashboard has been compared to the "Bloomberg Terminal for crypto traders," yet it costs a fraction of what that particular item does.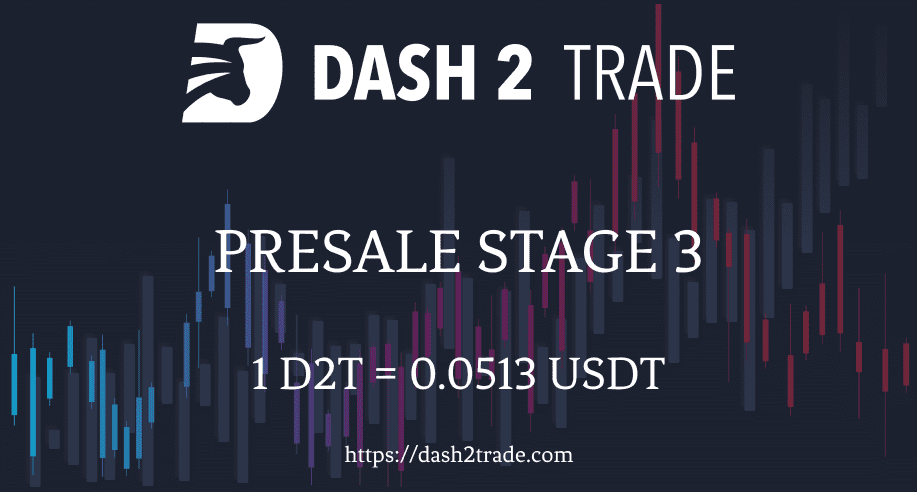 Along with technical indicators, actionable trading signals, social trading, and on-chain data, the Dash 2 Trade platform also offers professional-level capabilities like the Strategy Builder tool for backtesting trading ideas on live data before deploying strategies in the market.
For the most recent market intelligence, there are also real-time data, news feeds, and cutting-edge social sentiment research.
Additionally, you may use the auto-trading API option to connect your strategy to your preferred broker or exchange and place trades under your full control after you've performed your preliminary research and due diligence.
During a recent video AMA, Tim Ottowitz, the community and product manager for Dash 2 Trade, announced that sneak views of the dashboard would be made available this month.
For retail traders, institutional-grade analytics and features
Dash 2 Trade enables all of its customers to become successful traders by bringing this strength and institutional-grade capabilities to the retail market.
The Dash 2 Trade team has identified a sizable and significant unmet market need related to conducting due diligence on presale coins, which is time- and labor-intensive for regular investors and traders.
Smart professional traders engage in this area of the cryptocurrency market to ensure astronomical returns on their investments.
Each new coin is evaluated using 12 key characteristics by Dash Score, a unique scoring system developed by Dash 2 Trade. To grade each project, these variables include alerts, the level of social interaction in the community, the status of the smart contract audit, and the business model.
Since it takes hours to thoroughly investigate each of the 20 to 30 new crypto assets that are issued each week, according to websites like Coinsniper.net, the Dash 2 Trade system is a lifesaver for traders of all skill levels.
The D2T coin serves as the entry point to the modern, professional crypto trading environment.
Users must pay a competitively priced monthly subscription of 400 D2T for the Starter tier and 1,000 D2T for the Professional in order to access the ecosystem's complete feature set. A free tier is also available.
500,000 people use Cryptohopper, Maxxer, Santiment, Cointelegraph Market Pro, and other trading programmes on the market for cryptocurrencies, but none of them connect everything like Dash 2 Trade does.
Dash 2 Trade was created for and by traders. Its traders, quants, and developers are seasoned experts who have spent three years developing a community for trading financial assets at Learn 2 Trade.
To solve the problems faced specifically by cryptocurrency traders, the lessons they have learned on Learn 2 Trade are used in Dash 2 Trade.
Before the next price hike, join the presale price ladder today.
The price of the D2T token climbed from $0.050 to $0.0513 in the third stage of the presale when the total amount raised reached $5,166,000. It will increase once more to $0.0533 in the fourth stage.
To entice early investors, the presale has been split into nine phases and includes a pricing ladder.

The final ninth level will have a price of $0.0662 for 1 D2T token. If early investors purchased during the first stage of the presale, they will have gained a paper profit of 39% by the time the presale is over.
D2T listing on LBank market is already planned.
Dash 2 Trade, a platform for professional crypto trading intelligence and signals, has agreed to list on the well-known LBank cryptocurrency exchange, which is situated in Hong Kong.
LBank and Dash 2 Trade claim in the pre-listing release that the D2T coin will list shortly after the presale concludes.
The news represents a significant victory for Dash 2 Trade and a show of support for the group.
Where to Buy D2T Token and How
Those who do not have a funded cryptocurrency wallet can purchase ETH on the Dash 2 Trade website with a debit or credit card.
The optimal experience for mobile users is to access the presale page using Trust Wallet's built-in browser.
The team and Dash 2 Trade smart contract code have undergone a complete audited by SolidProof and verified by Coinsniper.
Presale Stages
| | | | |
| --- | --- | --- | --- |
| Stage | Price | Amount | Tokens |
| 1 | $0.0476 | $1,666,000 | 35,000,000 |
| 2 | $0.0500 | $3,500,000 | 70,000,000 |
| 3 | $0.0513 | $3,591,000 | 70,000,000 |
| 4 | $0.0533 | $4,663,750 | 87,500,000 |
| 5 | $0.0556 | $4,865,000 | 87,500,000 |
| 6 | $0.0580 | $5,075,000 | 87,500,000 |
| 7 | $0.0606 | $5,302,500 | 87,500,000 |
| 8 | $0.0635 | $5,556,250 | 87,500,000 |
| 9 | $0.0662 | $5,792,500 | 87,500,000 |
| Total | | $40,012,000 | 700,000,000 |
Social links:
Media contact: [email protected]