Luxury car maker Daimler reported an explosion in sales and earnings for the first quarter as demand picks up strongly for its cars and vans.
Earnings per share leapt 4,355%, from €0.09 in Q1 2020 to €4.01 and the company expects sales margins to increase for the first time since it sold off Chrysler back in 2007.
Luxury vehicle sales are at an all-time high for Germany's high-end manufacturers.
Its Mercedes brand saw sales leap ahead by 22% to 581,270, with the Daimler group as a whole witnessing a 60% jump in vehicle deliveries into China.
The company announced its first all-electric car recently, starting with the EQA compact vehicle. It has already taken in orders for approximately 20,000. Last week it unveiled its EQS Sedan model and has a further two all-electrics to reveal in the coming months.
Bavarian rival BMW has seen a similar uplift in sales, especially in China, the world's largest car market.
The forecast sales margin increase has shifted from 8% to 10% at the lower end, to as much as 12%.
Daimler 2021 first quarter results highlights

Revenue

€ 41 billion

Q1 2020: € 37.2 billion

Group EBIT

€ 5.7 billion

Q1 2020: € 0.62 billion

Group Net Profit

€ 4.4 billion

Q1 2020: € 0.17 billion

Earnings Per Share

€4.01

Q1 2020: € 0.09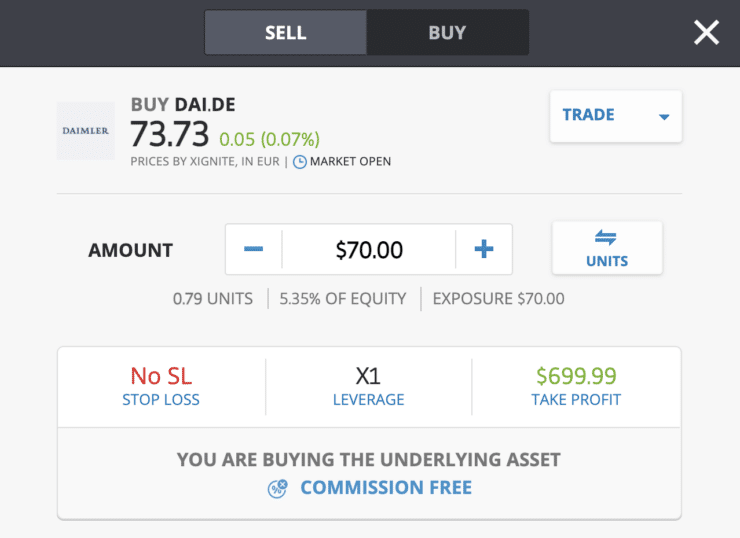 Chief financial officer Harald Wilhelm provided some visibility on continuing sales, sharing that the company was seeing strong demand continuing in the all-important China market in the second quarter.
Going full throttle on electric is likely behind the improving margin position. The auto industry is notorious for operating on low margins, and the expected growth in EV sales will fall through the income statement to bolster profits.
Wilhelm hinted as much: "We are very confident that we can keep up the pace to improve our margins on a sustainable basis and at the same time expand our electric-vehicle lineup."
The strong recovery from the auto industry's annus horribilis has led to a near 30% improvement in Daimler's share price, but there is more in the tank as far as stock appreciation goes.
Although Tesla has owned the zeitgeist generated by the EV investment story, where it remains the market leader by a long chalk, the narrative shows signs of possibly shifting in favour of the so-called legacy car makers.
In this context 'legacy' sounds like a negative, but in actual fact it speaks to one crucial strength – the old internal combustion engine (ICE) manufacturers know how to produce at scale and have the financial resources to compete on technology.  Especially so, given the keenness of both tech giants and smaller third-party technology suppliers to team up with existing automakers.
The consensus price target for Daimler currently represents a 16.4% upside (€85) on the current price of €73.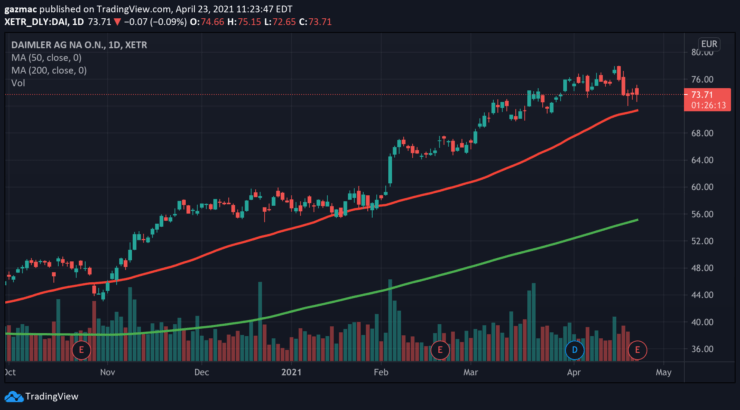 Of the 24 analysts covering the stock, 12 have a buy rating and seven an outperform rating and five a hold; there are no sellers.
The Mercedes EQS sedan model is the counterpart to its top-end S-class range and if initial reviews are anything to go by, it seems to have hit the mark.
Although little is known about the advanced driver-assistance system (ADAS) being used by Daimler in its Mercedes, its heavy reliance on LiDAR – famously rejected by Tesla founder Elon Musk – in tandem with cameras, takes a different approach to Tesla's Autopilot, which relies on ultrasonic sensors, cameras and radar.
But ICE vehicles are doing just fine as well. S-Class models and SUVs are both flying out of the showroom and the trucks division is outperforming too. Daimler intends to be in a position to offer electric trucks to all customers in its regions by 2022.
"Deliveries, revenues and profits increased significantly, particularly thanks to tailwinds in China, a strong product mix and favourable pricing, supported by industrial performance enhancements and cost control. After this promising start, we are very confident that we can keep up the pace to improve our margins on a sustainable basis and at the same time expand our electric vehicle line-up," Wilhelm noted.
Mercedes-Benz is ahead of the curve as far its strategic plan announced in October goes,  in which it set a goal of achieving double-digit sales margins by the end of 2021.
Daimler is spinning out the truck division – as Daimler Truck – with a separate Frankfurt stock market listing by the end of 2021, and Mercedes-Benz operated as a separate business. The company hopes this more focused approach will help to realise greater value for shareholders going forward into the zero-emissions era.
Other elements of the plan should worry Tesla. It plans to increase recurring revenues through over-the-air updates and subscription services, concentrating on core activities, lowering its cost base and becoming a leader in electric drive and car software.
There is one significant fly in the ointment affecting Daimler and its competitors – the shortage of chips. Just this week Daimler announced the introduction of short-time work for 18,500 of its workers due to the shortage.
The demand for chips in devices such as a laptops and tablets, to cater to the rising demand during the pandemic due to remote working and education, has contributed to the shortages in the supply chains. In addition, modern cars are dependent more and more on chips for core features and functionality.
But even after taking such difficulties into account, the future looks bright for Daimler, justifying a buy rating on the stock.
Buy Daimler shares for 0% commission on global investment platform eToro.
eToro - Buy and Invest in Assets

Minimum deposit of just 250 USD to get lifetime access to all the VIP channels
Buy over 2,400 stocks at 0% commission
Trade thousands of CFDs
Deposit funds with a debit/credit card, Paypal, or bank transfer
Perfect for newbie traders and heavily regulated

67% of retail investor accounts lose money when trading CFDs with this provider.
Broker
Benefits
Min Deposit
Score
Visit Broker