Trip.com, China's largest online travel agency, produced results roughly in line with analyst estimates at the beginning of March, but investors should look past the predictable 2020 losses to the solid growth prospects for this recovery stock.
The Covid pandemic has of course been intensely damaging to the businesses of travel companies, so the EPS loss of -$1.52 is not unexpected and in fact came in ahead of a deeper forecast loss of -$2.97.
Encouragingly, revenues were in line with estimates, at $18.3 billion and fourth-quarter earnings saw a big beat on analyst estimates, at $1.75 per share versus the consensus of $0.28, with the company staying in the green for the quarter, which was no mean feat.
Trip.com is a one-stop travel shop that provides hotel booking, airline and other transportation ticketing, package tours as well as corporate travel management services, although the latter is a small part of the business.
By a long chalk the greater part of company revenues comes from hotel reservations and transportation ticketing at 77% of total sales.
Trip.com focused on the Chinese consumer
The company is very much focused on its home market, with 85% of its turnover generated within Greater China. This fact and its relative lack of reliance on the corporate market means the business is optimally positioned to attract Chinese consumers' yuan as the country's opening up is slowly but surely followed by similar revivals in other major economic regions, such as East Asia, Europe and the US.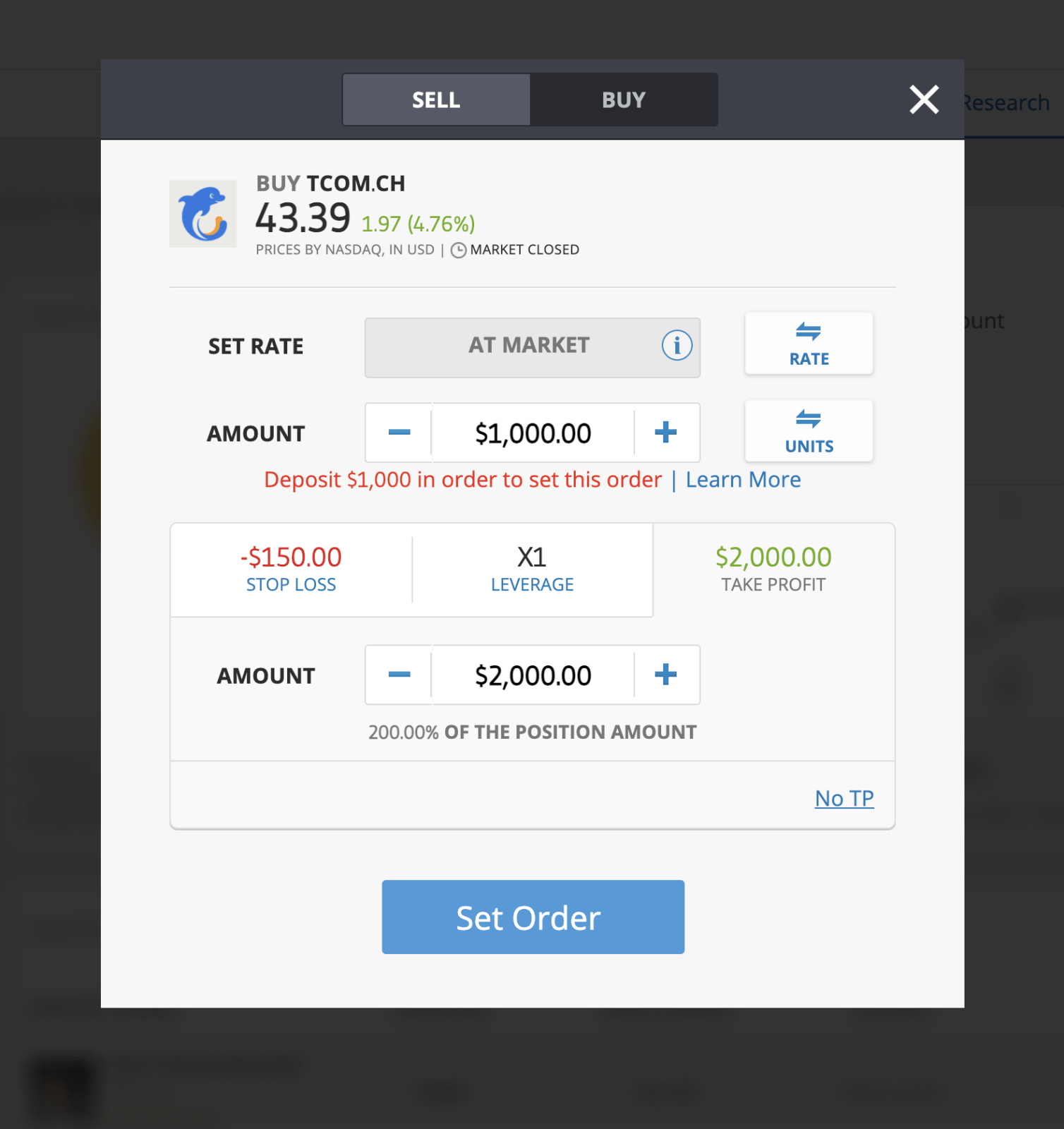 However, Chinese holidaymakers will initially be more inclined towards staycations, with the government still banning or otherwise discouraging most passenger flights in and out of the country.
Oi an indication of that, DisneyLand Shanghai has been opened since 11 May and on its first day of sales, Trip.com said it sold  15,000 tickets, of which 5,000 bookings were made in the first hour alone.
Not surprisingly then, analysts think the share price will strongly outperform and revenues climb this year and next as the rebound gathers pace.
Turnover this year is expected to grow by 32% to $24 billion in 2021 and then to $36 billion and 43 billion in successive years.
So even though its results were by no means spectacular, analysts are looking ahead to the positives that will likely flow from the economic recovery. We strongly agree with this perspective.
The strength of that recovery story was further enhanced this week, assuming the latest economic data from China is reliable, although we should take note of ones significant fly in the ointment.
Industrial production expanded by the largest amount ever recorded in the first two months of this year compared to the same period last year, at a massive 35%, beating the expected 32%.
That impressive number was driven by exporters, which is indicative of the extent of the recovery underway elsewhere in the world.
Consumer spending growth lags industrial but set to accelerate
However, as we mentioned there is one caveat, namely the slower pick up in consumer spending. Although consumer spending fractionally beat forecasts for the same period as the data for industrials, on an adjusted two-year view that corrects for the distortions of the pandemic, the retail figure is a far less assured 3.2%, compared to 8.1% growth for industrials.
Also, the month on month data for February showed a puny 0.56% increase, which triggered a fall in Chinese stock markets last Friday.
But despite the unbalanced nature of the recovery, retail is moving in the right direction. The weaker-than-hoped-for retail data in February can be accounted for by the imposition of travel restrictions around the Lunar New Year holiday to control the virus.
As far as can be gleaned, that caution has paid off, with no new surges in Covid infections following the holiday. That, and the revival in industry, should combine to put more money in people's pockets while rekindling the appetite for holidaying, albeit within China as opposed to abroad – a combination that should accelerate consumer spending and that's good news for Trip.com.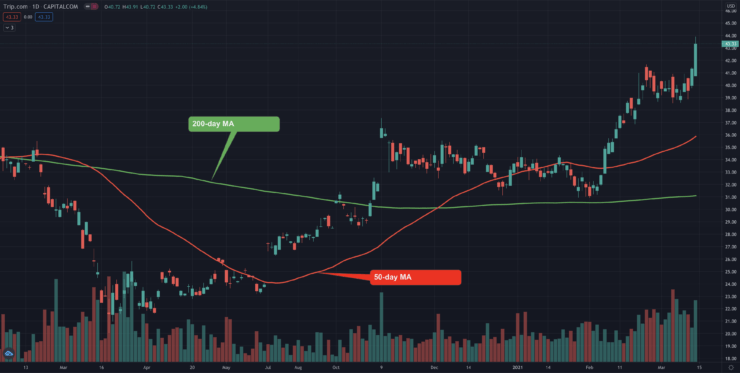 The range of price targets (PTs) from analysts is perhaps testament to widely differing interpretations of the data and/or speaks to the uncertainties in the current economic outlook. Of the 33 analysts surveyed by Refinitiv, at the low end the PT is  $19.09 and the high end $51.09, with a median of $42.9. The Nasdaq listed shares are currently priced at $43.3, slightly ahead of the median consensus.
But with the Chinese recovery strengthening, we prefer to tilt to the high side that sees a medium to near-term target of $51, which at current price levels makes Trip.com a firm buy for the Chinese recovery play, with plenty of potential for upward revision of analyst price targets.
eToro - Buy and Invest in Assets

Buy over 2,400 stocks at 0% commission
Trade thousands of CFDs
Deposit funds with a debit/credit card, Paypal, or bank transfer
Perfect for newbie traders and heavily regulated
Only real cryptos are available for US users

67% of retail investor accounts lose money when trading CFDs with this provider.
Broker
Benefits
Min Deposit
Score
Visit Broker
Share with other traders!