Tether is a tokenized adaptation of the world's reserve currency, the US dollar. Unsurprisingly, it is the most well-known and traded stablecoin in the cryptocurrency space.
In today's guide, we navigate how to buy Tether – comprising a step-by-step sign-up with a broker, and a review of the best platform for the task at hand.
eToro - Buy and Invest in Assets

Minimum deposit of just 250 USD to get lifetime access to all the VIP channels
Buy over 2,400 stocks at 0% commission
Trade thousands of CFDs
Deposit funds with a debit/credit card, Paypal, or bank transfer
Perfect for newbie traders and heavily regulated

67% of retail investor accounts lose money when trading CFDs with this provider.
Table of Content
How to Buy Tether in 10 Minutes or Less – Fast Track Guide
Find a fast-track guide below, to sign up with a platform and buy Tether. For any complete beginners, we offer a more detailed sign-up later, after the full broker review that follow.
Step 1: Create an account with a trustworthy cryptocurrency broker – If you are confident in how to buy Tether, you can sign up with a broker to get started now. You will have to enter a username and password, as well as some personal details such as your name, address, nationality, and other information. You will be prompted to confirm and move on to the next step.
Step 2: Complete the KYC Process – All reputable brokers comply with AML laws, which in turn means you must complete the short KYC procedure. It takes less than 2 minutes at Capital.com and requires you to attach a photo ID and a recent bank statement (for proof of address).
Step 3: Make a Deposit – The best broker to buy Tether will accept plenty of payment models. Ideally, you should have the option of e-wallets, debit/credit cards, and wire transfers. Of course, you will be required to enter an amount to deposit.
Step 4: Buy Tether – Now that you have the means to buy Tether, locate it using the search function. Add the amount you want to stake and place your trading order.
A good sign of an authentic Tether broker is one that is regulated. However, we cover other key metrics shortly.
Best Broker to Buy Tether
Choosing the best broker to buy Tether was no easy feat. Finding brokers and exchanges offering access to USDT tokens, or the CFDs that track them, isn't a problem. However, there are a few things you need to be aware of.
Take a look at important attributes displayed by all the best brokers to buy Tether:
The support of a regulatory body, such as the FCA, CySEC, or ASIC.
Low or zero commissions, and tight spreads in the case of the latter.
A platform designed with beginners in mind, not just seasoned crypto traders.
Varying categories of payment types listed, in the deposits and withdrawals section.
An optional free mobile app, to buy, sell, and trade Tether wherever you go.
With these requirements fresh in your mind, please see our full review of Capital.com next.
2. VantageFX – Ultra-Low Spreads
VantageFX VFSC under Section 4 of the Financial Dealers Licensing Act that offers heaps of financial instruments. All in the form of CFDs - this covers shares, indices, and commodities.
Open and trade on a Vantage RAW ECN account to get some of the lowest spreads in the business. Trade on institutional-grade liquidity that is obtained directly from some of the top institutions in the world without any markup being added at our end. No longer the exclusive province of hedge funds, everyone now has access to this liquidity and tight spreads for as little as $0.
Some of the lowest spreads in the market may be found if you decide to open and trade on a Vantage RAW ECN account. Trade using institutional-grade liquidity that is sourced directly from some of the top institutions in the world with zero markup added. This level of liquidity and availability of thin spreads down to zero are no longer the exclusive purview of hedge funds.

The Lowest Trading Costs
Minimum deposit $50
Leverage up to 500:1
75.26% of retail investor accounts lose money when spread betting and/or trading CFDs with this provider. You should consider whether you can afford to take the high risk of losing your money.
How to Buy Tether – Step-by-Step Walkthrough
In order to buy USDT tokens from home or on the move, you need a trustworthy and legit broker on your side. We reviewed many platforms and Capital.com was revealed as the overall best place to buy Tether via CFDs.
See why below:
Capital.com offers commission-free CFD trading, with optional leverage of up to 1:20 for many clients.
The spread is tight and there are no deposit fees in place.
Multiple payment types are accepted to fund your account.
The platform is regulated by tier-1 bodies and offers a beginner-friendly layout.
Next, you will find a thorough six-step walkthrough, detailing how to buy Tether, and also how to sell it.
Step 1: Open a Crypto Broker Account
Go to Capital.com and look for the link to create an account. Next, you will be presented with a sign-up box with blanks for you to fill in.
Enter a username and password of your choosing.
Also complete your name, address, date of birth, tax number, and all other information required to buy Tether.
Confirm when you are sure everything is correct.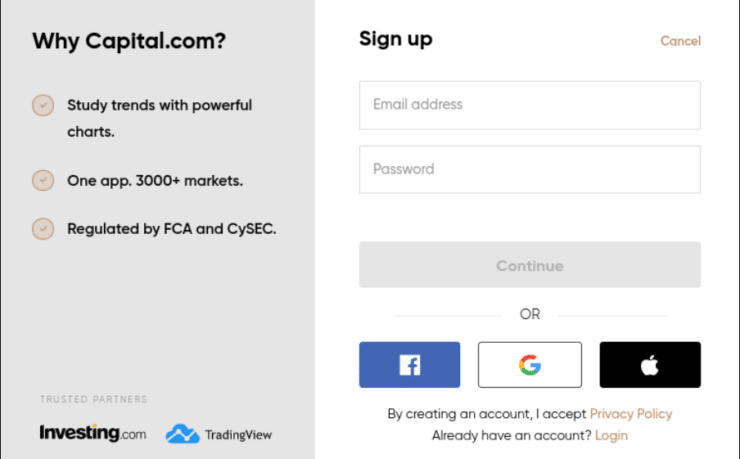 Next, you will be asked to upload some documents – see step 2.
78.77% of retail investor accounts lose money when trading CFDs at this provider
Step 2: Complete KYC
Completing the KYC process at Capital.com is quick and secure. You need to provide two pieces of evidence, so the broker can validate your identity. This will allow you to move to the next stage of making a deposit, and placing an order to buy Tether.
For this, you need to send a copy of one form of photo ID. Think along the lines of your passport.
Next, you can upload a copy of a bank letter from within the last 3 months.
Other documents are accepted for ID and address verification. Feel free to check this at Capital.com, under FAQs.
Step 3: Deposit Funds
Having completed steps 1 and 2, you can now deposit some funds to buy Tether via CFDs.
Capital.com is compatible with a list of different payment types. This guide found bank transfers, debit and credit cards, and a range of e-wallets to choose from.
Step 4: Search for Tether (USDT)
Locate the search box, as found on most trading platforms, and enter the name of your desired cryptocurrency. To buy Tether via CFDs, we simply searched for USDT.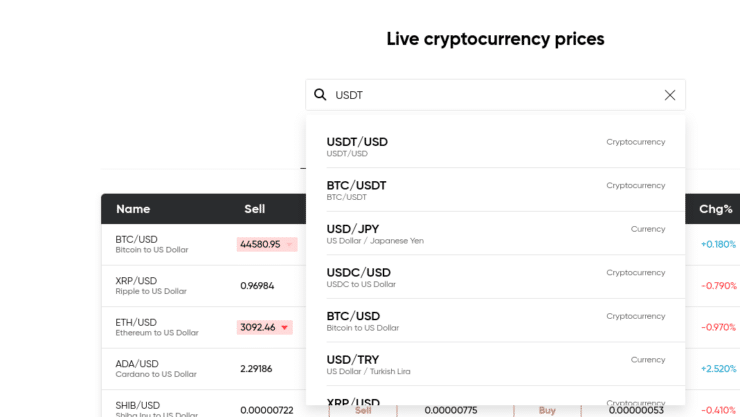 As you can see, the first result is what we were looking for. Next, select it by clicking the asset.
Step 5: Place Buy Order
Now you have money in your Capital.com account. You can elect to buy Tether via CFDs. First, think about the amount you would like to allocate to USDT tokens.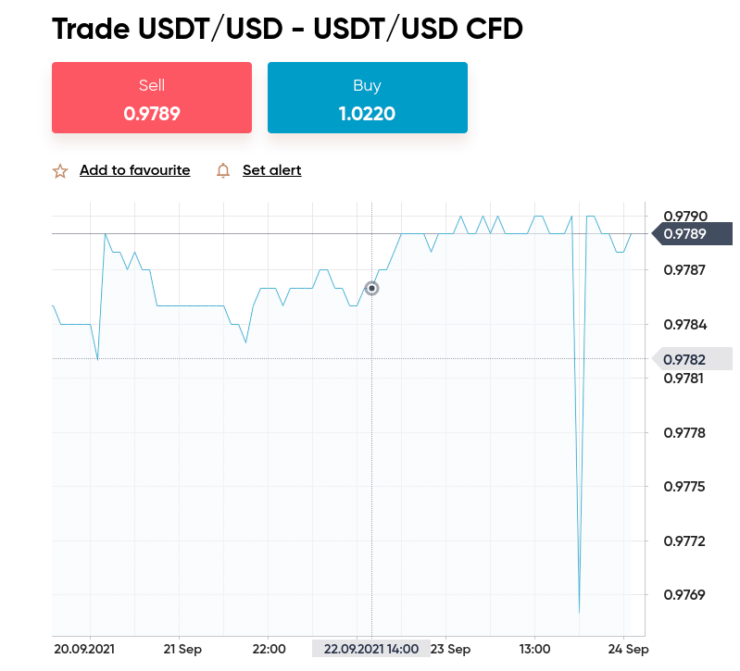 Next, place a buy order and apply leverage if it's offered – and if you need it.
Step 6: How to Sell Tether
To sell Tether, log in to your broker account and find your USDT investment. Next, place an order to sell the tokens back to the broker. You will find that the money has been added to your account to either withdraw or buy another asset!
Best Tether Wallets
If you get the hang of how to buy Tether and wish to keep the tokens in a wallet – do some research first. Some will be more secure than others. As such, you will need to be mindful of the level of work you have to put in to keep your USDT tokens secure.
We've included the best Tether wallets below for you to consider.
Trust Wallet – Overall Best Ontology Wallet
The Trust Wallet is one of the most well-known in the crypto space. This comes as an app for your mobile phone, allowing you to store and swap cryptocurrencies in a few clicks on the move.
The wallet is compatible with the majority of Ethereum blockchains – it supports all BEP2, ERC20, and ERC721 coins. The app is free to download, easy to install, and fully embraces Tether/USDT tokens.
Ledger Nano – Best Tether Wallet for Security
If you don't mind spending up to $199 to protect your USDT tokens, you could buy Tether, and then purchase a Ledger Nano. This is one of the better-known hardware wallets.
Hardware wallets look a little like the USB sticks that we use to store a variety of files. Your private keys are stored within the device itself and are never connected to live servers – so Ledger Nano is super secure.
What is Tether?
One of the first things to note when grasping the ins and outs of how to buy Tether is that, as we explain next, it's not your average cryptocurrency.

Created in 2017, Tether was originally called Realcoin. Since then, this fiat-pegged cryptocurrency has been renamed. Tether is now listed under the ticker 'USDT'.
Tether is a 'stablecoin'. Specifically, USDT tokens track and mirror the value of the US dollar.
For every USDT in circulation, there is said to be an equal amount of USD in reserve.
You can generally swap 1,000 USDT for 1,000 USD – give or take a few cents.
Initially, Tether was built on Bitcoin's blockchain. It now also works on blockchains from OMG, Algorand, Tron, Ethereum, and EOS.
Tether – Reasons to Buy
Tether, allegedly backed by US dollars, and powered by blockchain tech, has altered the way many of us view banking, eCommerce, and sovereign currencies.
See below some of the most common reasons to buy Tether today.
Tether: A Fiat Collateralized Token
Tether is a stabilized cryptocurrency and is also what's known as a fiat collateralized token. As we said, each and every USDT is supposed to be backed by a US dollar. As such, the goal is to maintain a stable valuation at all times.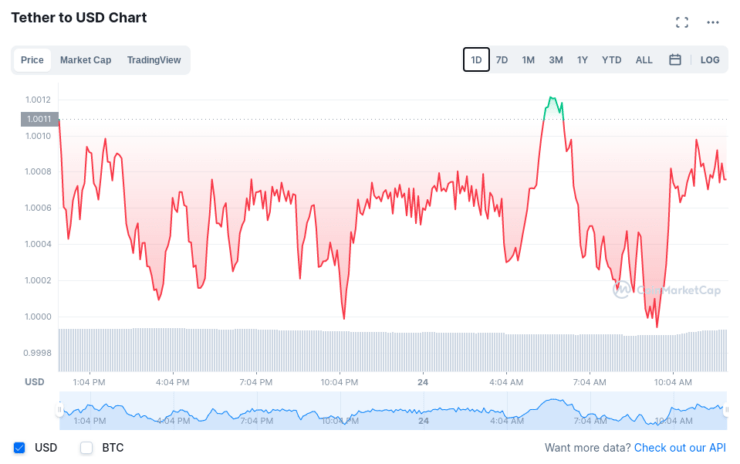 There are many reasons that USDT being pegged to USD is seen as a positive when you buy Tether. In contrast to the huge price swings experienced by some digital currencies, USDT tokens can be used as a store of value. Alternatively, as a means of exchanging cryptocurrencies.
Tether: Hedge Against Volatility
Hedging is a financial concept, or you could say technique, that's been around for hundreds of years. As you are probably aware, this entails reducing potential damage caused by the price fluctuations of an asset you hold. This is achieved by also entering an opposing position.
See some examples below:
When you learn how to buy Tether, one of the first advantages you will see is its stability – hence the term 'stablecoin'.
As we said, the reason a USDT token falls into this category is that each one is pegged to the US dollar.
This quite simply means that 1 USDT equals 1 USD – or thereabouts.
As such, Tether is often used as a store of value, making it ideally suited to hedging.
When the crypto markets are particularly volatile, many people look into how to buy Tether. This is part of a fundamental strategy that entails purchasing a tokenized asset that is not affected by the rest of the digital market. In this case, USDT.
For instance, let's say you invest in Bitcoin, and later purchase some Shiba Inu. To protect yourself against a sharp increase or decrease in value, you might then decide to cash out some of your tokens and instead buy Tether.
This way, you can be fairly sure that, no matter what happens in the cryptocurrency markets, USDT isn't likely to deviate too much from the value of the US dollar.
Tether: Swap USDT for Other Cryptocurrencies
Clients who want to buy crypto assets with fiat currencies will find that some platforms charge a fortune in transaction fees.
See an example below:
Let's say that you are yet to purchase any cryptocurrencies at all.
You head over to your chosen broker to buy Tether, using your preferred debit card.
The deposit fee for a debit card transaction at XYZ is 3.99%. This means the platform will charge you $39.90 for every $1,000.
Paying 3.99% in fees every time you use a debit card will soon eat away at what might have been your take-home profit.
However, at a platform like this, once you buy Tether, you can use it to purchase a plethora of other cryptocurrencies – cutting out the need for fiat cash.
As such, USDT tokens become a substitute for US dollars.
Beginners may prefer the idea of sticking with the uncomplicated yet flexible option of an online broker. Capital.com allows you to buy Tether via CFDs – with 0% commission. Moreover, the platform supports tons of payment types, including major credit and debit cards, and super-convenient e-wallets like Neteller and PayPal. Plus, Capital.com does not charge any deposit fees!
Investment Risk
If Tether moves against your expectations, or a big story hits that causes weakened faith in the crypto asset – you stand to make a loss. There has also been some talk in the media about Tether posing a financial stability risk to the status quo.
Other market commentators predict the downfall of Bitcoin if Tether loses its peg. Of course, there will always be speculation surrounding cryptocurrencies, so it's wise to carry out in-depth research yourself. With that said, there are a few ways in which you can educate yourself on how to buy Tether in a low-risk manner.
See below for some ideas:
Buy USDT tokens via CFDs, in small increments, or both.
Keep a close eye on news surrounding the US dollar.
Learn the nuts and bolts of the cryptocurrency markets.
Choose an online broker that is regulated, by the likes of ASIC and the FCA.
You might also consider incorporating other digital assets into your holdings to build a diverse portfolio.
How to Buy Tether – Conclusion
It's never been easier for people to learn how to buy Tether for the first time. There are tons of resources online and plenty of platforms offering access to this popular stablecoin. To help you make an educated decision and choose a respected broker – we reviewed a list of top-rated USDT platforms.
The main takeaway from our in-depth research is that Capital.com is the best place to access Tether. You can also access hundreds of alternative crypto markets via this platform and on a commission-free basis. There are plenty of deposit methods to choose from, including PayPal and credit/debit cards. Moreover, regulatory bodies, including the FCA, license Capital.com – so you can trade safely.
eToro - Buy and Invest in Assets

Minimum deposit of just 250 USD to get lifetime access to all the VIP channels
Buy over 2,400 stocks at 0% commission
Trade thousands of CFDs
Deposit funds with a debit/credit card, Paypal, or bank transfer
Perfect for newbie traders and heavily regulated

67% of retail investor accounts lose money when trading CFDs with this provider.
FAQs
How do you buy Tether with Paypal?
Many exchanges aren't able to support PayPal. The good news is you can now buy Tether via CFDs at highly rated brokerage Capital.com. There is no commission to pay, and the spread is competitive on all cryptocurrencies.
How do you buy Tether with a credit card?
To buy Tether with a credit card in safety, you are best to join a regulated platform such as Capital.com. You will need to finish the KYC process by sending a form of a photo ID and a bank or tax statement. Next, you can add funds to your account using a credit card at no extra charge. After this, you can place an order to buy Tether via CFDs. The whole thing takes minutes
Can you buy Tether on Coinbase?
You can buy Tether at Coinbase. Although, depending on your chosen payment type, you may want to think twice. If you make your purchase using a debit or credit card, you will be charged 3.99% of the amount you spend. The same card type at Capital.com is fee-free to buy Tether via CFDs.
How do you buy Tether with a bank transfer?
To buy Tether with a bank transfer, simply select it from the list of available deposit methods when adding funds to your account. Note that if you want to access USDT tokens immediately, this will not be possible with a bank transfer. In fact, this guide found it can delay your endeavors by between 3 and 7 days. To buy Tether the same day - opt for an e-wallet or a credit/debit card.
How do you sell Tether?
To sell Tether, you just need to head over to the portfolio section of your brokerage account and create an order. The broker in question will credit your account from the sale of USDT tokens, almost straight away.