The race to dominate the electric vehicle (EV) industry has really only just begun, and up until now China's Geely has been overlooked as a major contender. Arguably Tesla is way out in front, but if the race has truly only just begun, then that early-mover advantage may not be all it seems.
Another Chinese contender, Nio, is considered to be one of Tesla's main competitors, and judging by its valuation, investors think so too as they aggressively bid up its price.
But reports that Apple is serious about autonomous EVs and is looking for auto partners from among the 'legacy' manufacturers has got the juices going.
If Nio and Tesla valuations look decidedly rich – which may be something of an understatement – then Geely's (China's largest automaker) is far more attractive, and that's before we consider its two recently announced partnerships with Chinese Big Tech players.
EV watchers will have noticed the new pattern emerging of cross-fertilisation between old school and new school, with legacy auto giants such as GM teaming up with Microsoft and Apple reportedly partnering with Korea's Hyundai. Both sides of those equations draw on the strengths of each other in what could be strongly complementary arrangements to bring autonomous EVs to the masses.
Apple gets Hyundai's car manufacturing know-how while Hyundai gets to leverage Apple's brand loyalty and its own deep-knowledge in hardware design and supply chain management.
Geely is bringing it all together for self-driving EV profits
Geely is doing something similar to GM, in its tie-ups with Chinese search-engine company Baidu and technology giant Tencent. In the same way that GM gets access to Microsoft's Azure Cloud architecture and AI tech, Geely intends to ride the advantages of Baidu's autonomous driving and AI subsidiary Apollo and Tencent's cloud and software business to power its self-driving ambitions and in-car smart applications.
Apollo was set up by Baidu in 2017 and already has a relationship with Geely even before the latest partnership news. It's self-driving technology is market-leading (second only to Google's Waymo), if the number of companies taping its tech is anything to go by. Taking an open-source approach similar to what Google has done with Android, Baidu's Apollo supplies tech to some of the biggest names in the global auto industry, such as Ford, Toyota and Volkswagen. But the deal to make cars with Geely is Baidu's first and only such venture.
Geely sells most of its product in China, being the largest automaker in the country. Its ambitions are expansive. In September last year it revealed a new EV architecture – dubbed the Sustainable Experience Architecture (SEA) –  with a battery system offering driving ranges of 700km. The company is in talks to license SEA to Daimler (owner of Mercedes-Benz). Geely owns Swedish brand Volvo (which it acquired from Ford in 2010)  and Lotus.
Geely-owned company Lynk (targeting younger drivers) will be the first to build on the new EV architecture. Its other electric brand is the upmarket Polestar, a sub-brand of Volvo.
China is the largest EV market globally and the government has been pushing subsidies to bolster sales as part of its Made in China 2025 plan, which aims to see the country dominate in 10  tech segments, one of which is new energy vehicles (NEVs).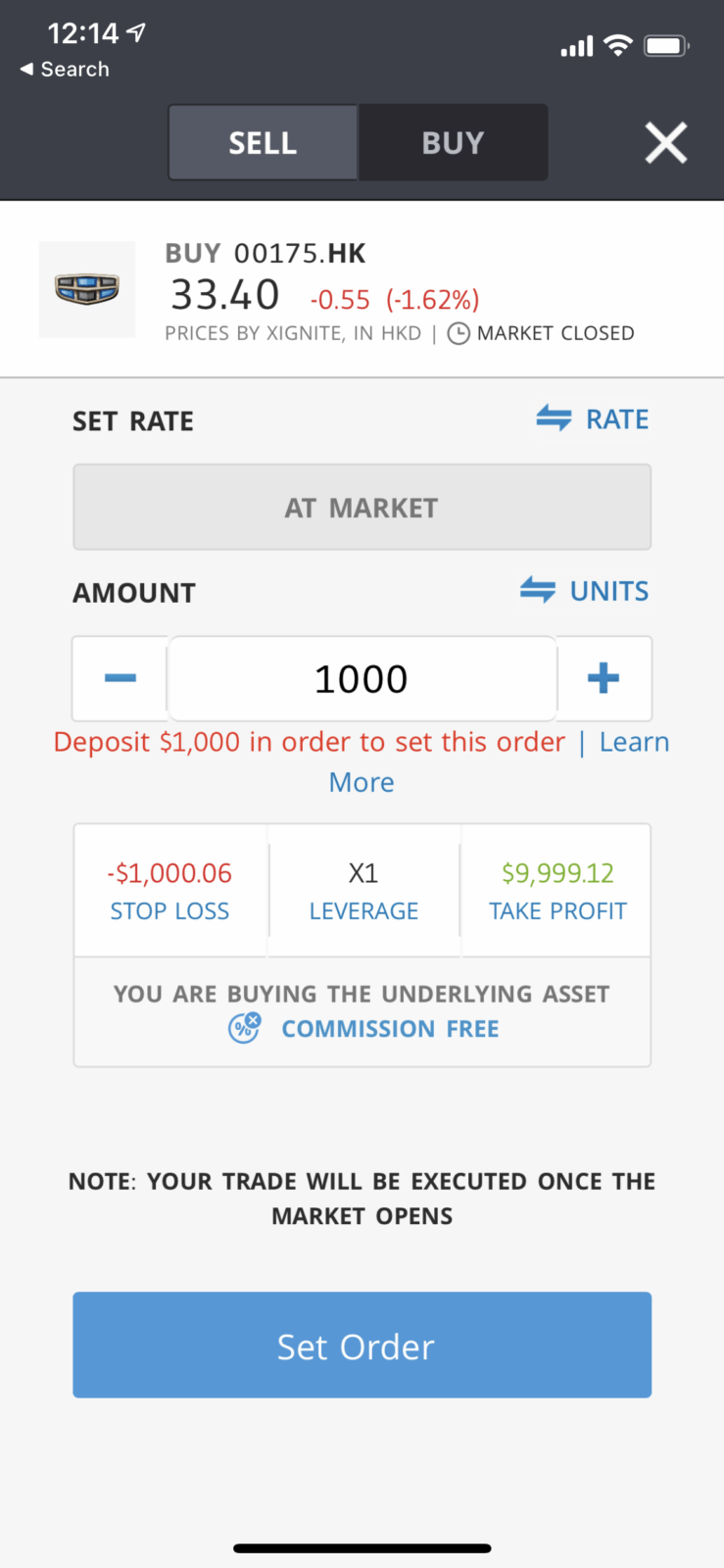 eToro - Buy and Invest in Assets

Buy over 2,400 stocks at 0% commission
Trade thousands of CFDs
Deposit funds with a debit/credit card, Paypal, or bank transfer
Perfect for newbie traders and heavily regulated
Only real cryptos are available for US users

67% of retail investor accounts lose money when trading CFDs with this provider.
The technological hurdles still to be overcome to bring self-driving vehicles safely onto our roads are remain substantial, but if there is one country that is likely to succeed before any other it is China. This is because autonomous vehicles will depend on a dense infrastructure of sensors and other internet-of-things devices, along with the 5G network and cloud platforms and decentralised networks (blockchain) all working together on common standards. There are no signs that the tech leader, the US, or Europe are anywhere near that goal, and Japan has fallen behind. The other contender for joined-up smart cities and smart roads is probably South Korea, but the market is small, although it does explain why Apple may be exploring a partnership with Hyundai.
Geely stock is cheap by comparison with Tesla and Nio
Geely is trading at all-time highs but it is cheap compared to Tesla (or Nio), with a sedate PE multiple of 40 vs Tesla's 130.
Geely Auto and Lynk & Co brands together sold 1,320,217 units in 2020, a remarkable year-on-year increase of 2% given the first-quarter Covid-induced shutdown. Geely expects to increase sales by 16% this year. Although most of its sales are into the domestic market, where it is the top-selling automaker, it exported 72,700 vehicles in 2020.
Lynk entered the European market in October 2020, when it introduced its fully-electric concept model. Lynk has set consecutive sales record for the past six months, to date selling 400,000 units.
It now sells a hybrid vehicle – the Lynk & Co 01 in Europe. Interestingly, the crossover sells on a monthly subscription model, costing £456 a month. That fee is reduced if you opt for car sharing with other members of the Lynk network (membership is free) The subscriber can set their own price for sharers. Also, the Link hybrid is built on top of the same architecture as the Volvo XC40.
Geely Automobile Holdings trades on the Hong Kong stock market, currently priced at HKD33.32 and in the US as an ADR (GELYY), currently priced at $87.
You can buy Geely shares listed on the Hong Kong market commission-free using global investment platform eToro.
Broker
Benefits
Min Deposit
Score
Visit Broker
Share with other traders!