Service for copy trading. Our Algo automatically opens and closes trades.
The L2T Algo provides highly profitable signals with minimal risk.
24/7 cryptocurrency trading. While you sleep, we trade.
10 minute setup with substantial advantages. The manual is provided with the purchase.
79% Success rate. Our outcomes will excite you.
Up to 70 trades per month. There are more than 5 pairs available.
Monthly subscriptions begin at £58.
US delivery giant FedEx (FDX) is trading off its all time highs on the back of being a pandemic winner but it is also an inflation winner, which makes it an enticingly strong buy.
Risk-averse investors will be attracted by its inflation-proof earnings potential, while those looking for capital growth can rest assured that the shift to online is not a passing phenomenon but a systemic shift.
Company earnings for Q4 and the full year were reported on 24 June, with diluted earnings coming in at $5.01.
Fourth quarter operating income doubled year on year with revenue growth of 27%, which was ahead of estimates.
Sales up a fifth to $84 billion
Sales for the fiscal year improved from $66 billion to nearly $84 billion, driven by mushrooming parcel volumes in the US.
And FedEx Ground – its small packages delivery service – produced an operating profit of $3.2 billion, a jump of around 60%.
Meanwhile, FedEx Express, which handles international parcels and business items, has benefited from the lack of commercial airline traffic and the package delivery led by this form of air freight – FedEx's air fleet deliveries have moved in to take up the slack.
Indicative of the strength of its international deliveries business, FedEx now has 48 aircraft on order with Boeing, with 10 B767F to be delivered in fiscal 2024 and 10 in fiscal 2025.
But the day after the earnings release the shares fell 4% largely as a result of an earnings forecast for 2022 which was below market expectations. FedEx blamed hiring difficulties for its conservative forecast.
FedEx pricing power pushes up valuation
However, despite what might be seen as problems of growth, analysts pointed to qualities that make FedEx increasingly attractive against a backdrop of accelerating price inflation.
First off,  JPMorgan slapped an overweight on the stock with a price target of $366, saying it expects the delivery company to follow in the footsteps of UPS and increase surcharges to cover increased costs and investment in new capacity.
Pricing strength was also behind the thinking of Credit Suisse analysts, who also went for an outperform rating (PT $373), citing margin expansion potential for fiscal 2022.
It also pointed out that the post-results fall in the share price was likely caused by negative reaction to higher capex expenditure than had been expected. But that may be bad for short-termists but capex is invariably good for profitability looking further out.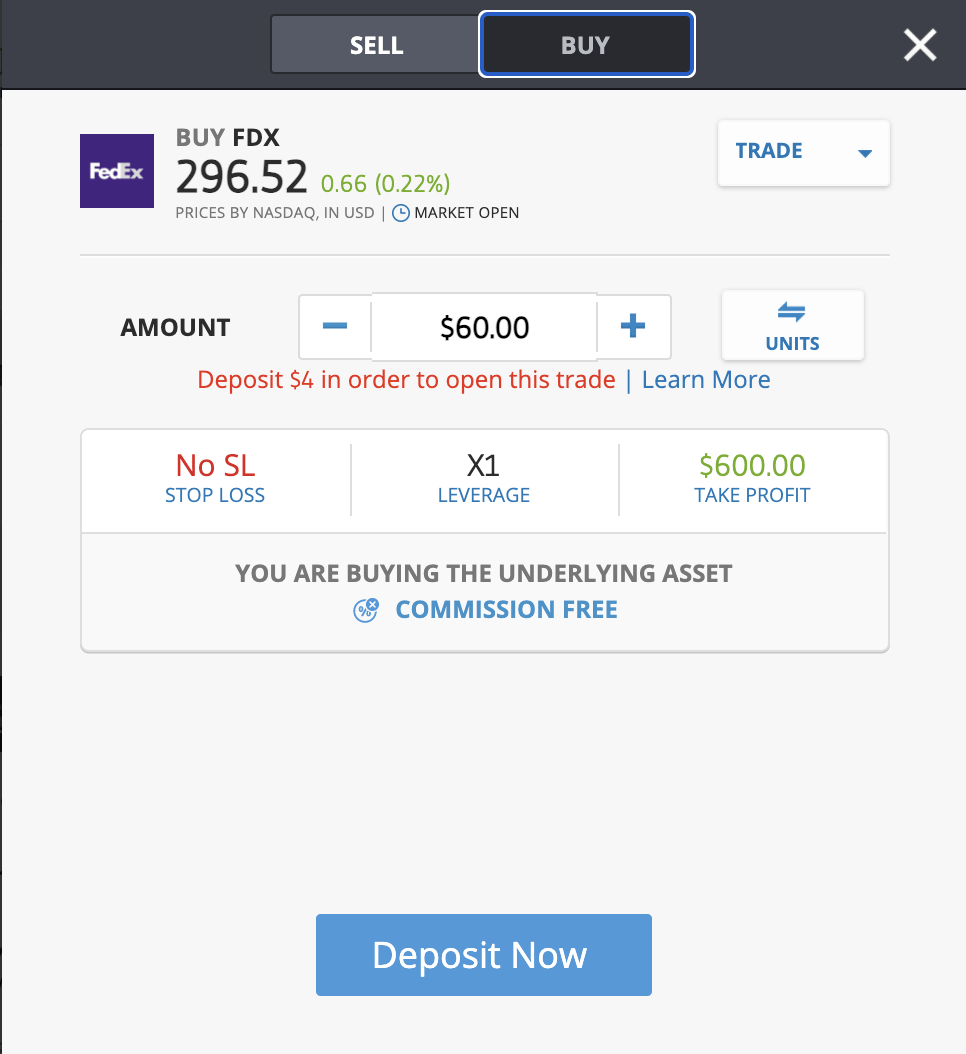 Morningstar posits fair value for the stock at $233, saying international B2B and domestic activity was recovering well.
Significantly, Morningstar analysts highlight the fact that the company has excellent pricing power because of the tight capacity in last-mile delivery, with its FedEx Ground low-cost service seeing yields improve 14% in Q4 on top of the 11% in the quarter previously.
Lastly, Baird slapped a price target of $350 on the firm's stock on the basis of favourable and sustained e-commerce demand.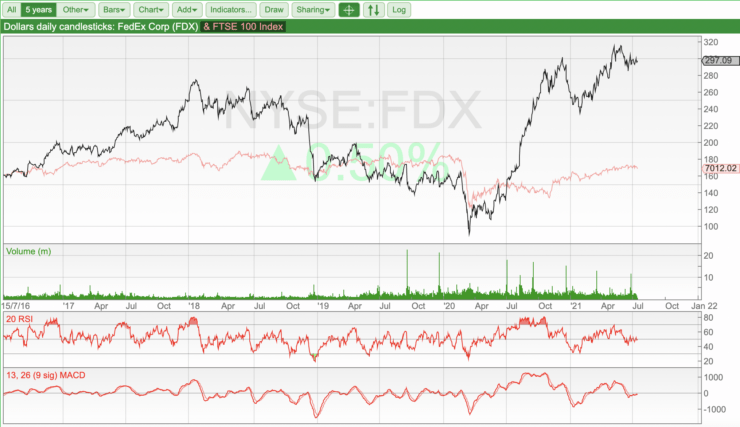 The broker's analysts wrote: "Benefits from strengthening global trade and the TNT integration should drive continued improvement at Express."
The consensus price target for the stock cited by the SharePad investor service is $345, which amounts to a 17% upside on the current price of £297.
The full extent to which FedEx has been one of the pandemic winners is seen in its bounce back from the March 2020 price nadir, when the full ramifications of the Covid virus's impact on economic activity was realised.
The stock is up 243% since its trough then, as demand for package delivery exploded with lockdowns shuttering malls and consumers turning in their millions to e-commerce outlets.
The S&P 500 is up 95% since the March 2020, which lays bear the level of outperformance by FedEx.
According to the Refinitiv survey of 32 broker analysts, 25 rate the stock a buy or strong buy, 6 a hold and only 1 a sell, with a median price target of $360 – more bullish than the consensus  mentioned earlier – representing a premium of 21%.
We rate FedEx a strong buy for the medium to long term.
By FedEx shares at global investment platform eToro for 0% commission.
8cap - Buy and Invest in Assets

Minimum deposit of just 250 USD to get lifetime access to all the VIP channels
Buy over 2,400 stocks at 0% commission
Trade thousands of CFDs
Deposit funds with a debit/credit card, Paypal, or bank transfer
Perfect for newbie traders and heavily regulated

Don't invest in crypto assets unless you're prepared to lose all the money you invest.
Broker
Benefits
Min Deposit
Score
Visit Broker