Service for copy trading. Our Algo automatically opens and closes trades.
The L2T Algo provides highly profitable signals with minimal risk.
24/7 cryptocurrency trading. While you sleep, we trade.
10 minute setup with substantial advantages. The manual is provided with the purchase.
79% Success rate. Our outcomes will excite you.
Up to 70 trades per month. There are more than 5 pairs available.
Monthly subscriptions begin at £58.

Barrick Gold (GOLD) is the largest gold miner in the world. To underscore that, the Canadian gold and copper miner is the majority owner of Nevada Gold Mines in a joint venture with Newmont, which is considered to be the largest mining complex in the world and one of the most profitable.
The Nevada operation accounts for half of the company's gold production, which this year will amount to a total of 4.4 million ounces.
The gold price, although trading above its 12-month lows of $1,683 touched on 30 March, is still some distance off the all-time nominal high of $2,067 reached in August 2020, with the yellow metal currently priced at $1,812.
Barrick's share price is heavily influenced by the price of the precious metal, so after peaking at $30.29 in September last year, the stock trading at a 12-month low of $18.56 on 26 February this year and currently trades at $21.19, reflecting the pullback in gold valuation.
Last year Barrick Gold made a net profit of $2.3 billion, on an average gold selling price estimated at $1,765 an ounce, according to Credit Suisse. Leaving aside its other operations, it was estimated that the company could add $500 million to its bottom line, if the gold price were to rise to $1,900 this year.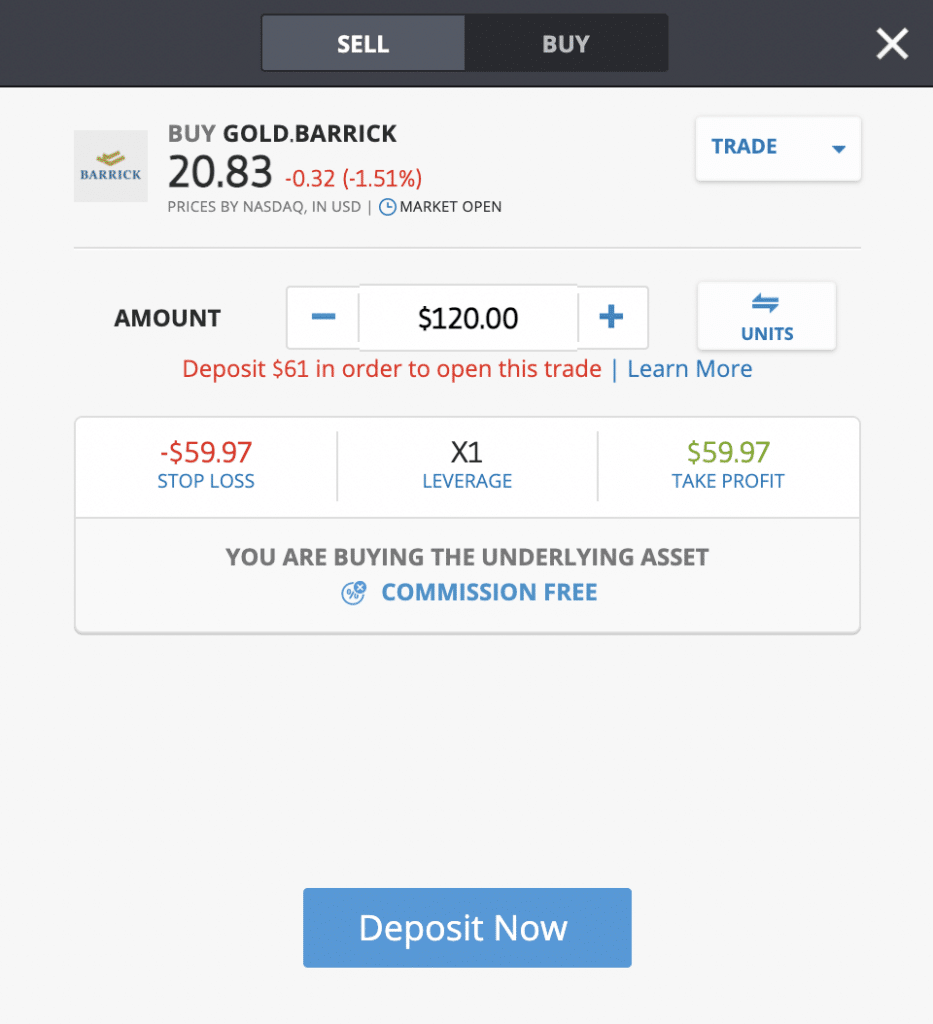 Weaker dollar to lift gold miner earnings
The strengthening dollar has been a headwind for the gold price since May as the forex market interpreted central bank dovishness as meaning it was less likely that US rates would rise before 2023. Lower US interest rates weakens the dollar.
Assets – such as gold – priced in the US dollar fall in value as the price of the dollar rises relative to other currencies.
However, the dollar index, which measures the greenback's value against a basket of the top internationally traded currencies, is slipping and there could be more of that to come if central banks maintain their dovish stance regarding monetary policy.
Because gold is not interest-bearing it becomes less valuable against assets that do have a yield, such as currencies. But as we have seen, the reverse is also the case, so a lower dollar will benefit the gold price.
Add to that the very real possibility of inflation rearing its ugly head, and it makes those interest-bearing assets susceptible to losses as inflation erodes the value of fixed income assets such as bonds.
Throughout April and May the Dollar Index fell as expectations of rate rises to combat an overheating economy and attendant inflation saw yields rise. But even though those worries have not really gone away, yields have fallen back as market participants calculate that central banks are right in their assessment that the inflation spike will pass.
US Treasury 10-year bonds are now at 1.285%, back where they were in March as the bond rally picks up steam (bond prices have an inverse relationship to yields), fuelled by safe-haven buying and the prospect that monetary easing is set to continue for some time.
This is all good news for gold and therefore for Barrick's share price.

Set to raise its dividend
Going back to the Credit Suisse note, published in May this year, the investment bank reckons that gold miners have not seen price rises impacting production costs as yet, and in the second half of the year the bank's analysts think many gold miners will start to raise their dividends.
So, the reasons to buy gold miner Barrick are many and varied: as a hedge against inflation; as a safe haven asset with risk-off sentiment returning; as a source of income through its dividend payments, which if reinvested can substantially enhance shareholder returns; and lastly for the capital growth from a share price that has been sliding but now looks like it has found a bottom.
The trailing 12-month (TTM) dividend yield is a lowly 1.56% at the moment but that is set to almost double by year's end to 2.85%.
Barrick Gold price target has 40% upside
Of 20 brokers covering the stock, the consensus rating is a strong buy and the price target of $29 is a 40% premium on the current price.
If those aren't reasons enough to buy Barrick, then its copper operations should help seal the deal, as a putative commodity super-cycle pushed the price of the main industrial metal to an all-time high of $4.73 on 12 May and is currently trading at $4.32.
Earnings per share growth last year was 168% and this year will be around 77% on trailing 12-month view.
The shares are down 1.1% today in the New York session at $20.95.
We rate Barrick Gold a strong buy.
You can buy Barrick Gold at global investment platform eToro for 0% commission – and if you are a UK investor, there is no stamp duty as the broker pays it on your behalf.
8cap - Buy and Invest in Assets

Minimum deposit of just 250 USD to get lifetime access to all the VIP channels
Buy over 2,400 stocks at 0% commission
Trade thousands of CFDs
Deposit funds with a debit/credit card, Paypal, or bank transfer
Perfect for newbie traders and heavily regulated

Don't invest in crypto assets unless you're prepared to lose all the money you invest.
Broker
Benefits
Min Deposit
Score
Visit Broker