Albemarle (ALB) is the world's largest producer of lithium for electric vehicle (EV) batteries and is expanding its operations after inking a deal to buy Chinese company Guangxi Tianyuan New Energy Materials for $200 million.
The company's share price has been performing well this year but there is plenty more to come with the demand for lithium batteries being driven by the rise and rise of electric vehicles.
Demand for lithium is estimated by Albemarle rival SQM – the second-largest producer of lithium globally – to be up 40% so far this year to 95,000 metric tons, on the back of an EV demand surge 150% in the first half of 2021.
Albemarle shares reached an all-time high of $246 on 10 September, up 40% year to date. The stock closed down 3.46% on Friday, priced at $215 and on is currently trading at $216.
The chemicals company is based in North Carolina and its business is divided into three segments – Lithium, Bromine Specialties and Catalysts, with operations spanning the globe (US, Chile, Europe, Australia, Asia and the Middle East).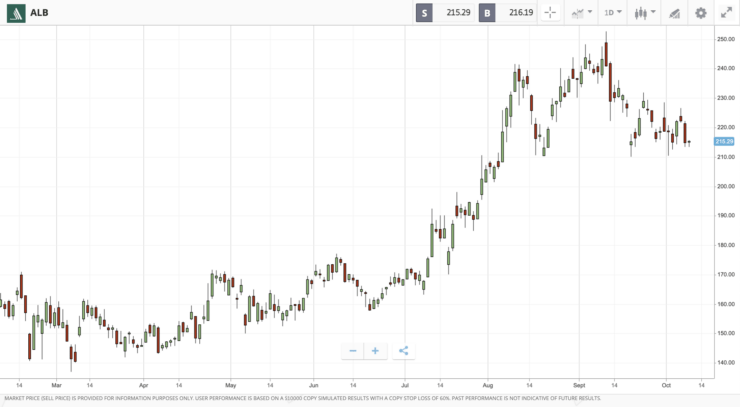 Albemarle chalks up four-fold increase in EPS
In the six months to 30 June 2021, revenues were up 7% to $1.6 billion, while net income leapt from $192.8 million to $520.3 million. Earnings per share for Q2 were $3.62, which represents a four-fold increase on the same time last year ($0.80).
Bromine Specialties segment revenues increased 21% to $560 million, while its all-important Lithium and Advanced Materials segment saw revenues advance 15% to $599.3 million.
Albemarle has not been resting on its laurels. In the second quarter it rationalised the business through the disposal of its Fine Chemistry Services division to W.R. Grace & Company.
That sale raised $570 million, in cash ($300 million) and equity ($270 million) deal.
If you want to learn more about stock trading before jumping in, then read our guide to getting started.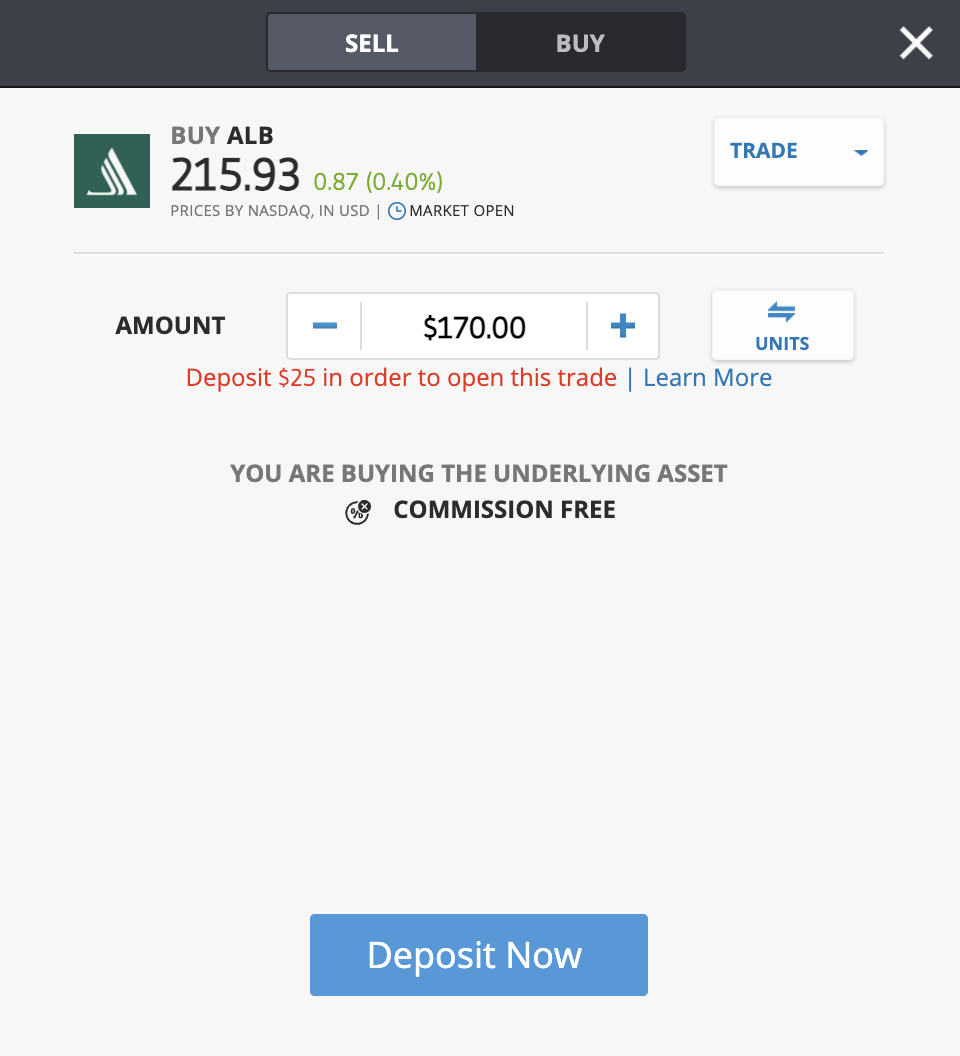 Investors were cheered to hear that the company will be putting the funds to good use with more focus on its long-term growth strategy centred on the lithium business. Encouragingly, in its Q2 report the company confirmed that lithium operation performance had expanded in the first half of the year.
Also, as mentioned earlier, the acquisition of Guangxi Tianyuan adds to its production capacity. The deal will be completed in the first quarter of 2022.
Albemarle is admittedly expensive, on a price-to-earnings multiple of 43, ranking it the 63rd out of 65 companies in the chemicals sector. But with a forecast EPS growth of 30% you are getting a lot of bang for your buck.
In addition, those wincing at the high price for this stock should be comforted in knowing it has an extremely healthy operating margin, placing it well ahead of the average for its sector at 28.9%, for a ranking of third out of 85 chemical companies.
Bullish as average contract prices keep rising
Berenberg analyst Sebastian Bray is bullish on company prospects: "We expect demand for lithium, the key material used in electric vehicle batteries, to grow strongly during this decade, and pricing to remain firm. We forecast long-term contract prices for Albemarle of $16,000 per ton, significantly ahead of Albemarle's 2020 average contract prices of $13,000… We expect Albemarle's earnings to grow strongly on the back of lithium capacity additions. We estimate Albemarle's production will increase five-fold by 2030E, quickly contracting current valuation multiples."
On that basis, Bray rates the shares a buy, with a $280 price target that equates to a 12-month upside of 30%.
Depending on where you look, the consensus price target is much lower Bray's target – for example at $229.81 from the 23 brokers covering the stock, as reported by Stockopedia.
Tipranks rates the stock a moderate buy with a price target of $254 from 16 brokers for an 18% upside on the current price.
Green lithium a competitive risk
However, there are risks facing the company's lithium business in the shape of green lithium, as automakers and others look for more environmentally friendly ways of mining the metal.
For instance, Bill Gates' Breakthrough Energy Ventures is one of a number of companies that is developing direct lithium extraction (DLE) processes to the point where commercial production can take place. The start-up plans to have its operation up and running within two years.
DLE technology requires less land and groundwater than the traditional hard-rock mining and brine evaporation ponds used to mine and refine the white metal at the moment.
But Albemarle says it has looked at DLE and doesn't think the technologies will be ready until at the earliest in the late 2020s, assuming its backers are able to solve problems around high energy consumption and the need for clean water. "Access to clean water is one of the key hindrances to DLE," said John Peichel of Suez Water, a provider of equipment to the lithium industry.
We rate Albemarle stock a strong long-term buy.
You can buy Albemarle on global investment platform eToro for 0% commission.
eToro - Buy and Invest in Assets

Minimum deposit of just 250 USD to get lifetime access to all the VIP channels
Buy over 2,400 stocks at 0% commission
Trade thousands of CFDs
Deposit funds with a debit/credit card, Paypal, or bank transfer
Perfect for newbie traders and heavily regulated

67% of retail investor accounts lose money when trading CFDs with this provider.
Broker
Benefits
Min Deposit
Score
Visit Broker
Share with other traders!