Crypto enthusiasts can finally breathe a sigh of relief as digital asset investment products break their six-week-long streak of outflows. The cryptocurrency market has been feeling the heat since the beginning of February, with investors steadily pulling their money out.
However, the latest Digital Asset Fund Flows Weekly Report has brought some much-needed good news. Inflows totaling $160 million have been reported, marking the largest inflow figure since July 2022.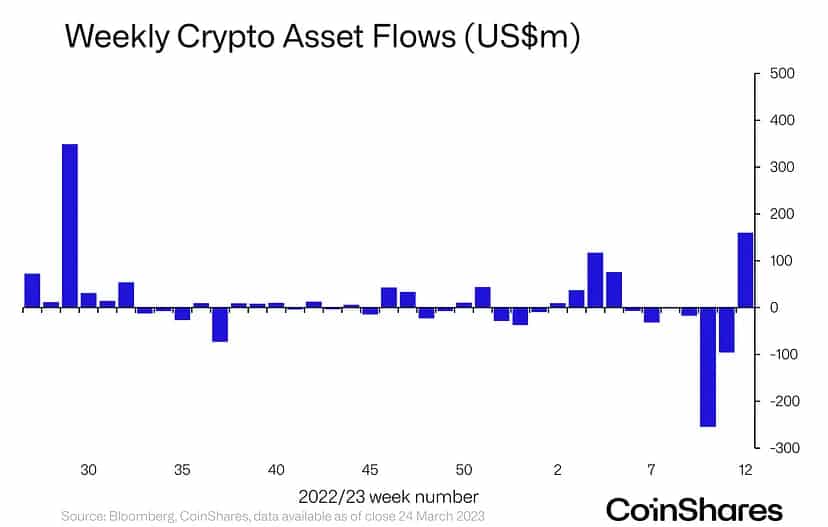 Bitcoin Records Highest Inflow as Crypto Investors Stay Vigilant
Bitcoin has been the biggest beneficiary of this rebound, with inflows of $128 million. This is a significant shift in sentiment towards the flagship cryptocurrency, which has faced intense scrutiny and volatility in the past. In fact, some market players are even calling Bitcoin a "safe haven" for the first time ever.
Ethereum Suffers Outflows
On the other hand, Ethereum has suffered outflows of $5.2 million for the third consecutive week, with analysts blaming "investor jitters around the Shanghai upgrade." It seems investors are not feeling too optimistic about the upcoming upgrade on April 12th. But, as they say, one man's loss is another's gain. Altcoins like Solana, Polygon, and XRP are following Bitcoin's trajectory, with inflows of $4.8 million, $1.9 million, and $1.2 million, respectively.
Despite short-term bitcoin inflows remaining consistent at $31 million, there is growing bullish sentiment in the market. Inflows have been tracked from various countries, with the US seeing the most notable growth of $69 million, followed by Germany with $58 million and Canada with $26 million. It's safe to say that the cryptocurrency market is on the rebound, and investors are regaining their confidence in the asset class.
In conclusion, the rebound of digital asset investment products is a welcome development for the cryptocurrency market. It's been a long six weeks, but the good news has finally arrived. Bitcoin is emerging as a potential safe haven, while altcoins are following its trajectory in terms of inflows. Ethereum might be experiencing outflows, but we know better than to count it out.
Broker
Benefits
Min Deposit
Score
Visit Broker