Service for copy trading. Our Algo automatically opens and closes trades.
The L2T Algo provides highly profitable signals with minimal risk.
24/7 cryptocurrency trading. While you sleep, we trade.
10 minute setup with substantial advantages. The manual is provided with the purchase.
79% Success rate. Our outcomes will excite you.
Up to 70 trades per month. There are more than 5 pairs available.
Monthly subscriptions begin at £58.

UK online fashion retailer Asos (ASC) is facing both ways at the moment. In its 15 July trading statement the company reported sales were up 21% as a result of the "stay at home" shift.
Revenues were also higher and beat estimates. In the four months to 30 June it pulled in £1.29 billion pounds ($1.79 billion), up from £1.1 billion pounds in the previous period last year. It also reported an increase in its active customer base increased 4.59%, from 1.2 million to 26.1 million.
But the sting in the tail of the statement was evidenced in accompanying comments which noted the fact that the growth rate in the latter three weeks of the period ending 30 June was markedly lower, blaming Covid uncertainty and the weather.
Covid is likely the bigger of those two headwinds. Asos said it saw trading volatility continuing in the near term due to the evolving pandemic situation.
Because of this, underlying growth rate for the rest of 2020-21 would be broadly in line with the prior year period.
Adding to the gloom, perhaps, was the news that the company would not be raising any of its prices despite the inflationary pressure on inputs such as commodity prices and freight.
Asos facing increasing costs but not raising its prices
Chief executive Nick Beighton presented the lack of leg room for price rises given the competitive pressures in the "fast fashion" industry, with the likes of Boohoo breathing down its neck, as a strength of sorts.
In his remarks accompanying the trading update, he said: "We have not changed any of our pricing, quite the contrary, we've invested heavily in it and will continue to do so."
"Continuing to invest heavily in the customer, in our business, is absolutely the right thing to do for the medium and long term," he added.
For sure, Asos's relative lack of pricing power could be a problem if inflation proves to be more stubborn than central bankers predict, but that would be also be a problem shared with its competitors. In that sense, being able to hold down prices is an investment in market share defence, as Beighton describes, but is also an offensive posture regarding its commitment to growing its sales and market share.
We have highlighted a fair amount of negativity as far as Asos goes as a profitable investment at the moment. Immediately after the trading statement, RBS cut its price target from 7500p to 7300p.
Asos stock is currently priced at 3893p.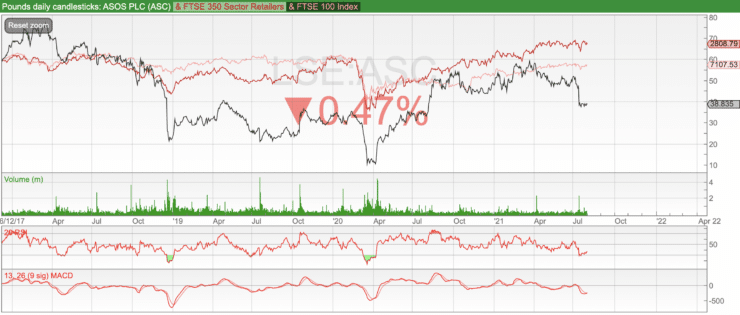 However, we can convincingly argue that these negatives are overblown, with the company still having plenty of room for further global expansion – and it is that prospect that some in the market may be overlooking.
Asos set to crack US market with Nordstorm's help
The opportunities for Asos were brought into sharp focus after the news released a few days before the trading statement of the joint venture with Nordstorm in the US, centred on the Topshop brand Asos acquired from failed retail group Arcadia as well as the other labels it bought along with it.
Reading between the lines, Asos looks to be adopting a 'bricks and clicks' strategy to finally break into the US clothing market in a meaningful way.
Judged by the performance of the share price the market is yet to price in the possible upside from the venture, as it waits to see how it might play out.
Nordstorm has a substantial bricks and mortar presence in the US and has committed to investing in selling Asos brands in "high impact" locations as well as featuring the Asos labels on its own website.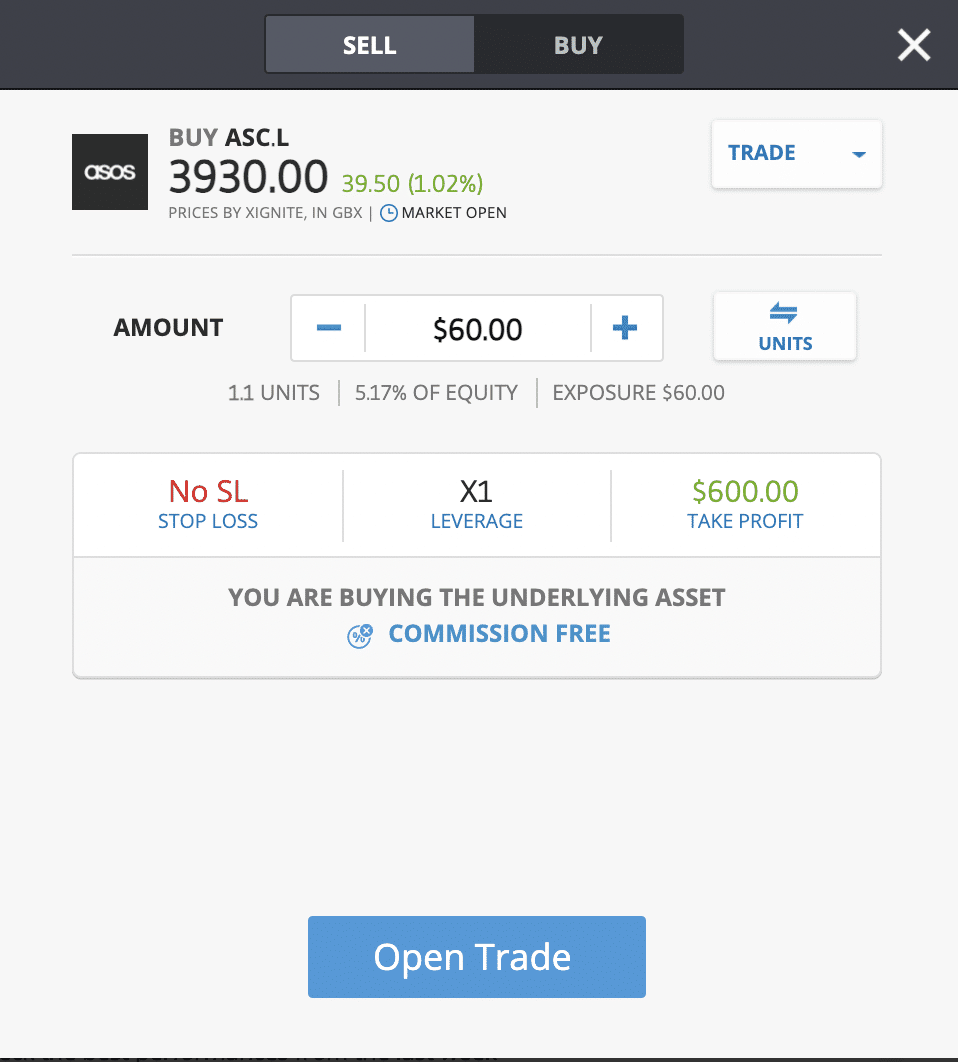 The consensus price target for the stock is 5847p, a substantial premium of 49% over the current price.
In terms of the balance sheet safety of the company, its fixed charge cover is a very good 13.4 (3 year average of 5.9). Fixed charge cover is similar to the interest cover ratio but is adapted to include rental and lease commitments which are in effect a form of debt, but because no interest is paid this is not captured by the interest cover ratio.
Forecast EPS growth is 19%, based on analyst consensus, with the company rated as outperform. Consensus pre-tax profits is forecast to grow 32.9%.
Since its lows of 1085p recorded in late March 2020 the stock has recovered to reach a near-term high of 5933 on 21 March this year but failed to hold on to those gains. Support will likely be found in the 3532-3052 region.
Since the end of 2018 the stock has underperformed the FTSE 350 retail sector and for the greater part of this year has underperformed the FTSE 100 too, so buying Asos is something of a contrarian move, further underlined by the lack of price momentum behind the stock.
Nevertheless, its financial strength and clearly laid out path for achieving growth in the US means it is well-positioned to grow shareholder value at this point.
The relative strength index (RSI) is approaching oversold territory with a reading of 35. The stock bounced off oversold on 19 July after touching 29 on the RSI.
For more on finding the best stock signals visit our comprehensive guide by clicking the link.
At the end of July Credit Suisse analysts noted that Covid uncertainty would hold back apparel and footwear in Europe as compared with the rest of the retail market, but Asos's online channel means it could just as easily be a beneficiary of any slowing of reopening even as it indirectly establishes bricks and mortar channels in the US with its Nordstorm joint venture.
We rate Asos a contrarian buy.
You can buy Asos on global investment platform eToro for 0% commission.
8cap - Buy and Invest in Assets

Minimum deposit of just 250 USD to get lifetime access to all the VIP channels
Buy over 2,400 stocks at 0% commission
Trade thousands of CFDs
Deposit funds with a debit/credit card, Paypal, or bank transfer
Perfect for newbie traders and heavily regulated

Don't invest in crypto assets unless you're prepared to lose all the money you invest.
Broker
Benefits
Min Deposit
Score
Visit Broker