The past seven days have been a rollercoaster ride in the crypto market. Unfortunately, this rollercoaster ride has mostly been heading downhill, and it's been a bumpy one at that!
The total capitalization of the crypto market has dropped below $1 trillion for the first time since January 14th. Ouch! That's a lot of money going down the drain. The decline is due to various negative macroeconomic developments. It's not all doom and gloom, though. As they say, "when there's blood on the streets, buy property." Or in this case, crypto.
Bitcoin Down By 15% Over the Past 7 Days
Bitcoin's price has been trading around $20,000, but it's slightly below that at the time of writing. The intraday low was $19,549 on Binance. To put it simply, Bitcoin has experienced a 15% decline in the past seven days. Most of the losses occurred in the last 24 hours, though. It's not just Bitcoin that has been hit hard; other cryptocurrencies like Ethereum, BNB, Dogecoin, MATIC, and SOL have also experienced significant drops in value.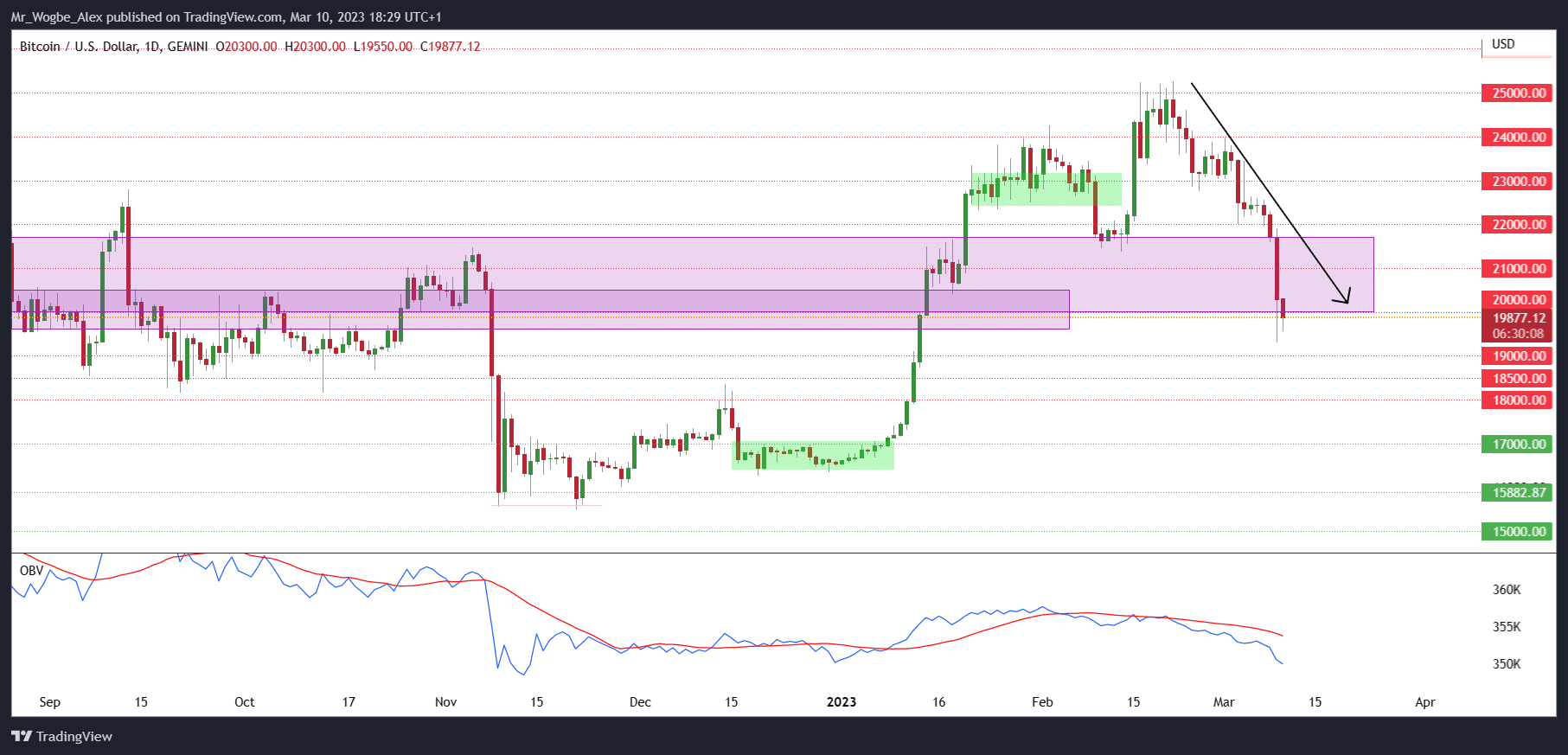 Despite the market's bloodbath, XRP remains steady. It's the only exception to the market's downward trend. XRP has only experienced a 2% decline and remains the best performer among the top 10 cryptocurrencies. Maybe it's time to jump on the XRP bandwagon?
Why Did the Crypto Market Crash?
The reasons for the market crash are not hard to find. For starters, Silicon Valley Bank's stock crashed by a whopping 70%. Investors got worried about their funds, leading to a negative impact on the entire sector. The US President, Joe Biden, presented a new budget that proposed significant tax increases for crypto investors. Not good news for crypto investors, who are already feeling the pinch. Finally, the New York Attorney General filed a lawsuit against KuCoin, alleging that ETH is a security. This put additional regulatory pressure on the crypto market.
Despite the recent setbacks, crypto investors are a resilient bunch. They are optimistic that the market will bounce back. However, the crypto market's future remains uncertain as the regulatory environment becomes increasingly challenging. Investors are keeping a close eye on the market to see how it shapes up in the coming weeks. We hope that the crypto market can get back on track soon. In the meantime, keep calm and HODL on!
Broker
Benefits
Min Deposit
Score
Visit Broker
Share with other traders!