If you're a crypto investor, you probably spend a lot of time tracking the price of Bitcoin or other cryptocurrencies. But here's the thing: price isn't everything. In fact, there's a more important metric to track: users. That's right, users are the "demand" that drives the value of cryptocurrencies. Enter the State of Crypto Index from Andreessen Horowitz.
This tool provides a snapshot of the industry by measuring user growth across a range of metrics, from active addresses to NFT buyers. By tracking these metrics, investors can get a better sense of whether the industry is growing or shrinking and where to focus their attention.
But why is user growth so important? It all comes down to the fundamental value proposition of cryptocurrencies. Crypto companies are designed to connect people and facilitate transactions with new forms of value. If the price of a cryptocurrency is going up but the number of users is going down, that doesn't say much about its usefulness. On the other hand, if the price is going down but the number of users is going up, that could signal a great buying opportunity.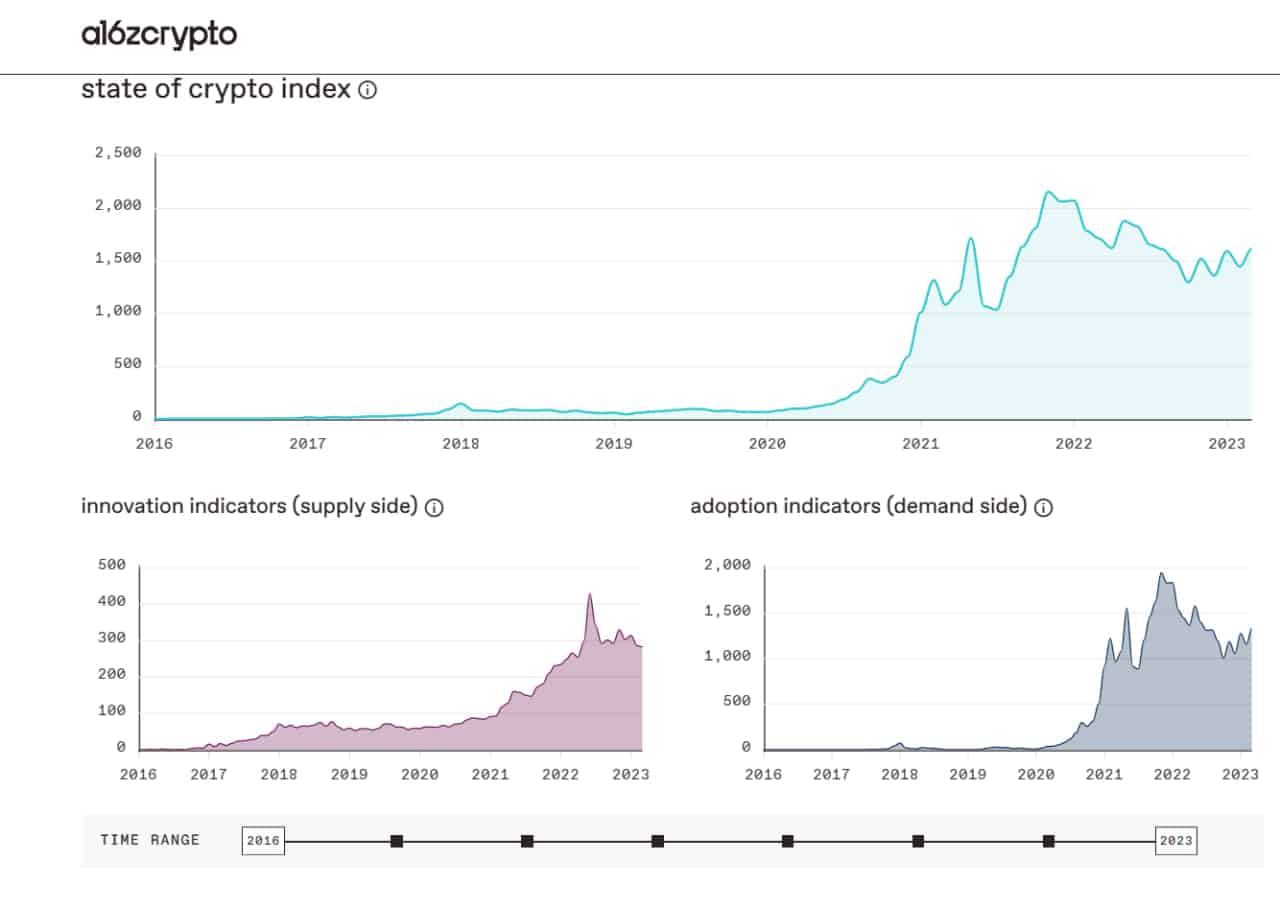 At Andreessen Horowitz, measuring user growth is a core investing principle. The firm measures this metric every Thursday in its "Top 10 Fundamentals" newsletter for premium members. The idea is that if long-term users are growing, then long-term prices will usually grow as well.
But measuring user growth isn't the only important metric for crypto investors. The State of Crypto Index also measures developer growth. Developers are the "supply" side of the equation, creating new tokens and projects that attract users and drive demand.
The Supply Side of the Equation: Developers
To measure developer growth, the State of Crypto Index tracks metrics such as active developers, interested developers, contract deployers, and verified smart contracts. By monitoring these metrics, investors can get a sense of whether the industry is seeing a wave of new projects and innovations or whether things are slowing down.
Of course, the relationship between users and developers isn't a simple one. As more people start to buy a particular cryptocurrency, that drives up the price, which in turn attracts more developers to the space. This creates a virtuous cycle of growth, with higher prices attracting more users and developers, and vice versa.
Which Arm is More Important in the Crypto Index?
So, which metric is more important: users or developers? The truth is, both are critical. As investors, we need to pay attention to both sides of the equation in order to get a full picture of the industry. Just like the old question about the chicken and the egg, it doesn't really matter which came first. What matters is that we're measuring both.
As you can see, there's a lot more to crypto investing than just tracking the price of Bitcoin. By paying attention to metrics like user growth and developer growth, investors can gain a deeper understanding of the industry and make more informed decisions about where to put their money.
And who knows? By focusing on these metrics, you might just uncover the next world-changing crypto company. After all, many of today's most successful tech firms started during market downturns. So keep an eye on the State of Crypto Index and be ready to pounce on the next big opportunity.
Broker
Benefits
Min Deposit
Score
Visit Broker