The dollar's recent gains have been attributed to rising Treasury yields, which helped boost the currency against a basket of its peers. However, experts are divided over whether the dollar's rise is sustainable, with some predicting a bumpy road ahead.
Bipan Rai, North America head of FX strategy at CIBC Capital Markets in Toronto, believes that the dollar's gain is just a "temporary reprieve." Rai thinks that over the medium- to long-term, the dollar will continue to come under "considerable amounts of pressure." His view is tied to the belief that the Federal Reserve is likely to hike rates one more time before halting.
Joe Manimbo, a senior market analyst at Convera in Washington, agrees that the dollar's immediate outlook is less bullish. Manimbo suggests that central banks abroad have more hiking to do over the balance of the year than the Federal Reserve, putting pressure on the dollar.
Despite these concerns, futures pricing shows an 85.7% chance of a rate hike by the Federal Reserve when policymakers conclude a two-day meeting on May 3. This indicates that the market remains optimistic about the dollar's prospects in the short term.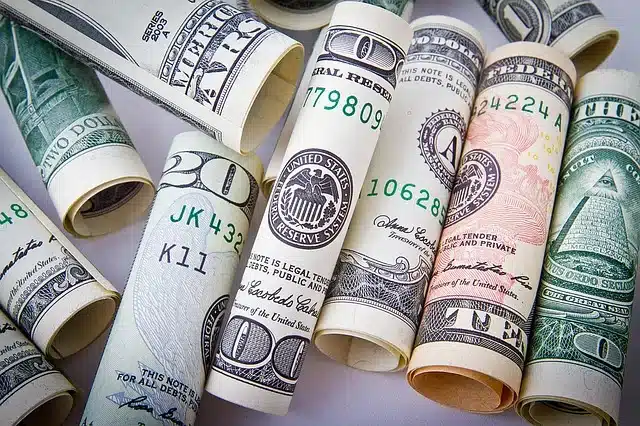 What's Behind the Dollar's Defensive Stance?
The dollar's recent struggles can be attributed to several factors, including unresolved debt ceilings in Congress and concerns over the migration of deposits into the U.S. banking system. These issues have weakened the dollar's position and contributed to its defensive stance.
Another factor that is impacting the dollar is the expectation that other central banks worldwide will hike interest rates over the balance of the year, putting pressure on the currency.
Pound Gains Ground as British Inflation Remains High
While the dollar index strengthened against a basket of its peers, the British pound managed to gain ground against the greenback. This was fueled by British inflation remaining above 10% in March, increasing pressure on the Bank of England to raise interest rates.
The pound's gain highlights the importance of the inflation rate in determining a currency's strength. As long as inflation remains high, it is likely to boost the pound further against the dollar and other currencies.
Broker
Benefits
Min Deposit
Score
Visit Broker