Shiba Inu (SHIB), a popular meme-inspired cryptocurrency, has been making waves in the crypto market recently. With its price surging and reaching new heights, investors are taking notice and jumping on the bandwagon. Notably, Ethereum whales have been taking advantage of this growth and buying up large amounts of SHIB.
Shiba Inu experienced a rough patch in 2022, with its price plummeting by over 80% from its all-time high. This resulted in a bearish sentiment among investors, and the 5,000 largest Ethereum whales, who had previously held over $1 billion worth of SHIB, drastically reduced their holdings. As a result, Shiba Inu lost its position as the largest token holding by dollar value among these investors.
However, the tides have changed and SHIB is back on top. At present, Shiba Inu has reclaimed its position as the second-largest token behind ETH among the top 5,000 Ethereum whales, outpacing other popular tokens such as USDT and USDC. These whales currently hold over 50.5 trillion SHIB, worth approximately $710.8 million, which accounts for 17.91% of their total value. This puts it ahead of stablecoins USDT and USDC, which make up 17.35% and 14.46% of these whales' holdings, respectively.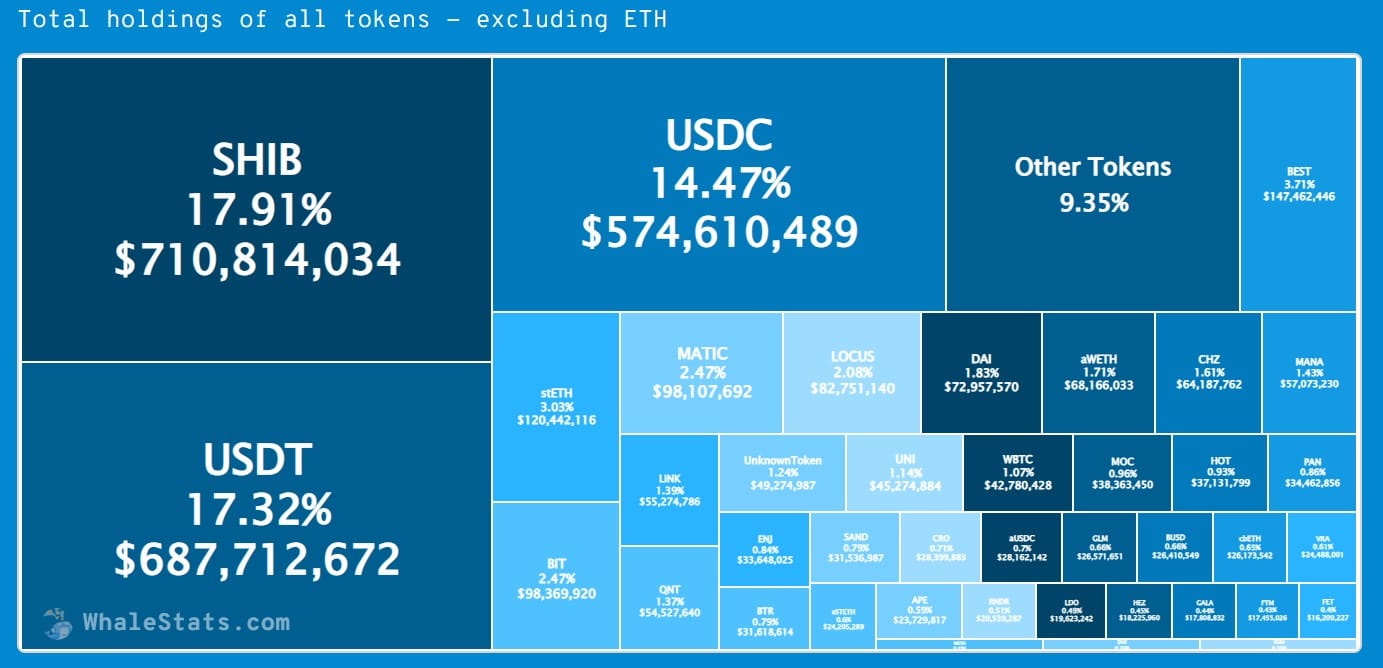 Renewed Interest By Ethereum Whales Corresponds with Rise in Shiba Inu Price
The renewed interest from investors has played a big role in Shiba Inu's rise, and the token's price has seen a 19% increase over the last seven days. Despite a few dips, SHIB's price is currently trading at a three-month high, and the token has become the most traded among the top 5,000 ETH whales in the last 24 hours. This increased volume has helped to drive the price higher, but it also means that if the volume were to drop, the price would suffer.
In conclusion, Shiba Inu is making a comeback and has once again become a hot commodity in the crypto market. With Ethereum whales taking notice and investing in large amounts of SHIB, the token is poised for further growth. Investors should keep a close eye on Shiba Inu, as its future looks bright, but they should also be aware of the potential risks that come with investing in a highly volatile market.
Broker
Benefits
Min Deposit
Score
Visit Broker
Share with other traders!