According to local reports, the Iranian police have confiscated 7,000 illegally-operated Bitcoin (BTC) mining devices. The Tehran police chief, General Hossein Rahimi, noted that the machines got abandoned at a mining farm west of the capital.
The IRNA, a local media house, added that this seizure of mining rigs is the largest in the history of cryptocurrency mining.
Cryptocurrency mining is a legal activity in Iran. Miners are required to register and obtain a license from the country's Ministry of Industry, Mine, and Trade. However, authorities claim that many miners prefer to go behind legal licensing processes and operate illegally in Iran.
According to a report by Elliptic, a blockchain analytics company, about 4.5% of all Bitcoin mining occurs in Iran, and the country has employed cryptocurrency use as a means to bypass sanctions.
Additionally, Elliptic revealed that crypto mining requires the equivalent of about 10 million barrels of crude oil a year, or 4% of Iran's total oil exports.
The Iran government mandated that local Bitcoin miners sell their newly-minted BTC directly to the central bank, which gets used to fund imports. The government also ordered commercial banks and currency exchanges to use legally mined BTC to pay for imports.
Key Bitcoin Levels to Watch — June 22
Bitcoin has experienced a roller coaster-like momentum over the past 24 hours, as bears continue to dominate price action. The benchmark cryptocurrency fell from $36,000 to a $31,000 low yesterday but rebounded mildly to the $33,000 level. However, bears weren't done with the cryptocurrency and sent it on another bearish ride today. The primary cryptocurrency slumped from the $33k area to the $28,800 low today, breaking the critical $31k pivot line.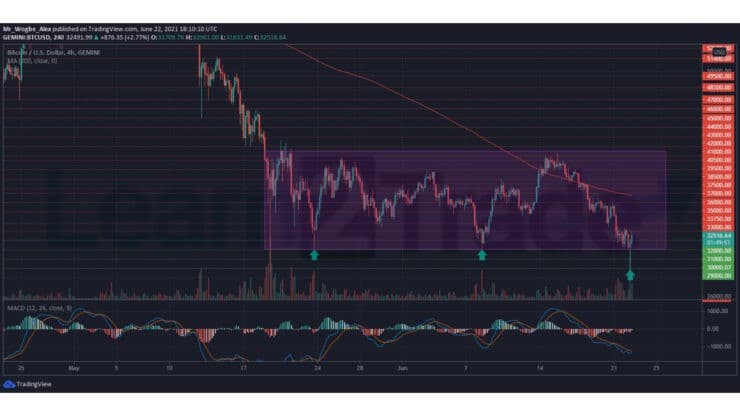 However, bulls appeared to take control from the $28,800 level and have pushed the primary cryptocurrency to the upper-$32k area presently.
The coming hours will be instrumental to what direction BTC trades in next.
Meanwhile, our resistance levels are at $33,000, $33,750, and $35,000, and our key support levels are at $32,000, $31,000, and $30,000.
Total Market Capitalization: $1.30 trillion
Bitcoin Market Capitalization: $611.9billion
Bitcoin Dominance: 46.9%
Market Rank: #1
You can purchase crypto coins here: Buy Tokens
Broker
Benefits
Min Deposit
Score
Visit Broker