According to recent data, the use of Replace-by-fee—a transaction option on the Bitcoin (BTC) network that allows you to increase the fee on a transaction after it has been submitted for quicker completion—increased by over twofold in 2021. Analysts opine that this could indicate that Bitcoin adoption has triggered an increase in competition for users to get their transactions on the next block.
Bitcoinops revealed that Replace-by-fee (RBF) transactions increased from 14% to 28% in 2021. The report also revealed that almost 1 in 3 transactions out of every 144 BTC blocks employed the fee-boosting option. This feature made its debut on the network in 2016 when Green Wallet, formerly GreenAddress, began supporting this solution.
That said, the use of RBF did not make so much headway in its first year on the network. However, by 2018 it had reached a milestone of 5% of transactions, and by 2020 it reached usability of 10% of all BTC transactions.
By Q3 2020, RBF transactions had become a mainstay on the network. This occurred following the crypto boom, which attracted numerous institutions that began spending BTC significantly. Fast-forward to October 2020, Replace by Fee transactions hit 15%, and by April 2021, it hit 20%. While it recorded a peak near 30% this year, it appears to be rounding off the year at 27.5%.
Key Bitcoin Levels to Watch — December 30
As I projected in a previous analysis, BTC has recorded a sustained bearish move to the $46,000 low following the emergence of the double-top pattern at the $51,400 pivot top on Monday. Typically a bearish bout ensues following the emergence of this pattern like we have witnessed over the past few days.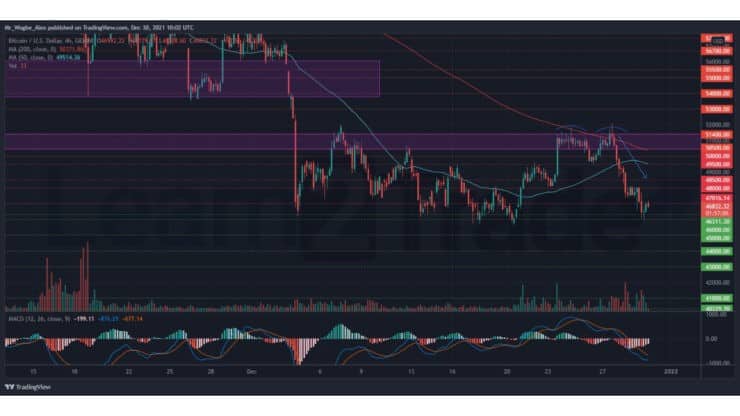 That said, the benchmark cryptocurrency is now on a recovery mission since the drop. However, the quiet tone in the market could frustrate any meaningful bullish gains in the near term and could restrict the BTC/USD pair within a sideways pattern into the new year.
Meanwhile, my resistance levels are at $48,00, $48,500, and $49,500, and my key support levels are at $46,000, $45,000, and $44,000.
Total Market Capitalization: $2.20 trillion
Bitcoin Market Capitalization: $886.9 trillion
Bitcoin Dominance: 40.3%
Market Rank: #1
Broker
Benefits
Min Deposit
Score
Visit Broker
Share with other traders!