Rising global yields remain in the spotlight today, with Germany's 10-year bond yield hitting -0.234 and the UK 10-year bond yield hitting 0.818. Earlier in Asia, Japan's 10-year-old JGB yield closed at a high of 0.152. The 10-year US yield is also trading above 1.45.

In the foreign exchange markets, the euro is trying to return today and is currently trading as the strongest, followed by the Canadian and then the Australian. The yen and Swiss franc remain the weakest, while the sterling softens as the recent rally seems to be exhausted.

Monthly flows are cited as the main factor behind Thursday's movement in favor of the euro and against the US dollar. The euro also appears to be gaining some support from other crosses, most notably the EUR/GBP, which bounced more than 70 pips in a day to 0.8675 areas, a decent recovery from Wednesday's lows below 0.8550.

Apart from the above, there is no clear fundamental reason why the euro should perform so well on this day. European bond yields are rising, but to the same extent as US bond yields, which means that the yield spreads on US and European bonds have not changed as much. Either way, this is not enough for forex traders to fuss about.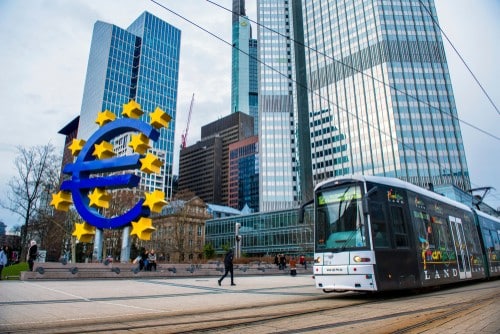 European Central Bank (ECB) Monitors Longer-Term Nominal Bond Yields
The indicator of economic sentiment in the eurozone in February rose from 91.5 to 93.1. The industry confidence index rose from -6.1 to -3.3. Services confidence fell from -17.7 to -17.1. Consumer confidence rose from -15.5 to -14.8. Confidence in retail fell from -18.5 to -19.1. The employment expectation index rose from 89.1 to 90.0.

In his speech, ECB Chief Economist Philip Lane said: "Ensuring an enabling financing environment is central to recovering inflation and defining inflation expectations." And "maintaining a favorable funding environment should include performance checks throughout our monetary policy transmission chain."

Within the broad set of indicators, he said, "the downstream conditions faced by households and firms relying on bank loans play a decisive role." "Indicators of risk-free OIS rates and sovereign profitability in exploration and production are especially important."
Broker
Benefits
Min Deposit
Score
Visit Broker
Share with other traders!