The original Bitcoin takes center stage at Sir Anthony Ritossa's 13th Global Family Office Investment Summit in Dubai as Jimmy Nguyen, founding president of Bitcoin Association, gave a keynote presentation and hosted a panel discussion and other Bitcoin SV proponents and clients presented testaments as to how it can be used in various business platforms.


Bitcoin SV's presence
at this prestigious event attended by Royal Families, Sheikhs, prominent family offices, private investors and market leaders from more than 30 countries just shows how far its native token and blockchain technology have come in just two years.
After successfully restoring the
original Bitcoin protocol
, unlocking unbounded scalability of its blockchain, enhancing its security system and promoting a regulation-friendly mindset in February 2020 through the Genesis Upgrade, Bitcoin SV is now ready for global adoption.
"Bitcoin SV is the only Bitcoin project and blockchain that best understands and realizes what Bitcoin was created to be. Bit-data and coin-money, together. Bitcoin is really the fusion of data and money. We deliver on the promise of what Bitcoin was always meant to be," Nguyen stated.
Of course, this statement does not come without proof of the benefits of blockchain technology.
EHR Data
Chief
Scientist Ron Austring presented their current project of creating a global healthcare database, which will provide stakeholders real-time access to the same data to fight the opioid crisis. Veridat founder Philip Runyan also spoke about using
the Bitcoin SV blockchain
to ensure integrity and hygiene of clinical research data.
Imagine if systems like these are in place now, delays in giving the public updates on the coronavirus pandemic will be minimized because crucial healthcare information can be easily accessible. Physicians do not have to rely too much on patients' memories when asking about patient history because they already have it in their hands. Transparency regarding the COVID-19 vaccine will be available to the public and help reduce confusion and increase confidence.
With limitless potential in use cases, which is not limited to the healthcare industry, the Bitcoin SV blockchain is more than ready for various applications to be developed and built on it. This is why Ritossa believes the original Bitcoin will serve to benefit Dubai's leading industries.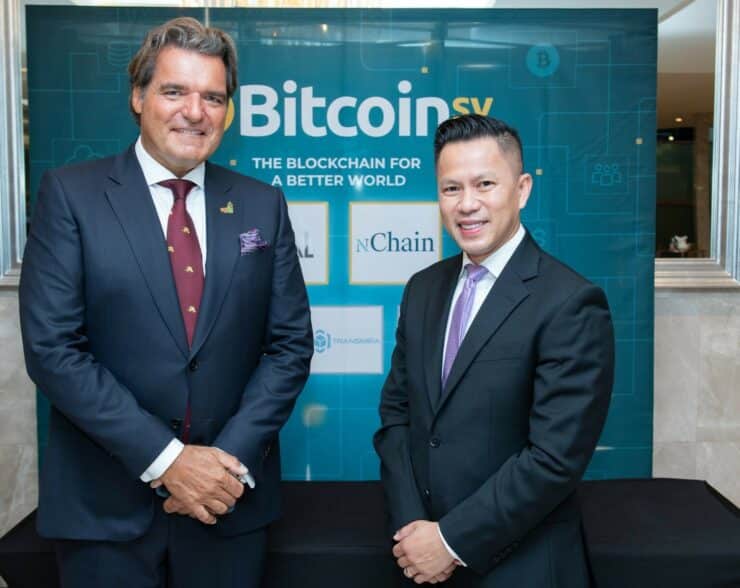 Sir Anthony Ritossa and Jimmy Nguyen
"This event's core value is uniting together to build a better world. And this marries up perfectly with the driving ambition of Bitcoin SV, to make the world better with data. We're in the perfect place for combining these two missions, with the UAE perfectly primed to take blockchain to the next level," Ritossa said during a
CoinGeek interview.
After this year-end Dubai summit, the original Bitcoin heads to Zurich, the financial capital of Switzerland, for its
first conference of 2021.
Broker
Benefits
Min Deposit
Score
Visit Broker
Share with other traders!