In a world of financial uncertainty and market fluctuations, Thailand's baht currency has found itself caught in a whirlwind of volatility. The Bank of Thailand, which acts as the watchdog of the country's monetary policy, has stated that the baht is experiencing both ups and downs, in line with the movement of other regional currencies. In simpler terms, the baht is not alone in its rollercoaster ride.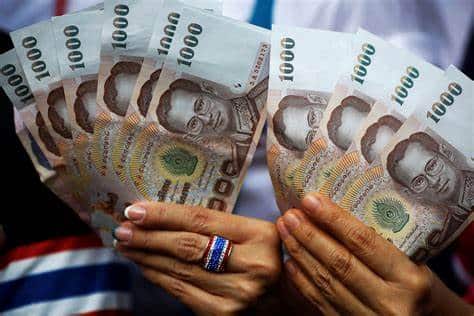 Baht Weakness Due to Strengthened Dollar
The Federal Reserve Chair, Jerome Powell, has thrown a spanner in the works with his unexpected hawkish stance. The dollar has strengthened, and other currencies, including the baht, have weakened. As a result, the baht fell by 1.4% against the dollar on Wednesday, reaching a one-week low.
Adding to the baht's woes, foreign investors have sold approximately $2 billion of Thai assets this year, making the baht even more susceptible to sudden fluctuations. However, the Bank of Thailand has not lost faith and remains confident that the baht's weakness is consistent with the movement of other currencies in the region.
To mitigate the impact of the high volatility in the financial markets, the central bank advises businesses to hedge against currency risks. This move will provide businesses with a cushion against sudden currency exchange rate fluctuations. So, if you're a Thai business owner, it's time to sharpen your hedges!
Conclusion
The baht's volatility is expected to continue as external factors continue to influence the global financial market. However, the Bank of Thailand has assured the public that the baht's fluctuation is in line with other regional currencies. To mitigate risks, the central bank advises businesses to hedge against currency risks, providing them with a safety net against sudden fluctuations in currency exchange rates.
Broker
Benefits
Min Deposit
Score
Visit Broker
Share with other traders!